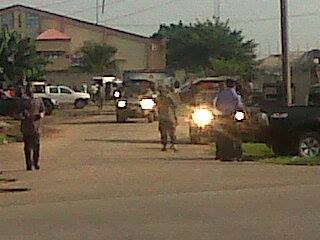 Imo State police authorities discovered two Improvised Explosive Devices planted at the entrance of Winner's Chapel Church in Owerri around midnight on Saturday.
People around the area reportedly alerted police about some strange objects seen around the church premises. Bomb experts were immediately sent to the church to sweep the area, Premium Times reports.
"During their check, it was discovered that Improvised Explosive Devices in forms of refrigerator compressor concealed in sack bags were discovered. One was promptly detonated at the scene because it was on a timer. The other one was dis-alarmed and then taken away for detonation," said a  a Deputy Superintendent of Police, Enwerem.
It is believed that the explosives were planted on Saturday night and timed to explode after worshippers had gathered for worship on Sunday.
Six suspects have been arrested in connection to the bombing attempt, however; they have not been directly linked to the incident.
"They were arrested because we believe we might be able to obtain information that could lead to the arrest of the perpetrators from them. Investigations are ongoing," said Enwerem.
Photo Credit: Premium Times/Onumara Onyekachi