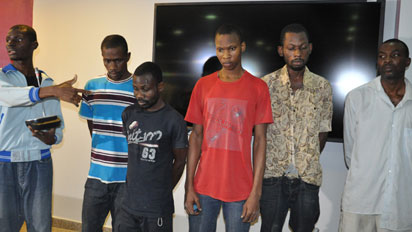 ABUJA (NAN) ─ The Department of State Service (DSS) has arrested six suspects in connection with the kidnap of Chief Nitabai Inengite, uncle of President Goodluck Jonathan, at Otuoke in Bayelsa on Feb. 23.
Briefing newsmen on the development on Thursday, Marilyn Ogar, spokeswoman of the service, said they included an undergraduate, a graduate, a native doctor and three others.
Ogar said that after Inengite was kidnapped, he was taken to two different locations in Bayelsa creeks, very close to the mouth of the Atlantic Ocean.
She said that Inengite was held in captivity for 17 days before being released "without payment of ransom.''
Ogar explained that the 30-year-old undergraduate suspect, a 400 level student of the University of Jos, was the leader of the kidnap gang.
She said that the suspect masterminded the kidnap with a take-off grant of N40,000 for the procurement of arms and other logistics.
Ogar said that the suspect, who is a herbalist, confessed that one other member of the gang and three unknown persons visited him for purpose of preparing medicine their fortification and success in their plan to kidnap "a rich man, who resides in Bayelsa."
"That he (herbalist) played along with them to save himself and family,'' she said.
She also said that he confessed that they reached an agreement that 10 per cent of the ransom would be given to him.
The DSS spokeswoman restated the need for the public to be vigilant and be alert to their environment, saying that issues of security should not be left to security agencies alone.
"The peace, unity and security of our dear country should be our collective responsibility.
"I wish to restate that the long arm of the law will always catch up with perpetrators of crime in Nigeria, no matter how long it takes,'' she said.
The mastermind of the kidnap admitted before newsmen that he provided the money to acquire logistics for the operation.
He, however, said that he was contracted by a suspect, who is now at large, to carry out surveillance on their victim with promise that after the deal he would be rewarded. (NAN)
Photo Credit: Vanguard