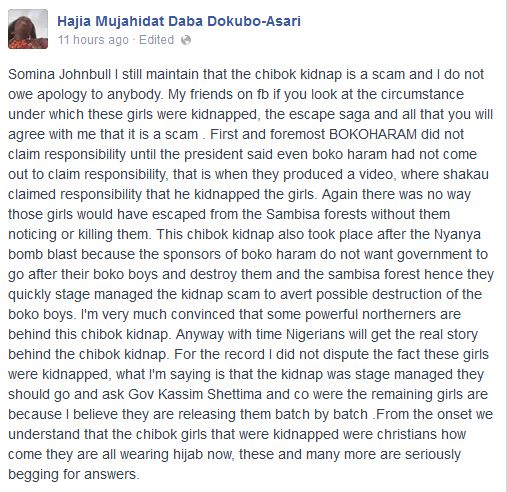 The wife of one of Nigeria's political figures and ex Militant Delta leader Mujahid Asari-Dokubo, Hajia Mujahidat Daba Dokubo-Asari announced via her Facebook page that the abduction of the school girls at the Chibok area of Borno, is a scam.
Replying a person – Somina Johnbull on her Facebook, she said the whole incident was staged.  A few months ago, her husband was also of the opinion that the abduction is fake.
Read;
I still maintain that the chibok kidnap is a scam and I do not owe apology to anybody. My friends on fb if you look at the circumstance under which these girls were kidnapped, the escape saga and all that you will agree with me that it is a scam.

First and foremost BOKOHARAM did not claim responsibility until the president said even boko haram had not come out to claim responsibility, that is when they produced a video, where shakau claimed responsibility that he kidnapped the girls. Again there was no way those girls would have escaped from the Sambisa forests without them noticing or killing them.

This chibok kidnap also took place after the Nyanya bomb blast because the sponsors of boko haram do not want government to go after their boko boys and destroy them and the sambisa forest hence they quickly stage managed the kidnap scam to avert possible destruction of the boko boys. I'm very much convinced that some powerful northerners are behind this chibok kidnap. Anyway with time Nigerians will get the real story behind the chibok kidnap.

For the record I did not dispute the fact these girls were kidnapped, what I'm saying is that the kidnap was stage managed they should go and ask Gov Kassim Shettima and co were the remaining girls are because I believe they are releasing them batch by batch .From the onset we understand that the chibok girls that were kidnapped were christians how come they are all wearing hijab now, these and many more are seriously begging for answers.
Today is Day 100 since the girls were kidnapped.