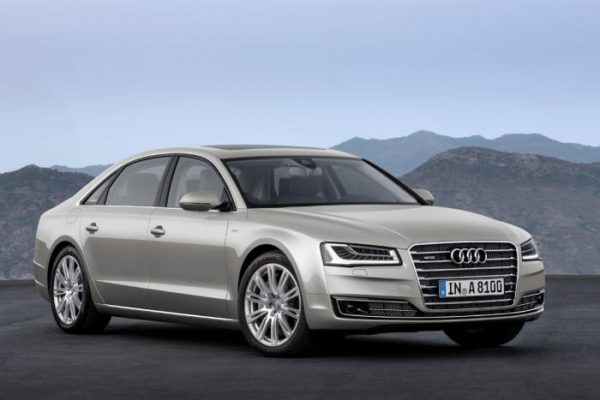 Bearing in mind that this is my debut article for Bella Naija, I'll like to kick-off on a special note. In future articles, expect to be serenaded with juicy information regarding latest car designs, automobile news, automobile user information and lifestyle related to the automobile industry.
Luxury is statement, and how best do you describe this without referring to state-of-the-art machines like the Mercedes-Benz S-Class, BMW 7 Series, Audi A8, Jaguar XJ and Porsche Panamera? They are referred to as full-size luxury sedans. They are status vehicles used to chauffer Royals, presidents, Diplomats, Business moguls and entertainers. I will examine the cars one after the other, highlighting some features, critiquing them and then score with stars (5stars is highest point obtainable)
Audi A8
The Audi A8 is a bundle of luxury with quality performance, it graced the scene in 1994 and since then, three models have been introduced to the market. According to Audi, the A8 transcends the very idea of refinement resulting in uncompromised design, making the A8 the zenith of Audi engineering.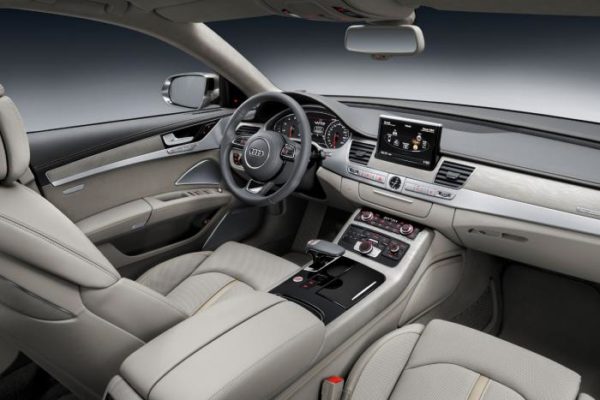 The 2014 edition boasts uncommon adaptive xenon plus headlights with LED daytime running lighting system and advanced technologies including Audi MMI touch with handwriting-recognition technology and Navigation plus with voice control system, and superb interior.
As much as I'll like to talk about the Audi A8, I don't quite like the fact that the current shape has been around for too long. In the same time Audi's rivals have had 2 models of their own luxury cars released into the market, at the 2013 Frankfurt Auto show another version was unveiled making it the fourth facelift with the same body shape. We look forward to a new model as soon as possible.
Ranking: 3 ½ Stars out of 5
BMW 7 Series
BMW joined the luxury contest in 1977 and since then have churned out 5 models of the 7 Series with the inclusion of the latest model launched in 2008. The BMW 7 Series has an inexplicable appeal which draws faithfuls to the car model after model.
Although the 7 Series is ageing, nonetheless boasts good build fit for enthusiasts, royals and the privileged. According to BMW, the 7 Series boasts class leading rear-seat occupant legroom and intelligent all-wheel drive and has been reinvigorated with valvetronic. The throttle-less intake system is exclusive to BMW thereby boosting the engine performance for comfort on any road.
Ranking: 4 Stars out of 5
Jaguar XJ
The Jaguar XJ is rather exclusive and appreciated for its English refinement, it's a quintessential car strictly for a few who appreciate it and can afford it because they don't come cheap. The Jaguar XJ sedan redefines what luxury should be as it exemplifies a theatrical mixture of sheer beauty, luxury and performance.
The current model was unveiled in 2009 and boasts of top-notch craftsmanship as demonstrated by the well thought-out design, layout and technology. According to Jaguar, "the XJ delivers agile, dynamic performance. Intuitive on-board technologies make driving pleasurable, from the effortless gearshift and enhanced driving control of the JaguarDrive Selector™ and JaguarDrive Control™ to the smooth and responsive gear changes of Jaguar Sequential Shift™, which adapts to suit your driving style".
Ranking: 4 Stars out of 5
Mercedes-Benz S-Class
The Mercedes-Benz S-Class was introduced in 1954 and didn't get the S-Class nomenclature till the 1972 model. Since then, the automaker has released five models making the most recent edition launched last year the sixth edition.
The latest Mercedes-Benz S-Class is a work of art and easily the most anticipated luxurious car in the world. It comes with state-of-the-art features like an Intelligent Drive with Active Parking Assist and Active Lane Keeping Assist, Night View Assist Plus, Distronic Plus with Steering Assist, Brake Assist and Pre-Safe Brake all these for a safe and smooth ride.  There's also an intelligent feature called Magic Body Control that uses cameras mounted within the windscreen to scan and detect surface irregularities before adjusting the suspension according to road conditions and also to generally improve overall ride comfort.
Ranking: 5 Stars out of 5
Porsche Panamera
The Porsche Panamera is the newest entrant into the luxury scene. It made its debut in 2010 and so far it has been a runaway success. Even though I don't exactly think it's the prettiest thing ever made by Porsche, it has stolen the hearts and pocket of a privileged few. It's been described as one of the best luxury sedans in the world. This tag is quite ironic for an automaker that solely concerned itself with building supercar for years.
According to Porsche, the Panamera boasts Adaptive cruise control including Porsche Active Safe (PAS) which "regulates the speed of your vehicle in line with the speed of the vehicle in front. A radar sensor inside in the front end scans the road ahead up to a distance of .12 miles. Imagine you've selected a cruising speed but have begun to gain on the vehicle in front because it is driving more slowly – the system reduces the speed of your vehicle by restricting throttle or gently applying the brakes until your chosen distance from the vehicle in front is maintained".
Ranking: 4 ½ Stars out of 5
How they compare
| | | | | | |
| --- | --- | --- | --- | --- | --- |
| Car(Model) | Audi A8(A8 L 4.0T) | BMW 7 Series(750Li xDrive) | Jaguar XJ (Supercharger )  | Mercedes-Benz S-Class(S550 4MATIC) | Porsche Panamera(Turbo Executive) |
| Engine/Transmission | 4.0L V8 Twin-turbo/ AWD 8Spd Auto | 4.4L Twin-turbo V8/ AWD 8Spd Auto | 5.0L V8 Supercharger/ RWD 8Spd Auto | 4.7L Twin-turbo V8/ AWD 7Spd Auto | 4.8L Twin-turbo V8/7Spd Automated manual |
| Performance | 420bhp, 444 lb-ft, 0-60: 4.7s, 130mph | 445bhp, 479lb-ft, 0-60: 4.6s, 130mph | 470bhp, 424lb-ft, 0-60: 4.6s, 155mph | 449bhp, 515lb-ft, 0-60: 4.8s, 132mph | 520bhp, 516lb-ft, 0-60: 4.0s, 189mph |
| Ranking | 3 ½ Stars | 4 Stars | 4 Stars | 5 Stars | 4 ½ Stars |
| Price | $87,600 | $94,000 | $90,600 | $95,900 | $161,100 |
*** There are different engine sizes for each car, the ones featured above were randomly selected.
Photo Credit: Audi, BMW, Jaguar, Mercedes-Benz & Porsche