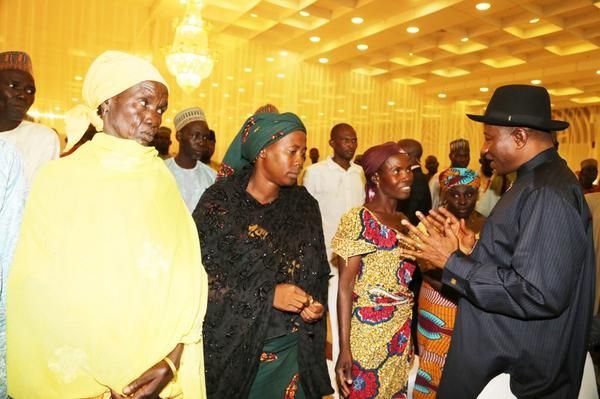 The BBC Hausa Service is reporting that an alleged N100 million cash was given to parents of the abducted Chibok girls by President Goodluck Ebele Jonathan.
The amount is said to have been given to them after the meeting at the Presidential Villa on July 22nd between a few of the parents and leaders of the Chibok community.
According to the report, the funds were released to leaders of the Chibok community in Abuja, but some parents are now alleging they were shortchanged by the leaders.
A parent who was among those who visited the commander-in-chief, told BBC's Abdu Halilu that he got only N200,000.
"I got only N200,000 out of the said N100million allegedly received by our leaders in Abuja. Some of us got N300,000 and some less than that.
Our leaders in Abuja are using the girls to enrich themselves. In fact, some of the parents were screened out of the entourage by the Chibok leaders in Abuja. Many of them were residents of Abuja, not parents of the kidnapped girls." he said.
Another parent shares that he got only N7,000 out of the money shared. "I was at the farm when they brought the N7, 000 to my house and I collected it. Some of us got even less, N300 and below." he said.
The parents however made it known that they were not selling their daughters and that the money from the Presidency was unexpected.
"After we met with the presidency, the parents were given monies in envelopes and that's all. All other things they are saying about N100million, I don't know about that.", said Pobu Bitrus who is one of the community leaders and member of the House of Representatives.
Reps for the President including Reuben Abati and Doyin Okupe could not be reached for comments.