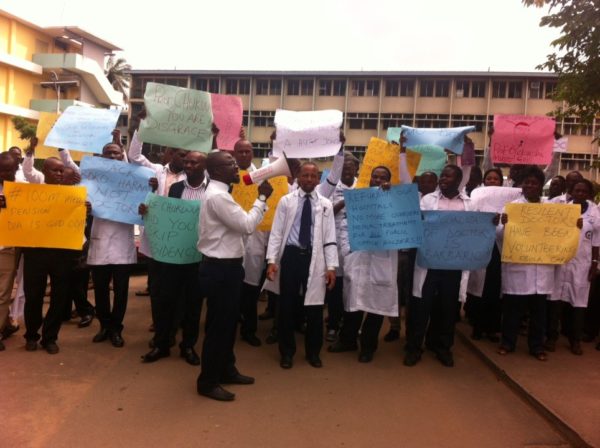 Last week, BN brought you the news about the Nigerian government firing all resident doctors (estimated to be 16,000 in number) in the country.
In response to this, Lagos State Chapter of the Nigerian Medical Association (NMA) staged a protest today at the Lagos University Teaching Hospital, Idi- Araba, Punch  reports.
The doctors reportedly carried placards with a variety of phrases, including, "Sack Ebola not Doctors," "Sack Chukwu not Doctors," "Sack Boko Haram not Doctors," and many more.
Tope Ojo, State Chairman of NMA, reportedly told journalists that the association would not continue any form of negotiations with the federal government until the dismissal of the resident doctors is reversed.
"It is not acceptable to us and we will do all we can to defend our profession. They did it to ASUU, they signed several agreements with ASUU and did not fulfill them. They say they have met 90 per cent if our demands, it is not true. We will not relent until we have put things in place in our hospitals," he said. 
Photo Credit: Punch