Before I go on… My BN Cuisine Fam is it "Porrage" "Pottage" or "Porridge"
I'm sticking with Porrage sha.
On to the matter….
In my second semester or I think third year of University a new cafeteria opened close to the class blocks to accommodate the fact there where more students and on cafeteria was not ust enough plus under that hot sun and your neck ties it was a serious hassle walking all the way to the old "Cafe" (pronounced as "caf") for lunch only to return for another lecture. The new cafeteria brought about sheer better "restaurants" that offered slightly more expensive but yet pretty good food and my real winner was the fried rice looking- yam porrage they had. This was a unlike any other porrage I had seen before. I mean it lacked the familiar lava- orange-red hue of palm oil. There was no dry fish in sight or small small fried meat in "pepper sauce". It was just this sun-kissed-but-yet-somewhat cool yellow with specks of vegetables running through it after one try I moved the motion to have a cafe two porrage intervention program for me. It was a hit with most people in school.
I loved it so much I pestered the cafe manager over and over for the recipe but the "ela" was just too too much. But God has caught her! Even when she never hesspered I would be a chef, God gave it to me and I'm grateful to Him, I feel fulfilled. Chai! I even remember one of the kitchen staff telling me I should bring N150,000 for me to learn how to cook it. But after thinking to myself "abi this one chop winch? 150k? me whey sabi cook before before" I walked on by.
So this week after much thought ado about what to write in today. I was discussing with my friend and she goes " Do one kain Oyinbo Asaro now?" and it took me back to 2008!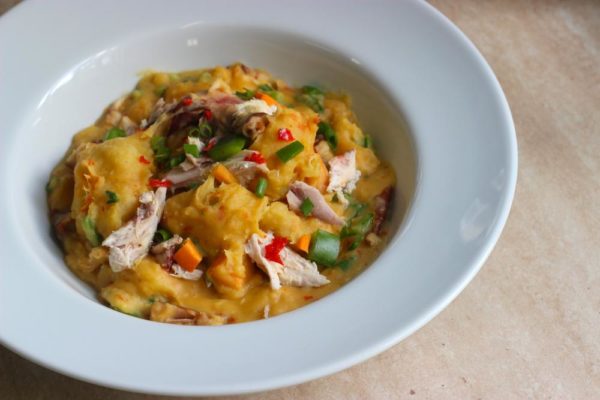 Years later, here I am. Making a few mental notes, and taking into cognisance that  fact that they used milk I decided to cook it just like regular asaro but at the same time treat it like fried rice as well.
In regular asaro or yam porrage, you would find some nice sawa or some sort of dried fish action going on…but we won't be needing a fishy flavour here. I went for smoked chicken instead. Soak your chicken in some hot heater first, if you're worried about the salt content before you put it in. I roasted mine in the oven really quick at high temperature to intensify the smokiness a little bit.
Here's what you need (Serves 4)
1.5 kilos or 2 kilos Yam (or Mix of Yam and potatoes) peeled and cut into medium size chunks.
Half of a smoked chicken (1.2 kilos weight) shredded or chopped into bit sized pieces. (in all honesty, use a whole one if you're feeling a little greedy)
2 Green Peppers cut into a medium dice.
Habonero aka Ata rodo to taste finely chopped (I used 3 pieces)
2 cloves garlic finely crushed
150g onions fiinely chopped or blended
150g carrots cut into a medium dice
Spring onions small bunch finely sliced
120ml vegetable oil or canola or coconut oil (for a healthier option)
600ml chicken stock (I used a few Chicken Knorr cubes)
A half teaspoon of turmeric and a teaspoon of fried rice spice by Roberstsons (added boiling hot water to it in case you don't have any made chicken stock)
400ml whole cream milk
salt to taste
white pepper to taste
How To
Pour the oil in your pot, once hot add the onions and the garlic with a pinch of salt stir fry for about a minute. Be careful so the garlic doesn't burn.Add the yam at this point, the chillies, stock, and then some water to cover. Season with salt and white pepper.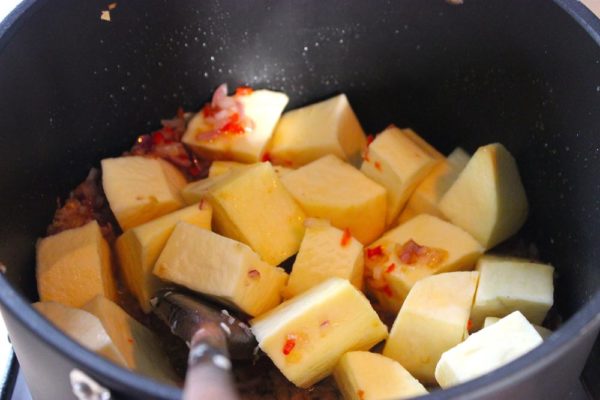 Allow this to cook on a medium heat for about 20 minutes stirring from time to time till the yam is very soft and starts to break down and naturally thickening itself a.k.a "porrag-ing".
As it thickens add a little more water and add the smoked chicken and the carrot, and allow to cook for another 5 minutes – if you like your carrots softer (which I don't recommend, because you may decide to warm it another time. This way the carrot has a chance to stay as crunchy and full of flavour and not soft and tasting of nothing if you cook it too long.
At this point add the milk and stir very well and cook for another 3-5 minutes. Check for seasoning and general taste.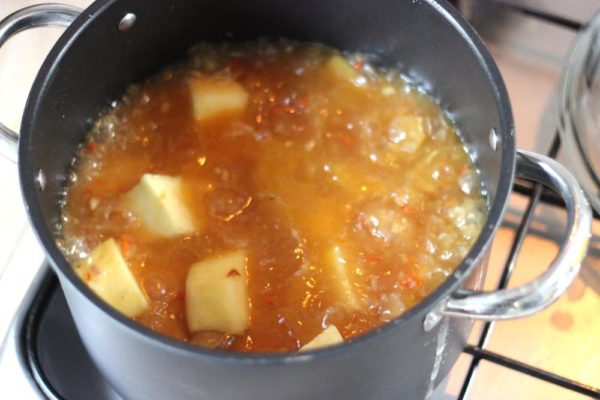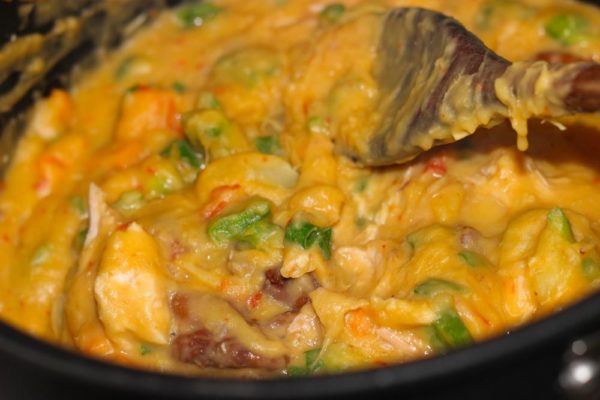 At the very end of cooking throw in your green pepper and spring onions stir well. Check for seasoning one more time and serve hot!
You may decide to add some freshly chopped parsley, but it's all up to you.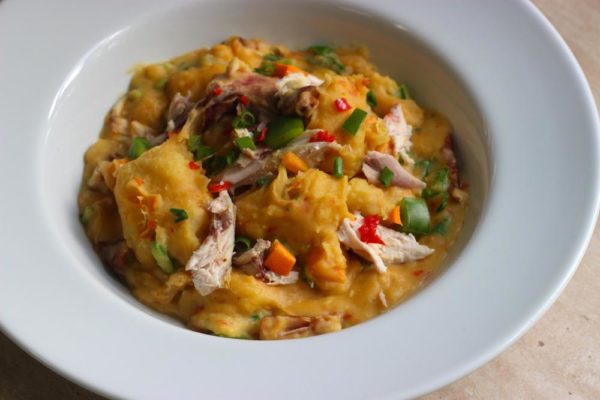 May the weekend bring you good things and even better great food!
Ciao Mes Amis!
Truffle Regards