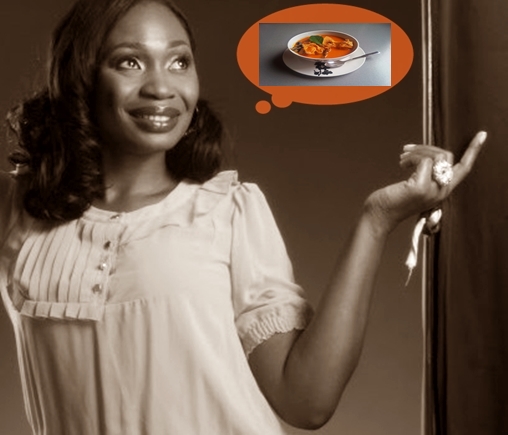 Before I start talking food on BN Cuisine, I would love to observe all protocols in our local parlance…the language I speak when I am most comfortable and in my elements.
"My people I hail O! Belle just dey totori me as BellaNaija don gree me to write food matter for this bellalicious website.
Na plenty salute I dey trowey give BellaNaija, the entire team and every body wey dey read this blog. Una weldone O! 🙂 "
I must warn you that I write in both languages. 😀 So, if I occasionally slip into pidgin, please forgive me. Dog nor dey learn how to bark for old age. 😀
Today, we will be doing a very old dish born out of necessity and the natural urge to feed. Dem say, No matter wetin happen, "Man must wack!". The Native rice also known as "Palm oil rice" or "Concoction rice" originated out of need and poverty and has evolved into a very interesting dish as you will see in this recipe. Extremely versatile, permitting the use of various fish types, meat and vegetables.
To be honest, I nor be talku-talku, even when I work for radio, as soon as I commot for studio, talku-talku don end. It is one aspect of my life that stuns everyone I meet. I don't talk much. I love to listen and I like action.
Oya, let's cook!
This meal can be completed in 50 minutes – Prep time: 10 minutes | Cook time: 50 minutes
What You Need (Serves 6)
3 cups of rice (par boiled)
3 cooking spoons of palm oil (or less if you want)
1 medium size onion (1/2 blended 1/2 sliced)
10 habanero pepper/ ata rodo (8 blended, 2 sliced)
A handful of dried shrimps
2 heaped tablespoons of dried blended crayfish
2 tablespoons of Iru (locust beans)
2 medium sized smoked catfish
2 rolls of soft ponmo (diced)
2 handful of ugu (pumpkin leaves)
Seasoning cubes
Salt to taste
How To
Now, let's start with blending the onion and pepper. You can blend it rough or smooth according to your preference. Modernization don bring blender if na before you for use grinding stone.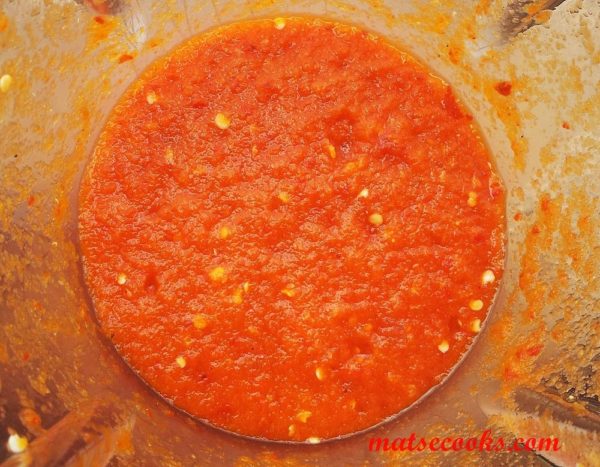 Blend or pound the crayfish in a mortar (I prefer using the mortar for texture). It is also an opportunity for you to flex those arm muscles. Nor go turn to Mojo jojo o! 🙂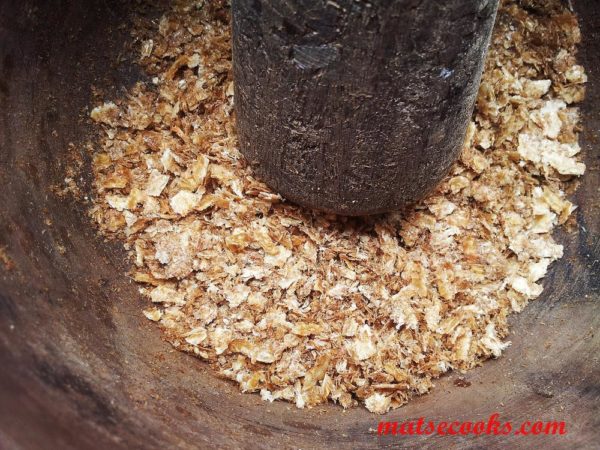 Wash and parboil the rice. Immediately rinse with cold water. This is to stop the cooking process and to remove excess starch. Nor turn am to tuwo o! You go just kukuma cook rice porridge.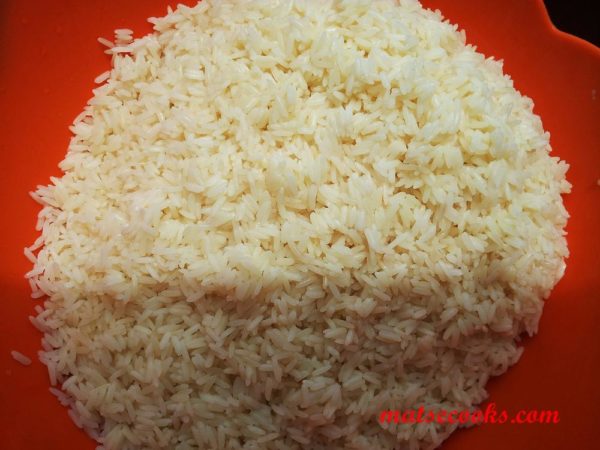 Wash the smoked cat fish with salt and warm water. The salt acts like an antiseptic, killing germs and it loosens dirt. Then cut the fish into chunks. *Behave yourself and don't throw any into your mouth*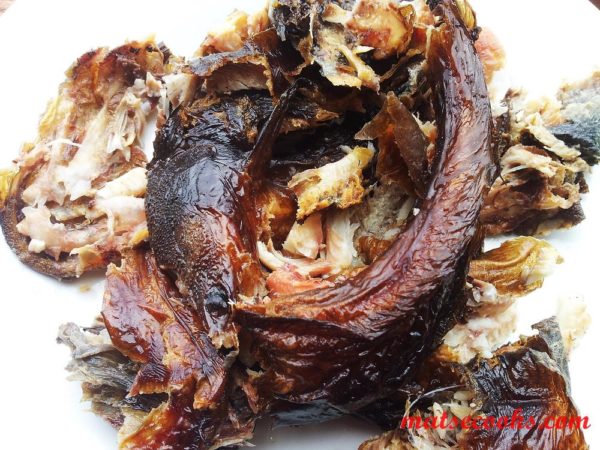 Carefully remove the head and tail of the dried shrimps. This is to prevent injury while eating. Unlike their little sister crayfish, dried shrimps are quite hard. Place them in a pot with water and some salt and steam for about 5 minutes to soften, then drain.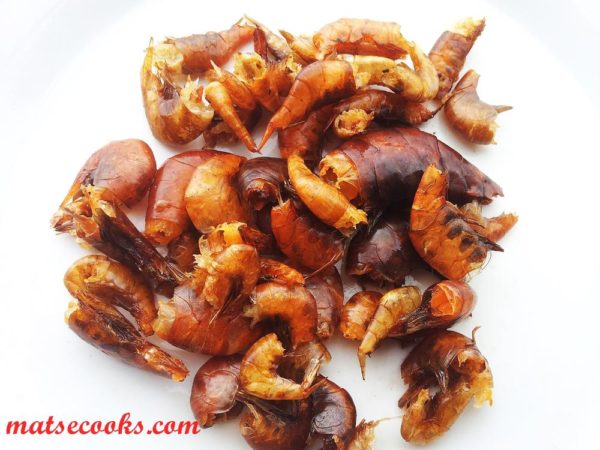 Heat up the palm oil in a pot for 3 minutes. We don't want to kill the nutrients. Uhm…nor over do am make your neighbours start to cough, come dey throwey curse come your side. Food wey dem swear for nor dey sweet no! Nor say I nor warn you.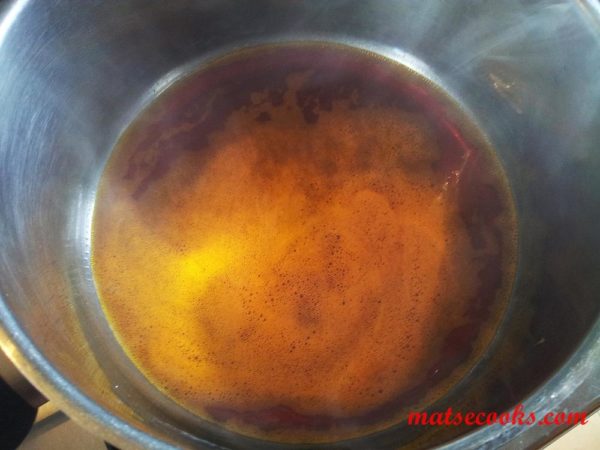 Add the onion slices and stir fry until it is translucent. The onion releases flavour into the palm oil.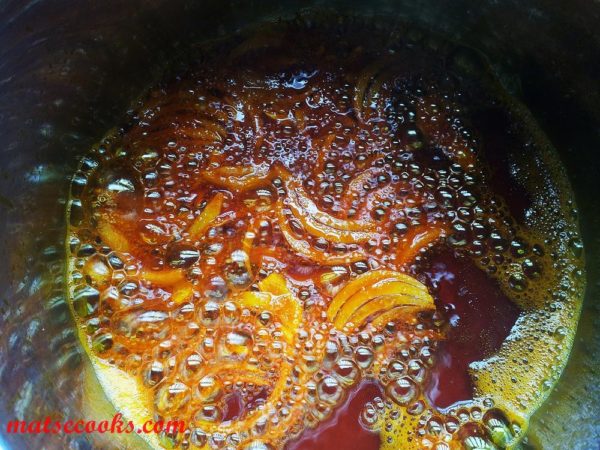 Follow up with the onion and pepper blend and cook for 5 minutes or until the sauce separates from the palm oil.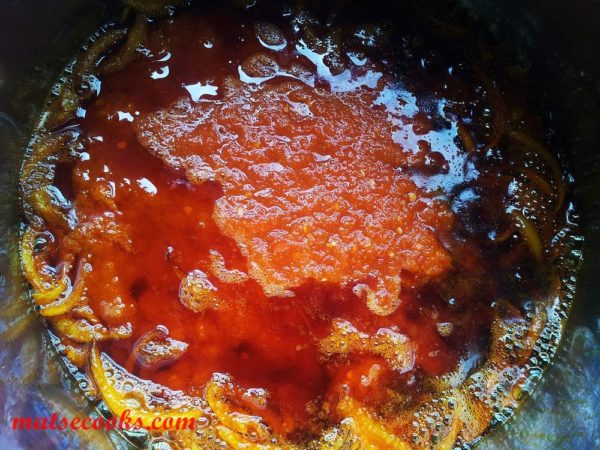 Wash the iru (locust beans) with water to remove dirt and stones and add it to the cooking pot. You will immediately start perceiving the "nativey" aroma. Jeez! I love this smell. Na this kain aroma dem dey call "Oyoyo fire".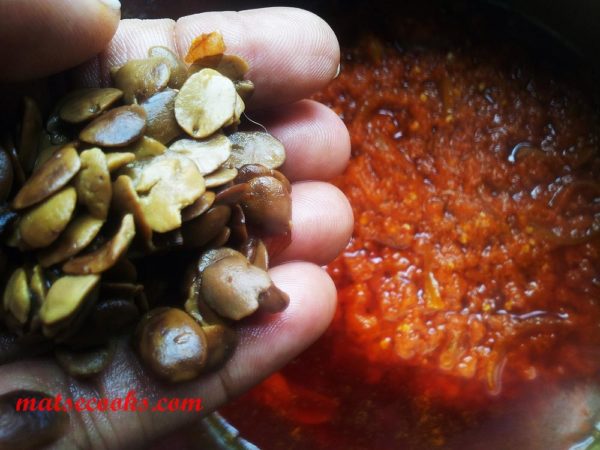 Pour in the shrimps, crayfish, diced ponmo. Add a little water and some salt. Turn down the heat and allow to simmer for 5 minutes. This process allows the shrimps and ponmo to soak in the natural goodness of the sauce. Start getting your dancing shoes ready!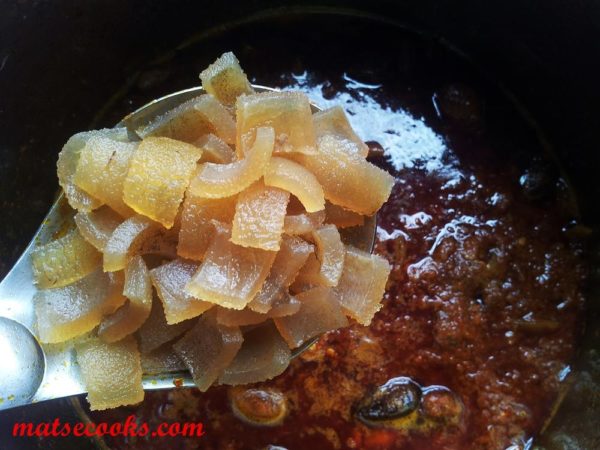 Include the fish chunks, add the seasoning cubes. Let it cook for a few more minutes then pour the sauce into a pot containing the drained parboiled rice.
Mix in thoroughly. Add more salt and seasoning to taste (if needed). A little bit of water, cover the pot with a tight lid then allow to cook over medium to low heat. Stir from time to time with a wooden spatula until the rice is cooked.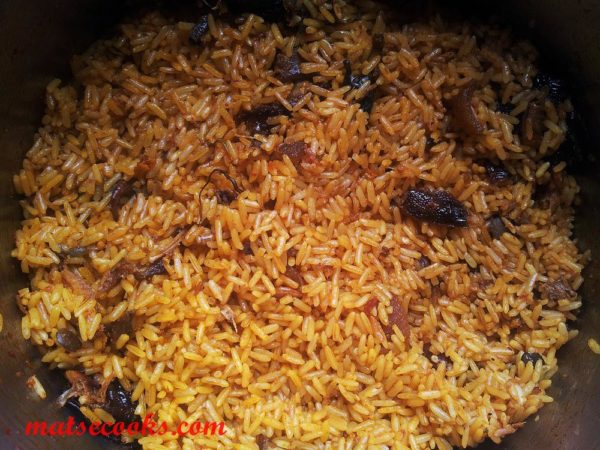 Aaaaah! Now the rice is cooked. Can you see how lovely it looks? With the fish chunks and shrimps peeping through. Ayakata! *In Yemi Alade's voice*
Finish up with the washed sliced Ugu (pumpkin leaves) and sliced habanero pepper. Turn off the heat. Ehen! Now you fit carry your plate and spoon dey beat band.. start to dey dance Davido "Skelewu". 🙂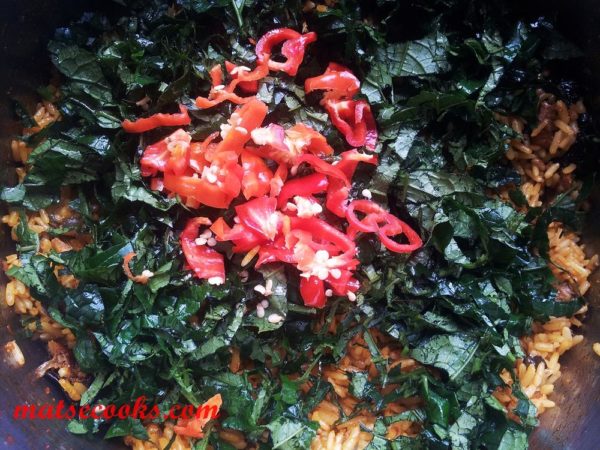 See suffer man wack wey don turn to exotic delicacy? Dem say, "When the desirable is not available, the available becomes desirable." 😀
Serve with stewed meats or alone.
Enjoy!