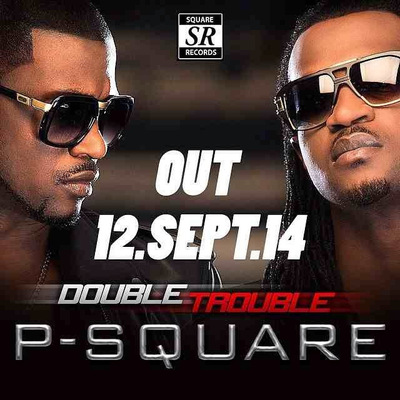 BN Music lovers, we've teamed up with the duo at Should You Bump This, and we'll bring you a special album review of music from some of your favourite Nigerian musicians. Sho and Tunde are seasoned music heads and together, they give their insightful and witty take on the chosen album and artist.
***
Remember when P-Square came in the game copying Usher and Michael Jackson dance moves and remixing everybody's song? Those days are long gone now, the Okoye brothers have matured and found their identity right before our eyes. Double Trouble is their sixth album, the album features production from Vtek, Charles Duke, Mecca E, Oscar, Rudeboy and Mr P. You can buy the album here >>> ITunes
Peep our review below
1. Shekini
T: This right here is already a certified banger. This is such a jam! P-Square following the 'shoki' music trend and it worked. Ignore the lyrics ok.. It's P-Square
S: Shoki ke? This beat so fast..you would shoki and wound yourself
T: Just watch
S: I just wanna know what Ronaldo did to Nigerian musicians? And what is "The Ronaldo" ?
T: We got a lot of questions to ask the twins
2. Missing You
S: The chorus makes me nauseous.
T: Nothing here for me. The song is kinda lazy.
S: You don't like the Caribbean feel? You don't picture yourself on a beach…sipping on some rum singing this to a mammy water?
T: I picture me not listening to this song again. If you miss a girl and you play this song for her, she gon' find a new boyfriend fast.
S: 🙁
3. Bring It On feat. Dave Scott
S: Really good song
T: Best song on the album to me. Dave Scott totally owned it
S: Yeah. Dave Scott's voice was golden.
T: First verse too funny
S: Yeah…'asun/beef' part just almost ruined it
T: It's hard to believe one of the P-Square brothers doesn't tell the other one 'ahn ahn! This thing wey you talk make sense?'
S: They don't like arguing or brother Jude won't let them play
T: They clearly don't care about lyrics
S: Never been their strong point. Can't go around caring now. Can't be wasting cares like that….They ain't care bears X_X
T: Stop!
4. MMS ( Mugu Money Spender)
S: I actually like this song, but then again…i am confused.
T: Another shoki type song…ignore the lyrics.
S: Don't dey want babes to chop their money again? What is this "i don't wanna be your mugu money spender"
T: Them don wise up
S: Abi na MayD make dem meet 'chop my money' type babe?
T: I think so. That's why they fired him
S: Where is MayD now?
T: #WhereIsMayD
5. Ifeoma
S: I am tired jo
T: Tired of?
S: Of P-Square begging a girl or a song with a girl's name
T: A P-Square album without them begging a girl is not a P-Square album. Get used to it, next album e go dey there
S: Nneka, Ugonna, Chidiberem…wherever you are…you are gonna get a song sang about you too
T: This is their weakest 'begging a girl' song tho. You can easily tell this Ifeoma is not a fine girl
S: Ifeoma be 50 shades of waw waw
T: Ifeoma no try
S: When Ifeoma's are fine their nicknames are Ify….when they aren't fine their nicknames are If…asin…"If to sey I know I for wear condom"
T: Hahaha!
6. Ejeajo feat. T.I
T: Yup! Love it
S: Yeah this is my jam
T: I'm just glad P-Sqaure did something different.
S: Yeah more of this boys! Tip with a solid verse.
T: Yup yup
7. Collabo feat. Don Jazzy
T: Perfect example of a crappy song that can be hit
S: Beer parlour masterpiece
T: Ronaldo at some point gotta ask P-Sqaure why they like his name so much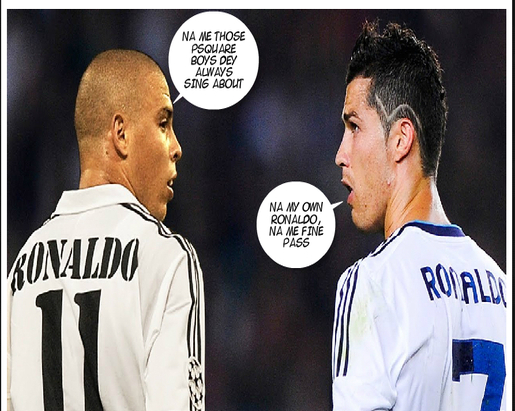 S: Don Jazzy went from Grammy award winning album then comes back to be jollying with beer parlour occupants.
T: Lool
S: He is soooooo down to earth.
8. Ogadigide
S: I don't wanna know what it is…but this is a jam to me
T: Abeg! Sounds like something we've heard 273738 times
S: But I like it the 273739th time
T: "She's feeling my zaga, na me be her number one chief raacker" lol
S: Okay…skip that part lol. The hook sweet me
T: The lyrics na collage of all P-Square lyrics
S: Ok I give up 🙁 E sha sweet me
T: Loool. Valid
9. No be Joke
S: I wanna say this is my favourite song.
T: Now this one sweet me. Confaaam R&B song.
S: Would Glo not give them endorsement deal if they do songs like this??? Not everything nack am music…sometimes tender music.
T: Yezzir. Sweet song.
10. Enemy Solo feat. Awilo
S: What is this sudden realization that Awilo is still alive and folks are collabo'ing with him.
T: Skip! I already knew what to expect from an Awilo song in 2014 and i was disappointed.
S: Like this song is sooo fast I am burning calories listening to it
11. Sari Sari
T: This one is for their Igbo kwenu brothers.
S: This one should be skipped in Onitsha, Aba, Enugu, and all around the Biafra lands
T: I doubt they would, song sounds like a hit to me.
12. Zombie feat Jermaine Jackson
T: I don't know why I dont like this song
S: Because you are not a child of the most High…The afrobeat disco blend is too dope.
T: Listen to it alone
S: Alone? You think I listen to these songs with the children of the corn?
T: Your kids?
S: Nah. My swimmers haven't found a home yet.
T: 😐
S: This is a good song. 'The Personally' video really got Jermaine Jackson warmed up… Now he got Peter and Paul as friends
T: Good for Michael Jackson's brother
13. Ije Love
T: Wait! Holup! Did they really say 'baby you're my ecology and rhyme it with you are my biology?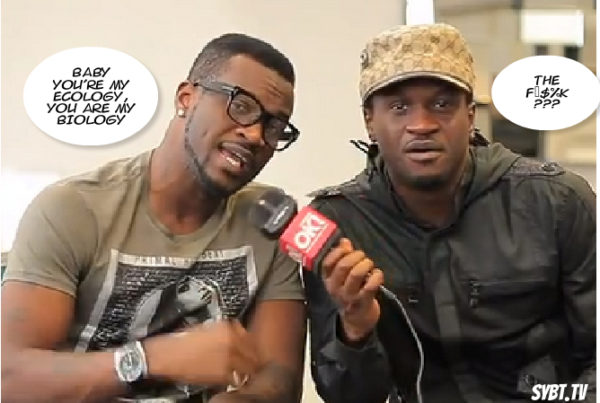 S: Sometimes you gotta let things go…sometimes you just gotta be the bigger man, i know that these twins dey talk rubbish at times
T: Ok. We forgive you twins.
S: Nothing special about this song though
Bonus tracks: (Testimony, Personally and Alingo)
S: What can you say! It's Peter and Paul…you either hate them or love them. Gotta appreciate their Longevity. They tried a couple new things on this and blended it with singing the same "Psquare" song again in different ways.
T: 'Double Trouble' isn't a bad album, as usual, P-Square didn't go out of their comfort zone on this. If songwriting and lyrics isn't part of the reason you listen to music, you just might enjoy this one
wRaps 3
Peace Love and…Geolog