Can you imagine an Octa-core Andriod phone been sold out 4 times within 3 weeks?
Can you imagine one color of the models has sold out 4000 pcs in a single day?
There is so much excitement about the new Infinix Zero which is now rocking Nigeria's mobile phone market! With OTA, or "Over The Air", which is a term often used to refer to the "wireless system update" service through 3G or Wifi. The moment you pay docent means the service is over, Infinix team will upgrade the Zero System software each month according to the users' feedback and the Google Android OS evolution. End users can check and upgrade the system software through Infinix OTA (wireless software update) function when there is a new version available.
In addition, 6 months screen replacement are claimed by Infinix. If you cracked your screen by accident, you can get your screen replaced at Carlcare service center within 6 months.
This is the device that is set to dwarf all others in terms of performance and technology. Imagine the superior picture quality of a 13MP camera with Sony sensor, the speed derived from the powerful Octa-Core processor, the latest Android 4.4.2 Kit kat and the Gorilla glass 3 technology this device has to offer! It also comes along with 16GB Rom+2GB Ram…and offers special colors like white and gold.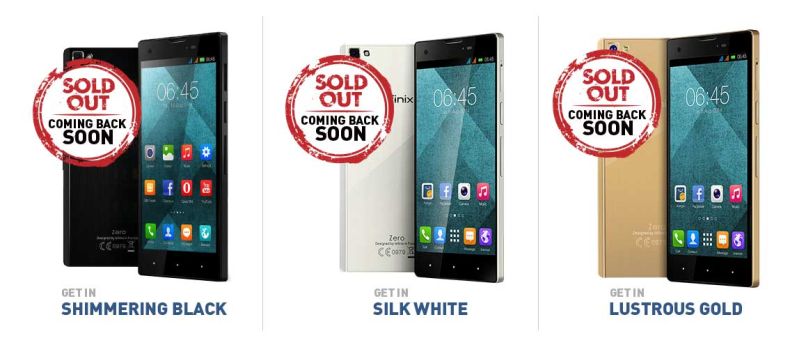 The Infinix Zero is an embodiment of aesthetics. One of the first things that would strike you about the phone is its sleekness. It has a smooth feeling and it is very palm friendly. It is also very light, weighing just about 150 mg. The hardened glass frame, called the Gorrilla glass 3, is an extraordinary feature, allowing you to hit it against a hard surface without getting scratched. Also the anti-crash film is designed to come along with the device which makes it tough and stronger.
To have a virtual feel of this amazing device, click here —>Feel the Infinix Zero
Check out more here: http://www.infinixmobility.com/ng/infinixzero/
The Infinix Zero is sold exclusively on Konga.com. This is because Konga is one of the best marketplace platforms in Nigeria as shown by several metrics. Infinix Zero is sold online because the costs of e-commerce is cheaper than that of a brick and mortar market, thereby making products more affordable for customers.
Watch their OTA Updates Tutorial below

Check out more here: http://www.konga.com/infinix-zero
This Infinix zero offers incredible value than you can imagine!
Infinix, the future is now!!!
________________________________________________________________
Advertorial – Sponsored Content