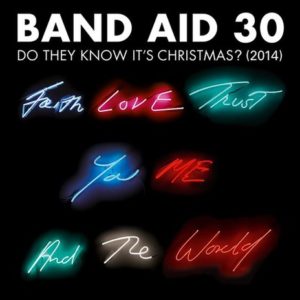 "Do They Know It's Christmas", the Bob Geldof-led Band Aid 30 charity single is reportedly the fastest selling single of the year in the UK. The song is also currently the Number 1 song in the UK.
All proceeds from the single are going towards efforts to curb Ebola in West Africa. So why are people complaining?
The UK Independent reports that "Damon Albarn suggested the song patronises Africa, while Lily Allen called the collective effort "smug"." Emeli Sandé whose father is from Zambia and features on the song, has now lashed out against the lyrics. Stating that she suggested rewrites which were rejected.
While some people agree that the lyrics evoke Africa as a dark place in need of help, others point out that the spread of the Ebola virus in West Africa is a catastrophic situation. With over 5000 dead and entire countries in disarray. Therefore, lyrics and political correctness do not matter, as long as people are being helped.
BellaNaijarians, We will love to hear your view! 
Watch the video and check out the lyrics below.
"Do They Know It's Christmas?" was written by Ure, Midge / Geldof, Bob – Lyrics
[One Direction]
It's Christmas time there's no need to be afraid
[Ed Sheeran]
At Christmas time we let in light and we banish shade
[Rita Ora]
And in our world of plenty we can spread a smile of joy
[Sam Smith]
Throw your arms around the world at Christmas time
[Paloma Faith]
But say a prayer and pray for the other ones
[Emeli Sandé]
At Christmas time its hard but while you're having fun
[Elbow]
There's a world outside your window and it's a world of dread and fear
[Dan Smith]
Where a kiss of love can kill you
[Angelique Kidjo]
And there's death in every tear
[Chris Martin]
And the Christmas bells that ring there are the clanging chimes of doom
[Bono]
Well tonight we're reaching out and touching you
[Seal]
Bring peace and joy this Christmas to West Africa
[Ellie Goulding]
A song of hope where there's no hope tonight (ooh)
[Sinead O'Connor]
Why is comfort to be feared, why is to touch to be scared
[Bono]
How can they know it's Christmas time at all
[One Direction]
Here's to you
[Olly Murs]
Raise a glass to everyone
[Bastille]
Here's to them
[Sam Smith]
And all their years to come
[Rita Ora]
Can they know it's Christmas time at all
[Chorus – all singers]
Feed the world let them know it's Christmas time again
Feel the world let them know it's Christmas time again
Heal the world let them know it's Christmas time again
Feed the world let them know it's Christmas time again
Feel the world let them know it's Christmas time again
Heal the world let them know it's Christmas time again
Feed the world let them know it's Christmas time again
Feel the world let them know it's Christmas time again
Lyrics Source: Metro Lyrics