Blackhouse Media and Mydrim Gallery present Against All Odds, an art exhibition by Zinno Orara, in dedication to his wife, Adaora-Zinno Orara, who is battling breast cancer against all odds.
The artist's wife of 20 years was diagnosed with cancer in 2010 – click here if you missed the touching tribute by Ayeni Adekunle. The couple is blessed with 4 children, 2 boys and 2 girls: Majiri, Chidera, Kesena and Princess.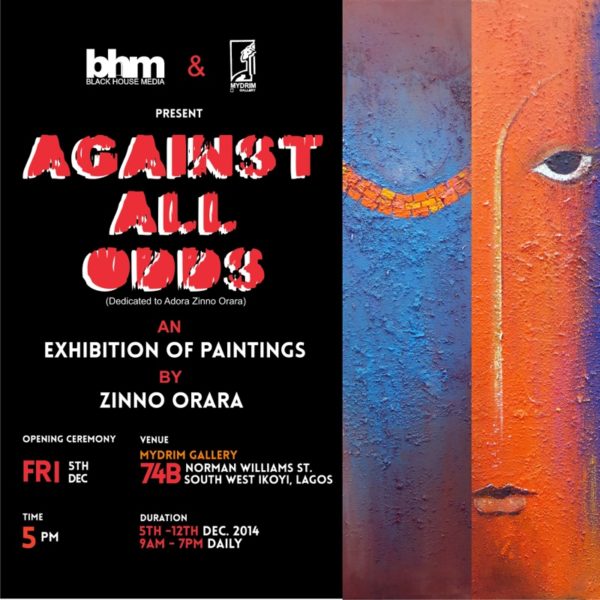 The exhibition will take place from Friday 5 – Friday 12 December 2014 at Mydrim Gallery, 74B Norman Williams St. South West Ikoyi Lagos.
About The Artist
Born in 1965 in Benin City, the Artist Zinno Orara attended Government College, Ughelli and The school of Arts and Design, Auchi. He graduated in 1988 with a Distinction in Painting and Illustration. He also holds a masters degree in Philosophy.
With over 12 solo exhibitions and 25 group exhibitions in Nigeria, South Africa, Sweden, Spain, United States and Canada, Zinno Orara's paintings are present in art galleries all over the world; as well as with some of the world's most dedicated collectors.
Zinno, whose unique and inspiring talent has not been eclipsed by the sadness following his wife's ailment, gives brief insights to some of the paintings:
"Life is a journey, the painting Homeward Revisited is not just about the woman paddling her canoe home; it's about life's journey in its entirety. We will all go home someday and most times, we don't know how it will all end."
For the captivating painting, Love Isn't Blue, Zino said:
"This is my story, love isn't blue, love is red, depends on how much sacrifice you are willing to make." 
Ayeni concludes: 'This exhibition is more than just an art showcase, it is in honor of Adaora Zinno Orara – the most beautiful woman in the world – and every other person out there who is fighting the up-hill battle against cancer, against all odds."
For more information, please contact: Philip Ugbah | [email protected]
____________________________________________________________________________
Sponsored Content