Triple MG boss, Ubi Franklin shared a picture of himself relaxing at home a few minutes ago on Instagram and his caption for the picture has got people buzzing.
He wrote, 'A bachelor's life is a fine breakfast, a flat lunch, and a miserable dinner. Do not let your bachelor ways crystallize so that you can't soften them when you come to have a wife and a family of your own.'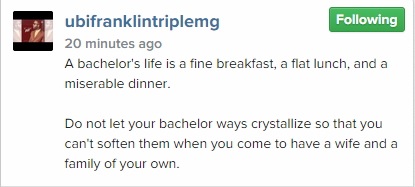 Some of his followers agree with his view of a bachelor's life while others do not.
What do you make of it?
Photo Credit: Instagram