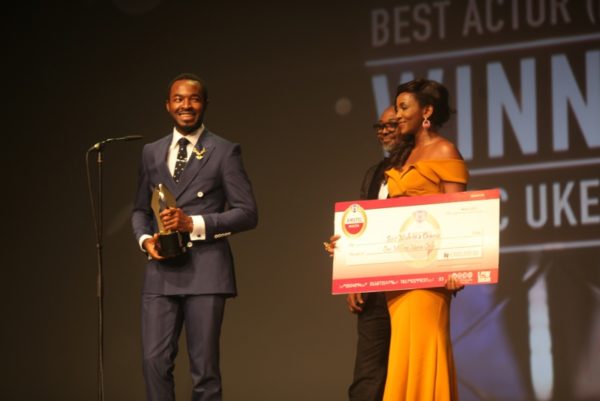 "Now, we can breathe again," with that statement, rolled eyes and a clucked tongue, a colleague of mine registered her feelings about the curtain fall on the AMVCAs. I didn't blame her. The AMVCAs were another (especially gruelling day) at the office for her. She had to be at Eko Hotel bright and early, get accreditation, set up for the red carpet, prep her hosts, and, shepherd dozens of egomaniacal celebrities to her section on the red carpet so she can score great interviews and her senior producers would be happy. I didn't completely share her sentiments. I was privileged (yes, I do say privileged) to see the set- up of the awards ceremony before lights, camera, action and it was very impressive to say the least. The red carpet area though badly ventilated and suffocating was impeccably sectioned off with TV media and photographers properly allotted space without them having to fight and jostle to do their work. The red carpet itself was rolled out from the inner chamber of the Expo Hall to the Eko Hotel lobby and unto the concrete, Oscar-style. Life size awards were stationed all around Eko Hotel. Makeshift seats on raised platforms were rigged in the hall itself, as one would see in stadiums. You could not help but get a sense that this was something BIG. And then it was showtime…
Shuga should NOT have won Best TV Series!
Why? No it's not because I have a thing against Chris Attoh's especially sinister (and spectacular) delivery of the wife-beater character or against Beat FM's Maria Okanrende and Emmanuel Ikubese's forgettable acting or the impossibility of a full-figured Sharon Ezeamaka making it as a model cover girl in reality, as she did in the series. The answer is simple. It was NOT nominated. On December 12th 2014, when Africa Magic announced nominations, the nominees were Gidi Up, The XYZ Show, Jack Okeli, Rush TV Series and Maliposa. Shuga was not included. Of course, in my opinion, Shuga is a very compelling television series and should have been nominated in the first place but it wasn't. So how then did its name end up in the envelope? Perhaps we should call the Sherlock Holmes TV show to solve this mystery.
Doro-Disaster
Just when one thought that upstarts Korede Bello, Di'Ja and Reekado Banks would grab their chance to shine on such a big (Pan-African) stage, they doro-disappointed. To some extent, one can excuse Don Jazzy whose performance body language is that his work was finished in the studio. His stage performances are typically as exciting as D'banj releasing a new song. We know we're over it. Even though the super pop group was only miming, singing (if it can be called that) over the DJ playing their hit track, they still weren't in sync with the beat. Only Di'Ja seemed to be remotely interested in attempting to entertain. When their sonic torture of a performance finally ended, I could swear I heard a collection of quiet 'Hallelujahs' in the hall.
The Meeting's Curious Case of Benjamin Button
For those who don't know, The Curious Case of Benjamin Button is a movie about a man who's aging in reverse. The movie opens with him as an elderly man and as the years go by he grows younger. That seems to be the case with Rita Dominic & Mildred Okwo-produced 'The Meeting'. Its accolades seem to be coming in the reverse, as the movie grows 'older'. Released in 2012, it boggles the mind how the movie is still eligible for awards in 2015. Now, the AMVCAs hasn't opened its rule book to us but standard award ceremonies judge/consider only movies released in the past year. That is to say if the award is holding in 2015, only movies released between 2014 and 2015 will be eligible. Pray tell, how then can the Meeting win (four) awards three years after eligibility window?
And the Award for Most Dramatic Acceptance Speech goes to…
Femi Jacobs. It was apparent that Mr Jacobs, a talented individual momentarily forgot that though cameras were rolling, he was not on set and the character he was playing was himself. In his roll call of thank yous, he reserved something special for co-star Rita Dominic. He uttered such an emotion-laden 'I LOVE YOU', Shakespearean's Romeo would have been jealous. Immediately (and quite cleverly) the camera cut to Rita Dominic who it seemed wasn't quite sure how to gather her facial muscles to look appropriate, at being put on the spot like that.
Basketmouth's Triple Shot
Only Basketmouth can take apart Tonto Dikeh, D'banj and Patience Jonathan in one stroke and get away with it. Comparing Tonto Dikeh to a singer, D'banj to a hit maker and Patience Jonathan to an English professor are the kind of jackpot jokes that crack ribs and the hall was certainly howling in laughter.
Vimbai & IK Osakioduwa Chemistry
They say the third time's the charm and that was certainly the case with these two. They have hosted the awards ceremony three times in a row now (with the notably unfortunate inclusion of Osas Ighodaro in 2014) and they keep getting better and better. Previously it seemed IK set the pace but this time they both fed off each other, entirely with improvisation, it looked like, to Kodak-moment effect.
Gideon Okeke throws MASSIVE OC Ukeje Shade
Remember that time when Mr Okeke came out on Twitter to blast Tinsel writers for being boring? The man's just full of controversial gems. AMVCAs were no different though it seemed everybody missed it. Fresh after losing out on the Best Actor in a Drama award, Gideon Okeke was called upon to present the next award. (That in itself is rather distasteful; AMVCAs producers should look into that.) The first thing out of his mouth, "Everybody put your hands together because OC season is still on!" Nobody seemed to have gotten the sarcastic undertone. Let me explain. OC Ukeje has won in acting categories every year since AMVCAs inception. Is OC deserving of the awards? I daresay yes. Every year though? I don't think so. This year, he was nominated against himself, (something else the AMVCAs should look into) as this limits the recognition of a larger pool of actors. Let's not even start on the fact that the movie he was nominated for Confusion Na Wa was also released in 2012!
And finally…
THE SHOKI to end all others!
The Shoki Skit was undoubtedly the stuff unforgettable moments are made of. This was the AMVCAs Oscar Selfie moment. Femi Jacobs, OC Ukeje and Blossom Chukwujekwu turning the popular club banger to opera was the highlight of the entire evening and the best closing skit one has ever seen on TV.
With so many hits and misses, fingers crossed that the AMVCAs can top itself in 2016… Till then!