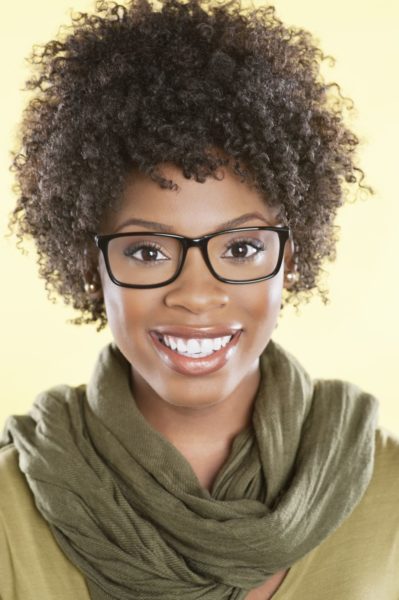 Wearing makeup can prove to be difficult sometimes; especially when you wear glasses.
You have to deal with issues like frame imprints on your face, specs of makeup like mascara particles clogging up your frames, your glasses picking up your foundation, powder and more. This could ruin your makeup, and make your glasses appear dirty and unattractive.
From now on, you don't have to worry about these problems. Because today, I'm sharing a few tips to help the framed beauty out.
1. Use long-wear makeup
You remember how sometimes after you sweat, you find that your glasses have picked up some of your makeup, especially around your nose? Well, if you use long-wear makeup this may not happen.
The fact that your makeup is meant to last longer will reduce how much of it gets on your glasses, which in turn leaves you looking cleaner for longer.
2. Leave the bold colours to your lips
You already have a lot going on around your eyes, so you don't need much more. When it comes to rocking bold colours on your face, all of it should go on your lips. Using bright eyeshadow will make your eyes look too busy and might end up making you look unattractive in the end.
If you absolutely must use makeup on your eyelids, limit it to your eyeliner. This gives your eyelids some activity without doing too much.
A good rule of thumb is; if you have thick frames, it is better to use a thick liner; and if you have slim frames, use a thin liner. This balances out your eyes so your makeup doesn't look lopsided or out of focus.
3. Use water-proof mascara
Water-proof mascara has less tendency of coming off your lashes and getting on your glasses. Because of its long wear properties, it will last longer and give you clean and clear frames.
Water-proof mascara is also great if you sometimes get teary-eyed while wearing your glasses. It helps your long lashes stay intact even after you trash the tissue.
4. Curl your lashes
Nothing can compare to that annoying moment when you blink and your lashes brush against your glasses. It can be very uncomfortable, and even make you dread the next blink.
A great way to avoid that is to curl your lashes. Using a curler helps curl your lashes backwards and away from your frames so they don't come in contact. Just be sure to aim properly; a curler clasping your eyelid is not fun.
5. Always keep your eyebrows groomed
Wearing glasses attracts a lot of attention to your eyes; and that is why you must have groomed brows. As much as your eyebrows frame your face, your glasses make them even more noticeable and more in focus. So having groomed eyebrows keeps your face looking neat and pretty.
6. Use a blush to balance out your look
Because you're not doing much with your eyes, and you are using all the bold colours on your lips, you still need to balance it out. This is where you blush comes in.
Using a blush or bronzer, you can balance your face out in terms of colour and complexion, so your face doesn't look like its missing something.
7. Apply concealer under your eyes
You might think having glasses will hide dark circles and under-eye bags, but it actually makes it more noticeable. The glasses, depending on their clarity, might magnify your under-eye circles and make them look event more pronounced.
Using concealer and under-eye cream helps reduce this, so even when your glasses magnify them, you still look great.
***
Be sure to share your favourite beauty tips with us.
Photo Credit: Dreamstime/Photographerlondon