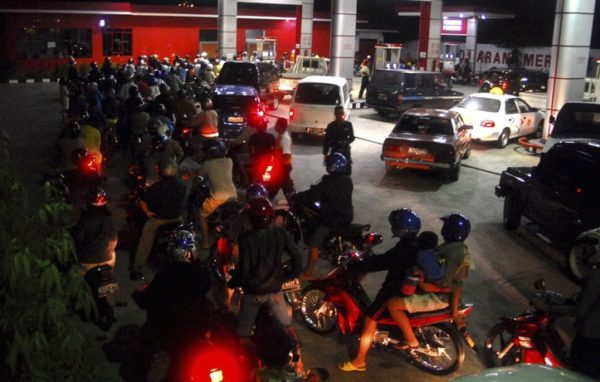 Fuel scarcity are two dreaded words Nigerians hear all too often.
The last one was in December, and now another one has hit us barely three months later.
We saw long queues yesterday, and they haven't improved today. Fuel, i.e. petrol, is considered a necessity, as it is needed for cars and some generators because of the incessant lack of constant power supply, hence the dreaded long lines and resultant traffic.
Many reports say some filling station attendants have upped the pump price, and of course the price on the parallel market AKA 'black market' is even worse.
According to Vanguard, the Nigerian National Petroleum Corporation (NNPC) recently promised increased supply and is blaming retail outlets for the scarcity, claiming many are hoarding the product.
Here's an excerpt,
This (the fuel scarcity) was in spite of claims by the Nigerian National Petroleum Corporation, NNPC, on Friday, that it is injecting about 688 million of Premium Motor Spirit, PMS, into the market. Motorists had to resort to the black market, where roadside petrol sellers now sell the commodity for as high as N250 per litre.

However, the NNPC, yesterday, promised that it was working to ensure that the situation is addressed quickly and assured Nigerians that the fuel supply situation will improve in the coming days.

Responding to enquiries from Vanguard, spokesperson for the NNPC, Mr. Ohi Alegbe, said: "On Friday, we had stated that in 48 hours we will wet the market with 688 million litres of petrol. Distribution of products is by trucking. You will agree that it is some distance from the depots and tank farms in the south to the depots and retail outlets in the hinterland. Expectedly, the queues should disappear before long."

Furthermore, Alegbe blamed the scarcity on panic buying by motorists and sharp practices by some retail outlets who are hoarding the commodity, thereby frustrating efforts to stem the scarcity. He said the NNPC had informed the Department of Petroleum Resources, DPR, of these sharp practices by some petrol stations' owners for adequate sanctions against them.

He said: "Panic buying has persisted in spite of our appeal to motorists. Secondly, some retail outlets are hoarding the product by dispensing from only one pump head. We have reported some of them to the DPR and we believe appropriate sanctions will be meted out to them appropriately. Also, a source in the DPR disclosed that the scarcity currently being experienced in Abuja is as a result of panic buying and not because of non-availability of petrol."
Dear BN-ers, how're you coping? Is your tank full? Did you get to buy yesterday, will you queue up today or can you buy on the black market?
Photo Credit: Andikabetha | Dreamstime.com