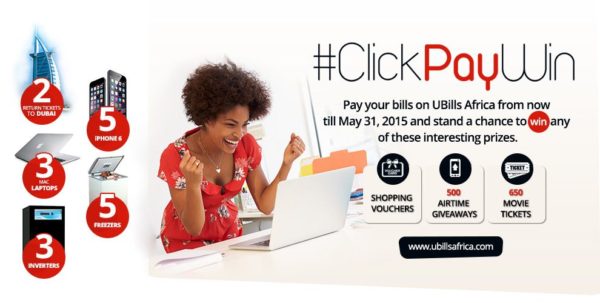 Just think! Within seconds, your lifestyle can get better. Luxury does not have to cost you a fortune, it could cost as little as a click.
Imagine winning the carefully crafted iPhone 6, or return tickets to Dubai. Wait! There is still more: movie tickets, airtime top up, CityChops, Suregifts, Spar (Park and Shop), Konga, Jumia, DealDey, Sweetkiwi gift vouchers and lots more on UBills Africa.
 Discover UBills Africa, an online payment platform that allows fast, secure bill payments on the go. UBills Africa is powered by UBA and Oja PAY.
HOW TO WIN
Register on UBills now
Spend above N1,000 on UBills
Follow us @UBillsAfrica on Facebook and @UBills_AFrica on Twitter and share your experience on these platforms by tagging us with the #ClickPayWin #UBillsAfrica hash tags.
Daily winners would be announced via social media at 12:00pm Every Friday.
All entries end on Sunday May 31st 2015 at 11:59 PM.
Pay your bills on UBills Africa from now till May 31st, 2015 and you stand a chance to win any of these awesome prizes.
Follow @UBillsAfrica on Facebook and @UBills_Africa on Twitter using #ClickPayWin for all online mentions and daily deals.
ClickPayWin giveaway is open to all in Nigeria
_____________________________________________________________________________
Sponsored Content