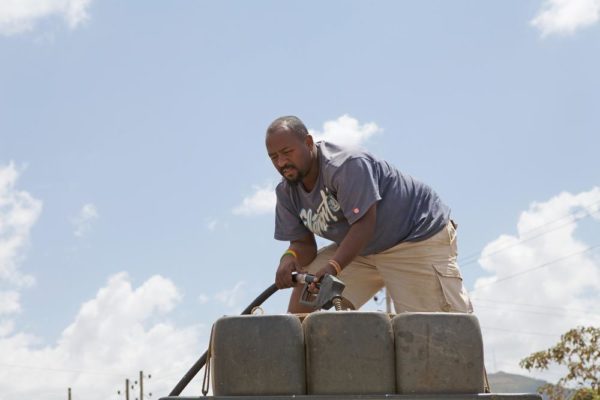 The problem with being an artist is that you see art in everything, even in misery. When my friend postponed her death by surviving a surgery, I complained that the surgeon's cut was not as cute as I would have liked. She giggled like a fellow fool, saying that the knife was too blunt for fine art.
So it was natural that I found artistic fascination in the histogram of jerry-cans telling a familiar story at the filling station. Yellow jerry-cans, then blue, red, black, yellow, yellow, yellow. Too many yellows, then a few browns, their white backgrounds gossiping their custody of generational dirts. Long like an electoral queue in Kano State, the jerry-cans looked like obedient dwarfs, colourful in their portrayal of a hopeless waiting.
At 4pm, my car had joined its colleagues in the long symmetry of patience at that Mobil station. Some twenty minutes later, my tyre had done just about a quarter of a circle and no more. I plucked my own jerry-can from the trunk of the car to go inspect the state of affairs around the dispensing pump. It was a shocking sight of restless humanity, a fuel herd!
Commotion. Curses. Analyses: Of Jonathanian failure, Subsidy, and Change. It was a hyena affair, complete with noisome cluster and fights. The queues were mere fanciful stagnations neglected over the reward of might: purchase was wrestled, not conducted. I had stood aloof for two long, unfit for application in this violent commerce. Then I saw her, a lady who had taken her own jerry-cans out of her car trunk just an hour ago, when I took mine. She was coming out from the thickness of the Herd, cutting through the beehive of pulsating humanity, triumphant, flanked by two huge jerry-cans of fuel. She was apparently the richest human among us.
Her triumph was sufficient indictment for my detachment. I therefore inserted myself in the midst of the Herd, mustering as much roughness as I could get. Spatters of spit, armpit fumes, mouth odour, and some unmistakable tangs of liquor all issued from that unwholesome public intimacy. The corruption of breath reminded me of Tom-Tom's new commercial: "What are you breathing?" "Stench!", I admitted inwardly, and removed myself. It was now past 7pm.
Area Boys – their kegs went over the heads of the Herd, burrowing their way into the tip on the nozzle. "Ibraheem!", they'd yell. The fuel attendant, he had become a celebrity of fuel scarcity. Occasionally he pushed and shoved, kicked and elbowed, until the accretion of human hands tugging at him had been shaken off, their owners torn between catching themselves and catching their kegs.
Night. By now we had become a new entity: community. "Community is a group of people living together with shared interests…", said my Sociology lecturer. A Fuel Herd, we had become an instant community boasting shared space, the identity of fuel stampede, and kegs, united by our common predation of one another. Yet there was that Lagosian spirit of enacting friendships – we readily forged temporary relationships: "Watch my keg Bro, I dey your back." "Abeg make I put my jerry-can for your boot, make I use your turn buy my own, I don dey here since 2 o'clock." "Shey dem say Dangote wan buy Arsenal?"
Humanity!
Soon the lights went off. Ibraheem and his co-attendants disappeared into the Manager's Office, whispering commercial whispers, taking monopolistic decisions. Minutes later, the lights came back on. Ibraheem emerged from the venue of conspiracy, his head cocked up to let his bottle water empty into his belly through his veiny throat, in lumps of aquatic greed. He poured the remaining water on his head, wiped his face, and declared: "E don finish. Tomorrow make una come."
We lingered on, hopeful. Hopeful. Hopeless. Gradually, the Herd dispersed into unlit streets, into domestic frustrations of absent electricity. Shortly, a fellow, seeing my qualification for sympathy in attitudes of exhaustion, accosted me. "Make you get peshense, you go buy. Bring your car come inside, park am close to that pump. Just wait make this people go finish." I was going to grease his palm. His was a lucrative sympathy, I knew.
The lights went off again. The flight of light sent the remnant members of the Herd packing, erecting the convenience for clandestine transactions. My fuel gauge had earlier read 'Danger'. Sweat factory that I am, my previous night was spent virtually in my bathroom, evacuating endless perspiration that kept sleep at bay. This planned nocturnal corruption was my only hope of a sound sleep and presence at work today. It worked, and fast too!
Corruption is one of the fastest agencies of speed.
With eleven thousand Naira, the car tank, with my jerry-can, was filled to the brim. My hope of a week exemption from this madness is guaranteed in Toyota's fuel economy. I took a photo of the fuel indicator that showed my new affluence, and used the picture as my DP: it has come to that!
By 9:29 pm, I left for home. Ongoing construction has beaten the Okota road into a thorn of stones, warranting a slow, cautious vehicular motion. At Last Bus Stop, a group of Keke drivers had gathered, watching two of their own trade mutual punches. The duo ran from one corner of the road to the other, like Mayweather and Manny, devising strategy and manouvre. My car was already too close and, before I could escape the scene, the one shuffling backwards was stopped by the bonnet. His assailant quickly found eureka, lay him properly on the bonnet, a hand to a neck, and began a regime of vicious pummelling. I reckoned the danger to my windscreen, reckoned that the floor would better serve the purpose of their business. Quickly, the gear lever went to 'R', and I retrieved the bonnet from under the back of Manny. They readily demoted themselves to the ground, where their aspiration for mess was helped by the abundance of mud. The crowd cheered…
At home, the generator got busy while I went into my study room, to read a few lines before going to bed. Incidentally the book on the desk bared its mischievous title, one which summarised my notion about Nigeria. "There Was A Country", read the title. I fixed a gaze upon that title, wearing a sad, knowing smile. It was sufficient reading for the night. I turned over the pages of my mind to process the voluminous detail provoked by that title, and simply left my study and went to bed.
Photo Credit: Dreamstime | Antonella865