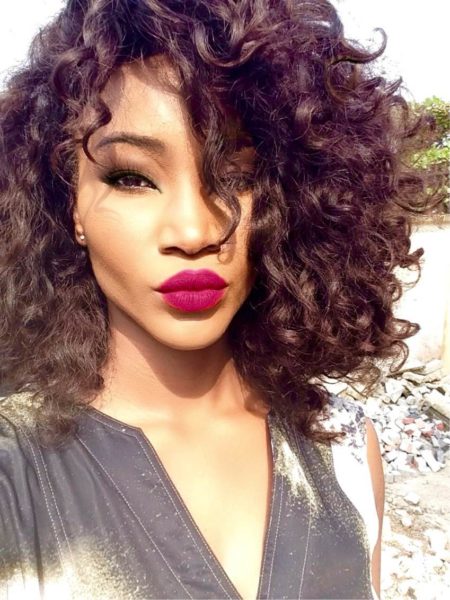 They always came with a bang.
Literally.
Making such loud, eye-brow-raising sounds as they thunderously navigated the path to adulterous pleasure by violently smashing each other into the doors, the fridge, the TV, the walls and any unfortunate furniture they must have had in that house.
Choi. Scarred for life…
Why do they have to be so loud? My fourteen year old self wondered silently. Somehow they managed to make us (their neighbors) cringing witnesses to two trumpeting, ear-splitting howls of orgasmic releases.
I wondered if they knew they sounded like they were "doing the do" on mad witch's broom – a broom without brakes.
On and on it went until finally it was over!
Few minutes later Friday (A.K.A The Spartacus) walks out of the BQ where Madam-the-madam lived. On his face was that smug smile. I guess it was time to go back to his "duty post"… Oh, didn't I mention? Spartacus was the security guard of the house right next to ours. And Madam-the-madam was the young wife of some businessman who decided that it was a good idea to marry an unspoiled girl from his "township" since "Lagos girls too tear eye." So Oga married Madam and they lived their version of happily ever after.
But as fate would have it, something peculiar happened in my household that evening. My sisters and I were gisting in our room when our mother walked in. She chatted with us for a while then said something out of the blue.
She said to us: "I need you girls to listen very carefully to what I am about to say. It is very important and you must never forget. You are young now, but the time will come when you will choose a man to settle down with. However you come to that decision, just make sure it is the right choice for you," she wagged a finger slowly at us three and continued…"because you can never cheat in your marriage." She paused for effect, then added… "Not only is it generally wrong for anyone to cheat, but it is particularly forbidden for you as an Urhobo woman."
Words cannot describe the perplexing silence that was that moment.
Somehow we were all frozen and staring. My sister asked what Mother meant, and she took her time to explain to us the intricacies of Urhobo culture that forbids women "waka-bouting" with any strange man while married. She shared with us the consequences of adultery, and gave real life examples of women who brushed it off as "archaic superstition" and odieshied the whole matter by gbenshing someone other than their husbands. She told us the terrible cost of their infidelity.
"Anyways," she added in conclusion… "Cheating is a no-no. Don't go'an be thinking oh-afterall-I-was-born-in-Lagos-nothing-can-happen-to-me. Adultery is not viewed with the same seriousness by all. Some cultures allow a degree of permissiveness, ours does not. At all. So when the time comes for you to choose… Choose wisely."
And with that she sauntered out of the room like a queen. And that was that.
I never forgot.
And then I became a woman… I still never forgot.
I stayed a few weeks in my home-town during my late dad's funeral and noticed something interesting. No one in my family hounds or discriminates against the unmarried (single/divorced/widowed) – no one, not once ever. Don't get me wrong, they LOVE weddings and love to celebrate it, but if you've never been married, they never ask you "when" or "why" or "why nauuuuu"… instead they would simply pray for you by saying things like, "May your husband treat you well…", "Marry well o, we shall all be happy for you…"
And truth be told, it has always been this way. (At least in my town and family. I cannot speak for how other Urhobo families speak to/regard their unmarried. So, back to the matter…)
I wonder if its because they all know what's at stake. You see, in Urhobo culture, a marriage is believed to be properly contracted, AFTER prayers have been offered to the ancestors (Erivwin) and God (Oghene). This takes place (normally) in the ancestral home of the bride. During this traditional marriage, there is a particular wine drinking rite which is performed during the traditional marriage where certain things are said and to which Erivwin bears witness. This rite symbolizes an agreement between the wife and the Erivwin.
Only then can the new wife be considered a full member of her husband's family and is assumed to be protected by the supernatural ancestral power (Erivwin). But should she later become unfaithful, it is then believed that her children, her husband, the man she cheated with and ultimately herself will be punished by the Erivwin. This punishment could mean death.
First the children… inexplicable illnesses… then death. Then the husband. An avalanche of bad luck shall be his portion. Then he gets ill (one of those funky illnesses that confuse doctors), then his death. Then the man she cheated with (ol' boy for don forget say e don chop clean mouth, e no know say Erivwin don write e name for TO-DO-LIST.) Then the woman it saves for last if she refuses to take responsibility for her actions by confessing her infidelity. Confession leads to absolution, via some kain cleansing rites.
It is said that Erivwin is patient. It is said that this curse comes into effect (for the husband) when the husband in question still sleeps with the wife and eats her food. This is believed to be the reason why married Urhobo women are very faithful to their husbands.
My people believe that once a woman is married, she stays faithful or remain single. I am reminded of a girl who complained that her Urhobo husband-to-be was not well endowed in the Spartacus department. She wondered if she could "manage" him.
Hmmmnnnnnn… issorait!
Na wa o. What I found out from my research was there is a way out for an unhappily married woman. Get the families together, and return your bride price. Shikena. But if you stay and decide to cheat, you are doing yasef a very strong tin. Also if you are a man gbenshing the widow of an Urhobo man (who has not returned her bride price after his death) you put yourself at great peril as the Erivwin of her husband's family will come for you, as she is still considered a wife of the family.
Is it a sexist culture? Yes it is. A cheating Urhobo man does not have the same sanctions unless he "waka-bouts" reach another person wife. In a weird way, it balances out as both sexes have a lot to lose. And even though they grumble about it, I don't know any woman (or man) who is willing to risk their life and that of their family for an adulterous orgasm.
So what do you think about this? As a modern individual, who – due to circumstance – finds yourself in the position of Madam and Spartacus… would you risk your life and that of your family to an ancient curse for pleasure/pay-back? Or would you rather endure an unhappy marriage to the end or simply return your bride price
Hmmmmn….