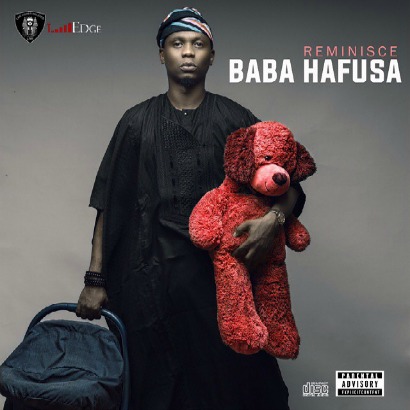 BN Music lovers, we've teamed up with the duo at Should You Bump This, and we'll bring you a special album review of music from some of your favourite Nigerian musicians. Sho and Tunde are seasoned music heads and together, they give their insightful and witty take on the chosen album and artist.
***
Lo lo lo lo..Local rapper, Reminisce aka Alaga Ibile aka Baba Hafusa released his 3rd studio album Baba Hafusa last week. The album features Sojay, Sean Tizzle, Sossick, Ice Prince, Olamide, Phyno and Vector. The album is available on the streets, or  here on >>> SPINLET and ITunes
1.Grind
T: Sojay totally owned the chorus and Baba Hafusa shows us what it is like to grind
S: Everything about this jam is fire. Beat, hook and verses. Remi kicks off this album in the best way mehn
T: Dope Intro…felt like Sojay featuring Remi, his vocals were dope
S: Sojay killed the hook. Sojay sabi sing pass covers sha?
T: Well…The curse of Eldee was holding him back
S: Errrm…we will address that curse later.
2.BabaHafusa
T: Tyrone on the beat!
S: 2mins 31seconds of straight crack
T: Mehn! Reminisce is a dope lyricist. If you're still doubting that, listen to this song
S: We were thinking this was gonna be a song for Hafusa but baba change am for me. Baba Hafusa is a spitter! That is all
T: He was like 'ba'n gbe Hafusa kuro ni studio.. Mo fe spit fire'
S: Confidence is on an all time high. No need to be shouting the bars
T: So Olamide sub right?
S: Well…
3.Saida
S: Every field, every lawn tennis club, every Yoruba compound party from Lag to Kwara is covered with this jam
T: Dunno about you, but 'Saida' is my favourite song on the album. Something about rappers singing that makes me happy. And I'm not talking about Drake type song.
S: Like Nateo C singing?
T: I'm talking about Biggie on 'Player Hater', Mase on 'Jealous Guys' type of singing
S: I just picture them serving hot Fanta and Ofada rice playing this song. He won on this one
T: Yup…
4.Skilashi feat. Sojay
S: My bread and peanut butter JAM
T: Please lead us in prayer
S: The spirit that came between D Banj and Don Jazzy, between Wizkid and Samklef, between Iyanya and D Tunes, between you and your ex girlfriendssss will never come between Reminisce and Sarz.
T: Amen!!!
S: Amin!!
T: Can we discuss the curse of Eldee now, because I feel he held Sojay back so much
S: Chai. Uncle Eldee lock this guy talent like Merlin
T: At one point he had Sarz, Sojay, K9, Eva, Sheyman and Aramide
S: Sarz fought the curse the fastest. Eva did not even let the curse settle
T: Sheyman gats talk him name on all songs now to chase the curse away
S: K9 and Aramide need to wash their heads well. Sojay has been to white garment church that's why he is winning now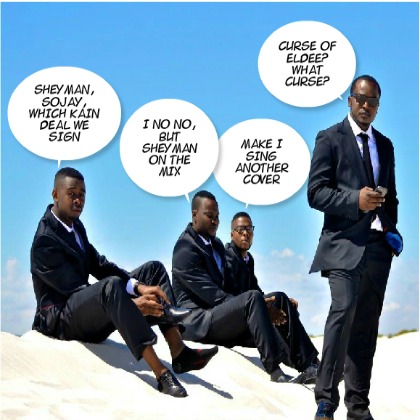 T: Anyway back to Skilashi.. Sarz is a monster on the boards
S: "Wooooo riii woooo Reminisce alaga" Mehn, them all suppose collect equal money for this song.
5.Gbamilago feat. Sean Tizzle
T: Not my song
S: No talk am twice. This is song enter nicelyyyy
T: Yeah…E enter my skip button. Would probably be a big single but i'd pass
S: Sean Tizzle sabi; using words and not sounds to do hooks. Remi kinda sounded out of his element but this is all Tizzle and Dtunes
6.I Need A Girl
T: Remi was talking from experience here. Can't tell me nothing
S: This song is actually more bearable the more you play it. Na Sojay dey do background vocals shey?
T: Love this song! Lyrics are raw and uncensored
S: Sojay's Pastor >>>>>>>> Your pastor
T: I agree
7.Olomoge
S: Reminisce is just brass lol
T: Another catchy tune. I also loved the production by Jospo. I no no when i just dey sing along after some spins.
S: Same here. This jam will stick after 2 spins. What about the girls yansh and boobs is he singing about?
T: Mehn! You will see some girls and the way the body is set and you won't have a choice but to sing about it
8.Local Rappers Feat Olamide and Phyno
S: Case settled! Remi is the best outta the 3
T: Arguable. This jam caused so much ruckus when it came out. Disses and counter disses. Still a solid rap song
S: Would have preferred it if it was a doper rapper that responded to them sha. Cos that AQ response should shelved on the "kiddies" aisle at shoprite
T: AQ is not dope?
S: He doesn't move me.
T: Anyway, back to Reminisce
S: Dopest outta the 3 kings
T: Arguable still
9.Tesojue
S: How many girls have been "tesojued" after this song dropped?
T: Ewww.. That's so vile. A real gentleman will never tesojue, what does 'tesojue' mean anyway
S: Put the pap on her face
T: Ok…that's good then. Pap is healthy
S: Real men will like this song sha
T: Dope ass single! All sorts of Shoki variations come on when djs play this song
10.Alagbara feat Sossick
T: Kai! This is such a jam…*lifts Bible*
S: This chorus makes me bust the Bobby Shmurda from the first note
T: Reminisce delivery and flow is just perfect for the Sosick beat
S: Sossick is too ill for this hook. Gats lift your hands to heaven on this one
T: This na Cele church soundtrack
S: They gats do Cele style track na. Maybe na one Cele church free Sojay
T: I believe. Only cele people have the power
S: Mehn…the thing wey sweet me na the "dada" sample underneath the beat and the chopped and screw part at the end
11.Otiya
T: This is just a cruise song
S: All DJs gats get this on their playlist
T: Sarz just be showing off his versatility on production, look at what he did at the end with the guitars
S:That guitar solo!!!!! Blisssss. Remi's bars steady fresh! Ain't ever tired of hearing Baba spit!
T: Catchy song
S: All first verse! All first verse!
12.Kososhi feat Sossick
S: This is a filler
T: I'll pass too.. Not listening to this any time soon
13.Busayo feat Ice Prince
T: Icey Princey impressed me on this. The back and forth rap with Remi made this song dope
S: Ice took this one! Flow was ridiculous. Who vexed Zamani?
T: That's what happens when you take a picture with Jay
S: Mehn Ice just needs to give us a full project of raps
T: Not going to happen
S: Yeah. Just wishful thinking
14.Nothing feat Sojay and Vector
S: Remmy! Bar dropper. Ahn ahn
T: If this is the result of the squashed beef.. Then let them go back to beefing. Vector was too weak with the bars. Maybe Reminisce warn am 'if you spit pass me, awon boys ma gbe e'
S: Shior!
15: It was bad
S: Hahaha. Sojay again with a killer hook! Beat so sinister tho. Those keys. Dre-like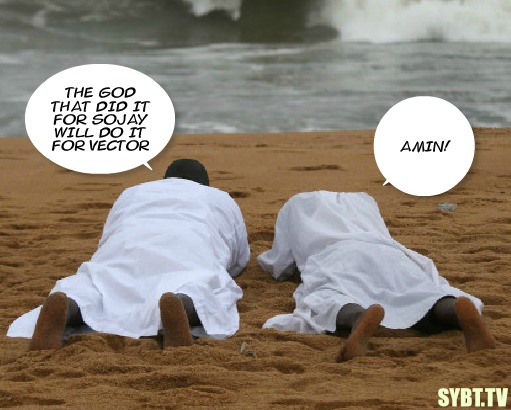 T: YSG needs to release Vector's destiny or he should visit Sojay's pastor
S: Literally, Reminisce should have thrown Sojay on all the hooks. He blessed everything to the fullest
15.Outro
T: This is all Baba Hafusa thanking his fans and telling us Sojay got next
S: I believe
16.Let It Be Known
T: All bars! So glad Sojay is on his team right now
S: Remmy closes off the album the way he started with bars and Sojay.
Verdict:
S: Reminisce is in a zone. After the success of "Alaga Ibile" he builds on the momentum and bangs another solid album. With Sarz and Sossick back again and the addition of Sojay, Baba Hafusa is going nowhere.
T: Arguably one of the best rappers in Nigeria right now, Reminisce shows us why on this album. His lyrical prowess whether in English or Yoruba is top-notch. Production on the album is solid, Baba Hafusa has its flaws but at the end of the day, Reminisce delivers a good Hip-Hop album
3.8/5
Peace, Love and Baba SYBT