Immanuel James: Bola Tinubu in the Corridors of Power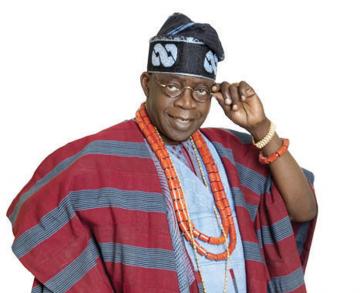 Ibrahim Badamosi Babangida, that gap-toothed hilltop dweller, had popularized one little book during his reign as Nigeria's Military Head of State. Written by one notorious fellow named Niccolo Machiavelli, 'The Prince' teaches how to gain and maintain political power, mostly through the deployment of unwholesome but realistic techniques. IBB's politics was elaborate in deceit and slime, to the point of generating popular assumption that he was an unblinking reader of Machiavelli's dangerous book. But it's beginning to seem like the true glory of this Machiavellian apprenticeship belongs to one Bola Ahmed Adekunle Tinubu. No Nigerian politician has exerted so much influence so vastly, like that spectacled taciturnity called Ahmed.
Only twelve years ago, he was a lone survivor standing in the wreckage of Obasanjo's electoral loot in Southwestern Nigeria. It had all begun from there — 2003. What we have today as the All Progressives Congress, APC, may have begun then as a regional bloc tagged Action Congress, AC, irrigated into national flourish through different mutations, by Ahmed's tactical nurturing. By the time he left power as the Governor of Lagos State in 2007, Kunle, smart, even serpentine, had installed himself as the most powerful member of his party, wriggling his way to the top through craft and tact, if not through bullying and subtle dictatorship. He was helped by a scary financial muscle, reinforcing the theory that economic power is the strongest machinery of political dominance.
His staggering wealth, often attributed to corruption, belies, or appears to belie, indictment. His political opponents are quick to allude to his culpability, but they failed, as the government in power whose responsibility it was to prosecute him, to establish his guilt on occasions of litigation — either due to the man's clever lack of criminal footprints, or due to the hollowness of the allegations against him. His wealth is elusive, or rather mysterious, yet palpable, puzzling in the possible arithmetic of its explanation, an apparition occupying the imaginations of public gossip. From Gani Fawehinmi to Olusegun Obasanjo, Ahmed has fought and won battles, projecting a mystical defiance of vulnerability. Like his wealth, he baffles.
Or like his politics. Ahmed is not given to attention-grabbing public circulation, nor is he known for loquacious relevance. He operates strictly in vague, silent hibernation, manipulating the levers of power through party politics. Dangerously intelligent, he does not anoint a leader without inserting entrapments within the system, so that he can easily undo his blessing just in case. Such wisdom was absent in most Nigerian godfathers that held sway in other parts. To checkmate Fashola, he installed his loyalists as members of the Lagos State House of Assembly. Anyone who has read Machiavelli's book will find apparent exemplification in Ahmed's politics of trickery and brinkmanship.
The greatest proof of his political adroitness is the emergence of the APC as Nigeria's current federal leadership. Ahmed supervised the editing of Muhammadu Buhari into a gleaning electoral capital, from an erstwhile image of multiple negativities. The best brand experts were hired for the PR job at a cost so huge as to be audacious: it required some measure of self-delusion and brave optimism to stake such campaign funds for an aging candidate who had lost elections three times earlier. But Ahmed was guided by a curious foresight, if not some spiritual clairvoyance, such that he could see farther than most of us. Like most of his political calculations, he got it right, yet again! From regional relevance, he has now become a very important national figure, one whose politics, like Awoism, deserves the attention of political scientists.
However, while he will be cheered for fathering Nigeria's current political change, people of good memory will not forget that he had risen to national topicality, as the Governor of Lagos, championing ideals like resource control and true federalism. It will be interesting to see the APC endorse resource control and true federalism, ideals for which its leader was estranged from the Obasanjo government.
But he may soon become a victim of his own success. The APC is becoming too large and diverse for order. When a startup grows from a private enterprise to a public liability company, its owner is sure to lose the convenience and flexibility of provincialism. The turnout of the elections for the prinicipal officers of the National Assembly may be indicative of what is to come, in terms of internal altercations within the party. The evening of Ahmed's dominance may have come too early in the day — he may not be able to control the new strangers in the party, some of them from the other parts of the country — and he cannot easily have them punished without implications. Regional, religious, and personal interests within the new diversity, one way or the other, will render him incapable of swinging things as smoothly as before. And there is yet the dilemma of his public odium: if his influence remains pronounced, his party will suffer the label of being a political sole-proprietorship; if it is not pronounced, his charm will have been diminished.
In the final analysis, Senator Bola Ahmed Adekunle Tinubu may occupy the bad books of public opinion, yet he may have earned a shinning place in Nigeria's democratic narrative. A strategist of phenomenal impact who built a vast political estate from scratch, he straddles both notoriety and fame, each cancelling out the other in the sheer credibility of their respective acclaims. Hate him or love him, it is difficult not to be amazed by his ingenuity, by his pragmatism, hardwork, and ambition. Ahmed is quite politically intelligent. But will he recognise redundancy before it beckons, and leave the scene at the loudest thrill of ovation? Only time shall tell.