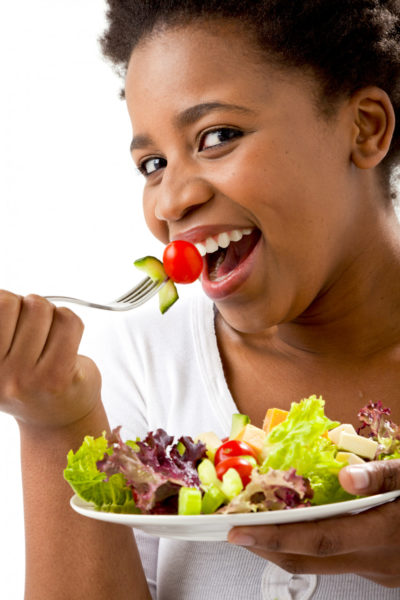 I titled this the Nigerian edition because we heard of wonder foods like Quinoa, Turmeric, Pomegranate, Broccoli, Spearmint, Radicchio, Flaxseeds, Figs, Ginseng, Sprouts, Berries including Acai berry and the Indian Gooseberry (amla) e.t.c. All these are said to do amazing wonderful things for the human body: weight loss, great skin, cure diseases and great overall health. They are great but they are not indigenous to us and to buy some of these foods cost a ton. The joyous thing is that right here at home. We have our very own 'wonder foods'  that do their share of wonders.
In writing this article, I am sure I cannot exhaust the offerings available in terms of wonder foods but I will pick a few I know about.
Green Leafy Vegetables
We are blessed in this clime with a lot of vegetables. A staple in our diet with our many soups, so Mother Nature helped us out in that field. We have Ugwu, Efo Soko, Efo Tete, gure(water leaf), Ewedu, Utazi, Oha, Bitterleaf, Efinrin etc.
Green Leafy vegetables are Iron rich, a blood booster, high in Chlorophyll- the ultimate natural medicine for vitality, skin, immunity and general wellness. They are also rich in vitamins, minerals, enzymes, Phytonutrients, Calcium and Betacarotene. They also have a high amount of antioxidant and antimicrobial properties.
Dates
My first experience with dates was when I went for youth service in the North. Dates are rich in Potassium, Iron, dietary fibres, vitaminsA & K, Copper, Magnesium, Manganese, Niacin, Riboflavin, B Vitamins. Dates have 23 types of amino acids than any other popular fruit like apple, orange and bananas. It also contains Selenium, Cancer fighting agent. All these in one little fruit. Amazing.
Dates, according to many romantic novels I have read, is the food of love; they were on to something because Dates are great for sexual health. In fact, while I was serving, I heard that eating dates was part of the ritual a new wife is put through, it helps (how do I say this elegantly?)it helps down there smell and taste delicious. That's what I heard o.
Dates curb  overeating because it makes you feel full and it is easily digested. You have to eat dates in moderation though, because they are really high in sugar/fructose, a handful is enough for a serving. Since it's available in commercial quantities in the north, I wonder why we don't have a Nigerian made Date jam/jelly.
Acha
This is another food I had when I went to the North. It seems that our Northern folks are on to something. Acha is a wholly proteinous grain. It is called "Fonio" in West African Countries and "Hungary Rice" in English. Acha can be prepared like couscous or made into a porridge. I believe Acha is our equivalent of Quinoa because they have the same properties.
Acha is great for managing diabetes and obesity. It has all the nutrients gotten from wholegrains. Most importantly, Acha contains a powerful three pronged compound called Leucine, Methionine and Valine that promotes normal growth, repair tissues, regulate blood sugar, gives energy and helps proper mental function. These compounds can't be made by the body. They have to be acquired by food or dietary supplements, so Acha is pretty great.
Unripe Foods for Weightloss
I will talk about two examples that I know about: Unripe Plantain and Pawpaw.
Pawpaw is rich in potassium, calcium, Vitamins A & C, Folates, Beta-Carotene, Lutein, Zeaxanthin. It's rich in "Papain", a group of protelytic enzyme which aids digestion and weight loss. I have seen a lot of people lose weight rapidly by eating Unripe pawpaw. Another great thing I have seen it used for is expectant mothers eat them to help prevent tears during delivery and they say it works.
Plantain is rich in potassium, magnesium, dietary fiber, Vitamins C, A & B6, Iron. Unripe plantain is excellent for weightloss. I know a friend's dad that lost more than 30 kg by eating unripe plantain and different sauces everyday. It was cut up in the freezer and was cooked daily for him – this was without any exercise. Unripe Plantain is also great for men's sexual health and this man fathered a child in mid-sixties after this diet and weightloss.
Garlic
Garlic has antimicrobial and anti fungal properties. It combats viral conditions and stomach cancers. It helps reduce cholesterol and blood fats. Garlic has sulfur that activate liver enzyme that the body flush out toxins. It is also high in Allicin and Selenium, cancer fighting agents.
The most common complaint against garlic is that it smells on your breath and your body. A trick I have learnt is to cut fresh ones to drink; you can also take it with a glass of milk. The really stale ones will smell; so go for fresh. I also know it is great for great skin. My skin is especially radiant when I eat garlic.
Aloe Vera
Aloe vera contains at least 75 nutrients, 20 minerals, 12 vitamins and 22 amino acids. Taking the juice regularly can do wonders to overall health and immunity. 'But it is bitter' Well good things don't come easy.
My mum has an entire garden of Aloe vera plants and it does work wonders.
Coconut Oil
The health benefits of coconut oil include hair care, skin care, stress relief, cholesterol level maintenance, weight loss, boosted immune system, proper digestion and regulated metabolism. It also provides relief from kidney problems, heart diseases, high blood pressure, diabetes, HIV, and cancer – while helping to improve dental quality and bone strength. These benefits of oil can be attributed to the presence of lauric acid, capric acid and caprylic acid, and their respective properties, such as antimicrobial, antioxidant, anti-fungal, antibacterial and soothing qualities. It is truly a wonder food.
Coconut oil is my sister's new health obsession. She uses it for her hair skin, food and I have jumped on the bandwagon. It is also great for oral health. She does something called "oil pulling" every morning which kills harmful bacteria and reduces appetite. This is done by gargling with coconut oil for twenty minutes then rinsing out with warm water and salt before brushing. It is also great for baking. Try using it for coconut cake, c'est magnifique.
So there we have it, a list of wonder foods I know, do you know more? Please share, Have a great week ahead.
***Editor's disclaimer: This article is based on writer's viewpoint. Please contact your health provider before you make any dietary changes.
Photo Credit: Dreamstime | Chris Miles