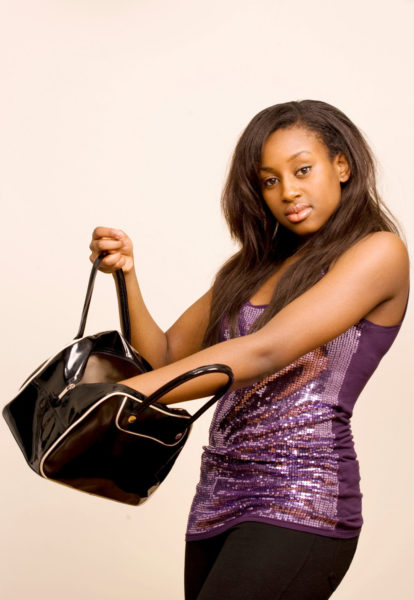 Okay, this one's for the ladies. Most women and I dare say ALL women carry a bag at some point if not every day. Our bags range from different sizes to shapes and colours. The size of your bag on any given day will depend on your personal choice but also where you're going and/or what you need to carry. I generally carry my bags on a rotational basis for two weeks at a time. This means that at the end of the two weeks, I have to empty the current bag and move all its contents into the next bag I will be carrying for the next two weeks. This bag though, is a medium sized tote mostly for work. At the weekend, depending on where I'm going, I may switch to a smaller sized cross-body bag for the day. May I take this opportunity to salute my fellow women that match their bags to daily outfits and I'm not taking the piss. I love the idea.
Every woman has her own routine when it comes to her handbags but I suspect that when it comes to what's inside our handbags, we may not be so different. As ladies we carry a multitude of things in our bags to take care of almost any eventuality, we like to be prepared. I find I have the following things in my bag at various points; some are always there, some not all the time, so I have split the list in two – Must Haves and Others:
Must Haves
1. Purse: Money/Cards – This is self explanatory.
2. Tissue – A lady MUST always have tissue in her bag. A runny nose, spilt drink, tears, dirty seat and who knows what else, all require tissue. A packet of tissue in your bag at all times, saves nine.
3. Lip gloss/Lipstick/Lip balm – A lady should always have lip gloss handy. Apart from the importance of keeping your lips well moisturised, lip gloss or lipstick can very easily take you from day to night. So, say you make last minute plans to grab a drink with your friend after work or the man you're seeing plans an impromptu date, you're covered.
4. Antibacterial Hand wipes/Gel – It is always useful to have something to sanitise your hands with. Germs can be found on almost every kind of surface you can think of. If you're like me and feel the need to wash your hands a couple of times a day, then wet wipes will definitely be a must have for your bag.
5. Compact Mirror – A mirror is ALWAYS handy for a woman; to apply that lip gloss or to make sure there are no hair strands out of place just before you walk into the room to give that presentation.
6. Comb/Brush – Depending on your hairstyle at the time, a comb or brush is needed to maintain a well groomed look.
7. Chewing Gum/ Breath mints – To keep your breath fresh at all times. Just pop one in after a meal or randomly during the day.
8. Pen and Notepad – That awkward moment when you sit down at a meeting/bank/ church and you want to make a note or sign a document, yet you have no pen. Even worse when you go "Can I have a sheet of paper please". For some reason, a woman with a nice pen always just comes across prepared, like she's got her sh*t together.
9. Tampon/Sanitary Pad – Yes, we all know our cycles and probably know when our period is coming. However, I know I have forgotten on more than one occasion and the monthly visitor caught me unawares but very luckily I always had a tampon. Sometimes, you might just be saving someone even if you don't need it for yourself.
10. Hand cream – Dry chapped hands feel uncomfortable. It is handy to always have hand cream in your bag for after that bathroom visit. There are so many tiny sized ones to choose from.
Other Items
11. A snack – For that ravaging hunger that sometimes sweeps over you and you cannot immediately have a meal. A cereal bar, a packet of nuts, crisps or any other compact sized snack will save the day.
12. Pain Relief – We all get them – Headaches, Migraines, muscle pain, period cramps, you name it. Just pop a sachet in your bag, even if you don't use it all the time, there's always someone asking if someone's got Panadol.
13. Antihistamine/Medication – If your sinus is perpetually inflamed like mine, Piriton and Loratyn 10 will be your best friends and this will be under "must haves". For you, it might be another go-to medication, perhaps your inhaler?
14. An Umbrella – Depending on what country you live in, leaving the house without an umbrella is like testing the gods. (England anyone?) There are many tiny ones these days, if nothing else, it will keep your hair and face dry.
That's my list! So, let's hear it, what else do you ladies carry in your bags?
Photo Credit: Dreamstime | Sdeva