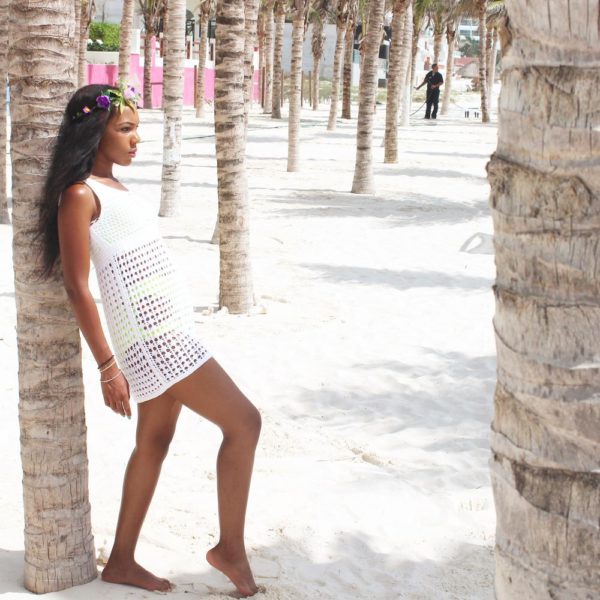 I eat a lot, and shop a lot and it is the same with most people around the world. People hardly travel for leisure. The truth is, it is not until you break free of your surroundings that you experience the beauty of the world.
I recently got back from a short trip to Cancun, Mexico and I must say I was stunned. Through the chaos of understanding the locals speak (I do not speak Spanish) and getting them to understand my English, I lived an unforgettable experience in the short time there. My trip made me realize how important it is to get out of your comfort zone and travel the world. Even if you go somewhere just once a year, make it a habit to experience cultures and live through them.
From my recent experience, I would definitely recommend Mexico as a to go place (Cancun to be exact). A Mexican city on the border of the Caribbean Sea, Cancun is ever bursting with life and energy. It is famous for its many resorts and white sand beaches. Perfect for honeymoons, family vacations, and even spring break, the resorts in Cancun are all inclusive. This means that your hotel fees include taxes; all you can eat buffets/ restaurants and so much more, depending on where you choose to stay.
I stayed at the beach palace resort, which is approximately 30 minutes away from the airport. The resort was astonishing and the welcome was superb. Right from the entrance, you are treated like royalty. The rooms were beautiful and high tech. The balcony view of Cancun was breathtaking.
I got into Cancun in the evening after a long flight. So on my first night there, I had a swell time relaxing in the Jacuzzi. After which, I went down to eat at the Oriental restaurant in the resort. I had a selection of things for dinner. My appetizer was spring rolls, chicken kebab and prawn tempura. For my main, I had a chicken dish (I cannot remember what it was called). Being a foodie in an all-inclusive environment, trust me to eat all that I could.
Day 2
Day two in Cancun was when all my fun began. I did not hesitate to start ticking things off my bucket list. The first thing to go down was parasailing. I enjoyed the breathtaking view of the little city from up in the sky. I tried to do as much as I could because holidays go by so quick and since this was such a short one, it had to be planned well. After parasailing, I went snorkeling. Snorkeling was quite an experience.
This is because I went snorkeling at the underwater museum in Cancun so as you snorkel your way through the ocean; you get a guided tour of coral reefs and underwater monuments. This was a super cool experience but also overwhelming swimming in such a large body of water. I was kind of frightened at first, because the currents were so high and I had never swam with fish before.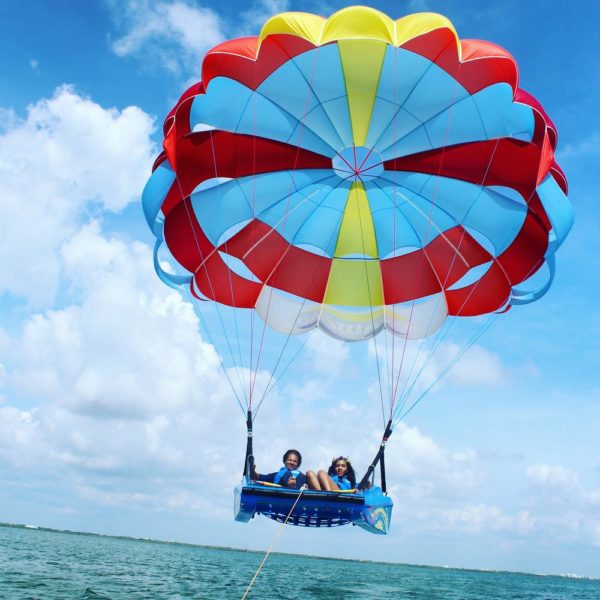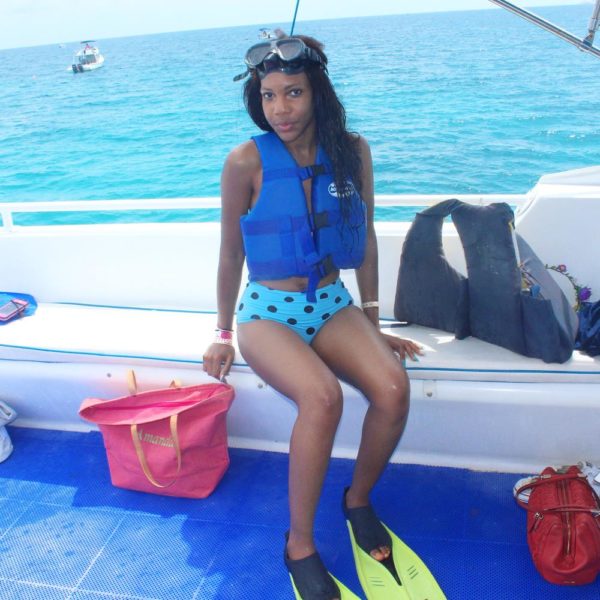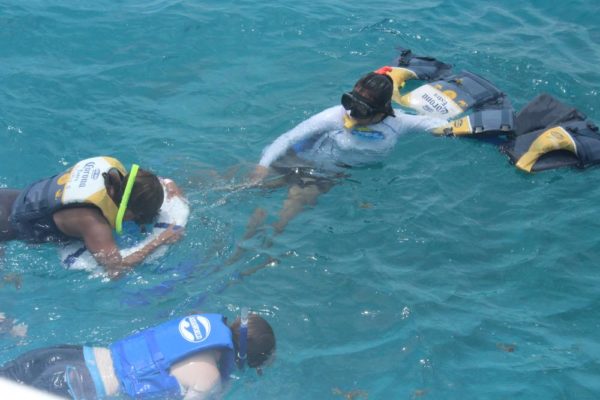 Day 3
On day three, I went on a guided tour to Tulum, which is about two to three hours away from Cancun depending on traffic. Tulum is an ancient Mayan city with Mayan ruins from long ago. It was amazing to learn about the history of Tulum and the people. The tour lasted about an hour, after which I had an hour and twenty-five minutes to look around. I spent this time at the beautiful beach there and then walked around the little village. I had fun drinking coconut water and carrying a SNAKE! I was really brave after screaming and negotiating for about 15 minutes.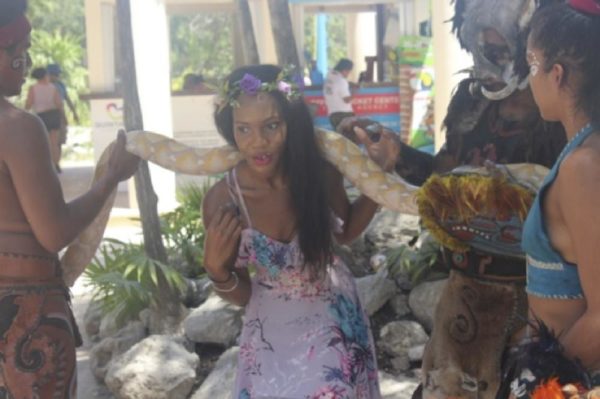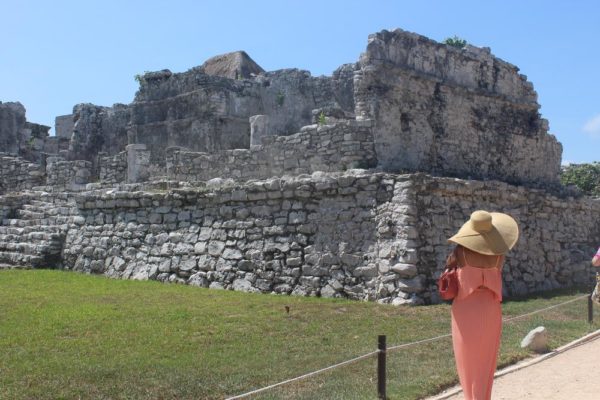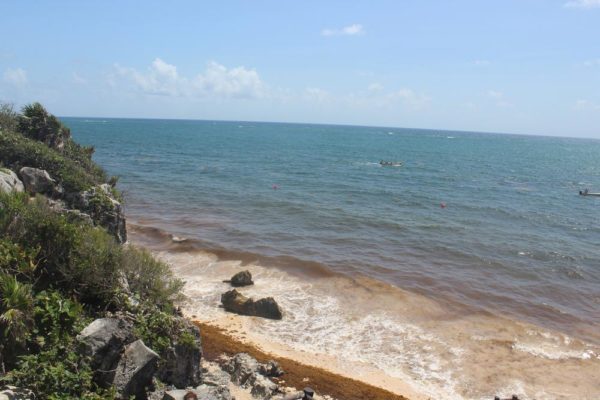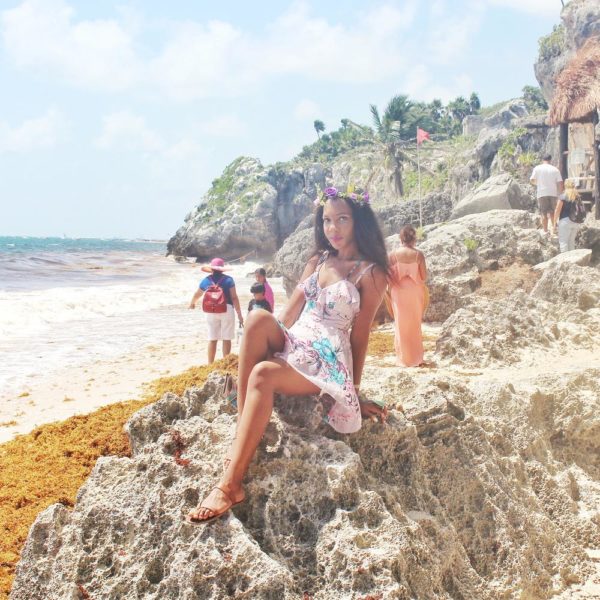 Tulum was beautiful, but it was very hot. You need a lot of water to stay hydrated, so that you don't get irritable quickly.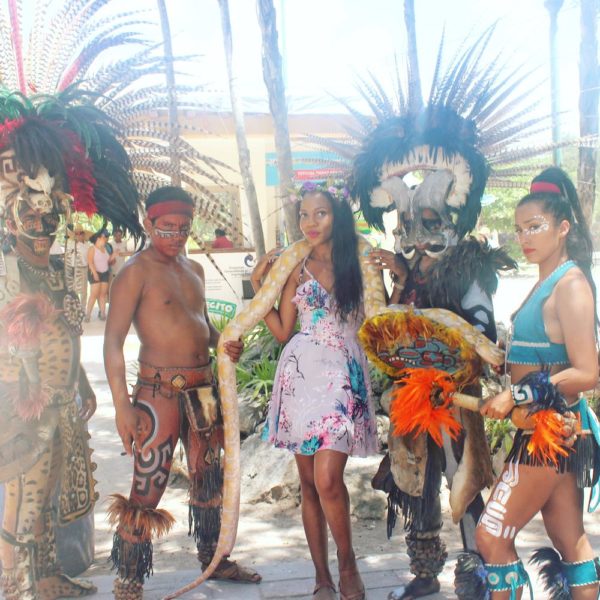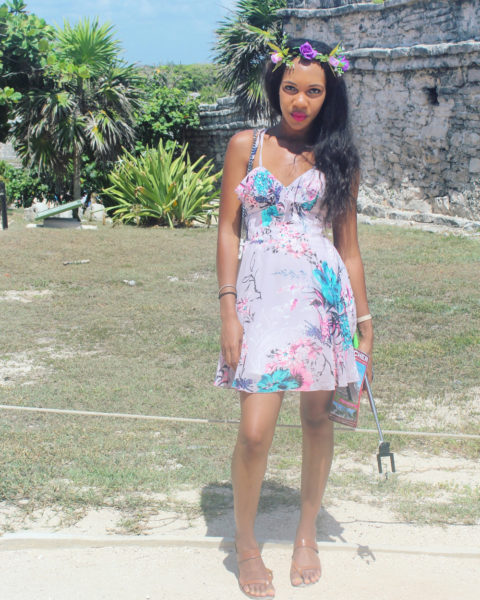 Day 4
On day four in Cancun, I went swimming with dolphins. I did this about 40minutes away from Cancun. I was transported on a boat to my destination and back. The sea in Cancun is clear blue. The view at sea is always breathtaking. The Island where I swam with dolphins was amazing. There were all sorts of activities that ranged from the dolphin discovery, to swimming with sharks etc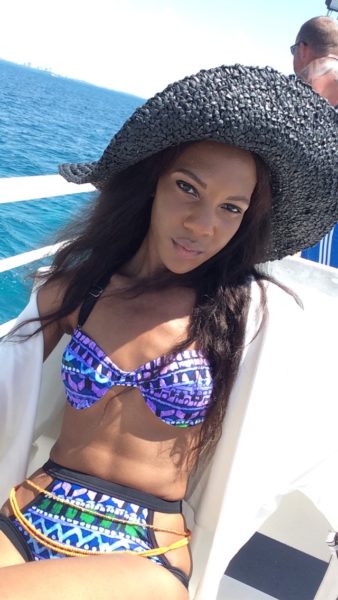 After swimming with the dolphins, I stayed back to eat and relax before I went back to Cancun.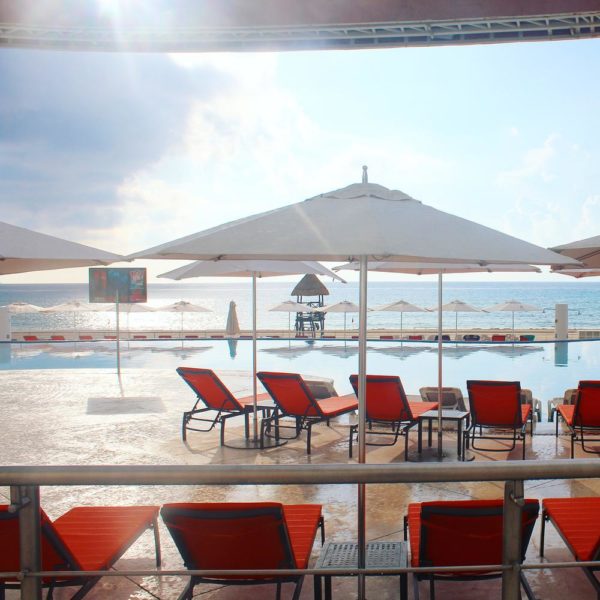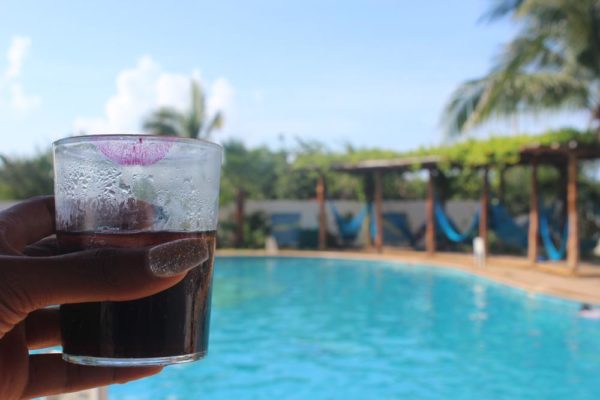 I am definitely looking forward to revisiting or going to a similar Island. It was definitely worth the travel as I was adventurous.
Quick Tip: When you go somewhere new, or extraordinary, refrain from hitting the stores and doing things you can always do in your home Country. The point of a vacation is to live through experiences. Make use of your hotel/resort tour guides, they are there to help and guide you through unforgettable memories.
Hopefully you go to Cancun soon and have half the fun that I did. Be sure to take some sunscreen with you and sun hats. The heat in Cancun is HOT.
I am glad I could share my experience with you BN readers.
Lots of love,
Hadiza (Wovenblends)
www.wovenblends.com | @wovenblends Instagram