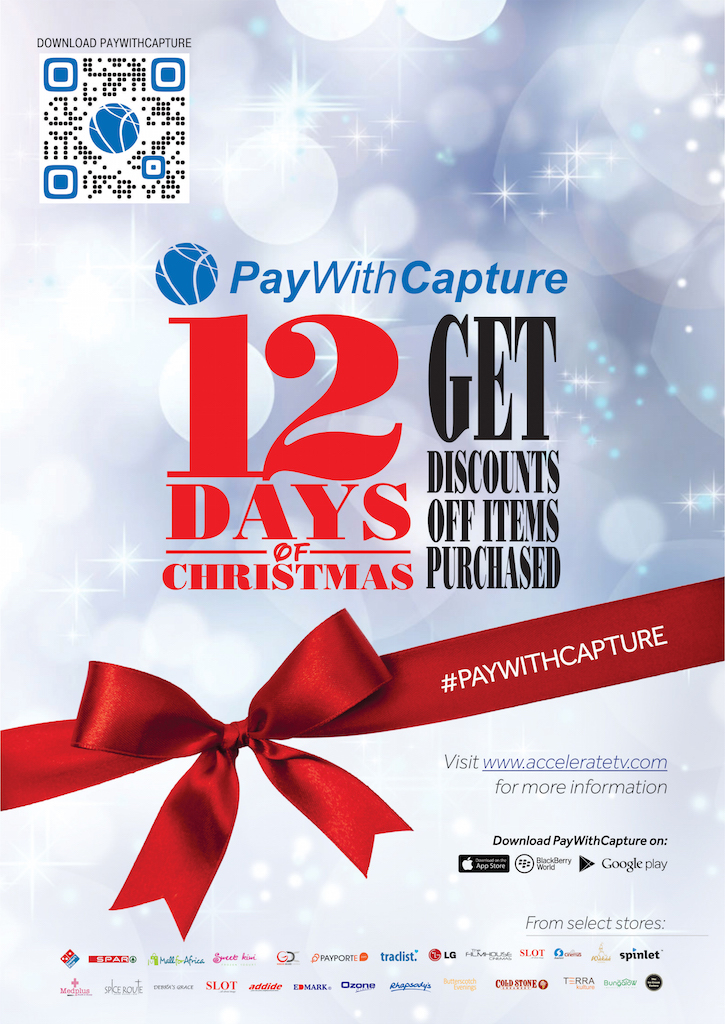 PayWithCapture, Nigeria's leading innovative contactless payment solution launched its 12 days of Christmas discount promotion to reward its consumers this festive season.
The exciting promotion which ends on Friday, January 1, 2016, will give PayWithCapture consumers up to 50% off a variety of items ranging from airtime, movie tickets, groceries, and restaurants ensuring that they enjoy the best of the festive period.
The stores and merchants included in PayWithCapture's '12 days of Christmas' major discount are Filmhouse Cinemas, SPAR, Debra's Grace, SLOT, Bungalow's Restaurant, Spice Restaurant, Traclist, Mall for Africa, LG and MedPlus.
To participate in the '12days of Christmas' mega discount promotion, download PayWithCapture today!
Apple Store
https://itunes.apple.com/ng/app/paywithcapture/id933173227?mt=8
Google Play
https://play.google.com/store/apps/developer?id=PayWithCapture&hl=en
Blackberry World
https://appworld.blackberry.com/webstore/content/59963923/?countrycode=US&lang=en
_________________________________________________________________________________________
Sponsored Content