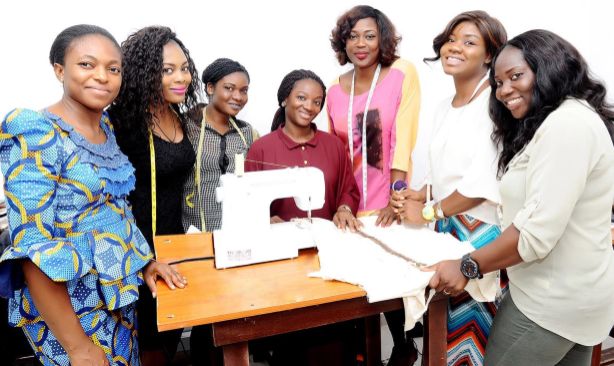 From working in the Oil & Gas industry to empowering women through pattern making & sewing, entrepreneur Titi Falodun is helping women start their own businesses and become entrepreneurs.
Her fashion school – Pattern & Style – transfers pattern making and sewing knowledge to prospective individuals using a well-structured curriculum that is easy to understand and thrives in a comfortable environment.
About Titi Falodun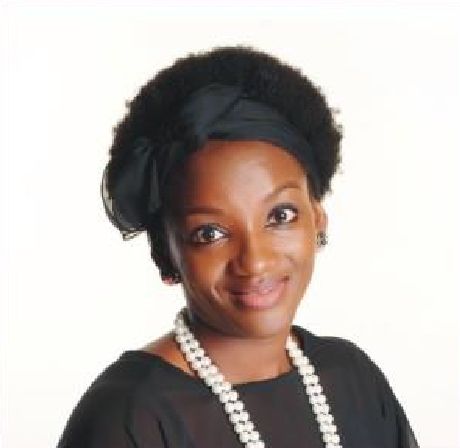 Titilayo Wemimo Falodun graduated from the University of Lagos with a B.Sc in Chemistry. She currently runs Pattern & Style as the CEO where she provides training and consultancy services on cutting and sewing using pattern making. Her passion lies in imparting the extensive knowledge she has gained in the area of pattern making and sewing, because of its potential to empower and create self-employment opportunities for women both young and old.
Prior to the establishment of Pattern & Style, Titilayo worked in a multinational Oil Company for 10 years from 1998 to 2008. During the 10-year period, she had the opportunity to embark on a self-discovery journey with the aim of identifying her purpose in life. The outcome of this journey led her towards developing an interest in designing clothes, and using it as a platform to empower individuals, particularly women.
A series of personal experiences such as working with bad tailors who destroyed her fabrics also helped in forming a clear picture of what she wanted to do. She quit her job in 2008 and spent 4 years undergoing hands-on training in drafting patterns both in Nigeria and Europe.
In 2012, she set up a fashion designing business, which designed, sewed and delivered clothes to the satisfaction of clients using well-trained local and foreign tailors. However, she discovered that she also had a passion for teaching and coaching people on how to cut and sew clothes using pattern making. This discovery led to the establishment of Pattern & Style in 2013. Pattern & Style focuses on providing training, consultancy and also on the sales of sewing accessories.
Pattern & Style
Pattern & Style's pattern and style differs from other training schools in many ways. Here, students are taught with passion and dedication. They are engaged in one-on-one training sessions in a comfortable learning environment. The uniqueness of every student is considered and the training is tailor-suited to cater to the learning needs of each student.
Pattern and Style pride itself in its students being able to commence sewing within 2 weeks of training regardless of whether or not the student has ever handled a sewing machine. Over 50 students have trained at Pattern and style since inception.
The Pattern & Style curriculum is made up of 3 levels;
1. Beginner
2. Intermediate
3. Advanced
The curriculum is designed in such a way that the student can choose to do one or all of the courses.
Students at Work
Below are the experiences of some of the students who have trained at Pattern and style and have gone on to start their own businesses.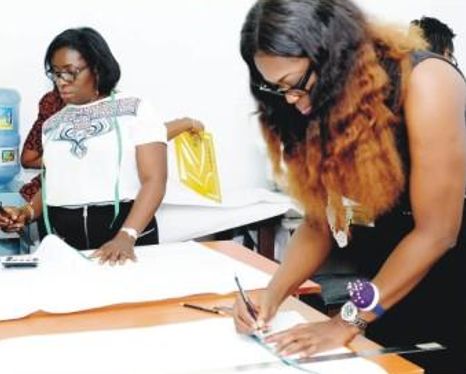 Pattern & Style is encouraged, inspired and motivated by the feedback they have received from individuals who have passed through the institution, and are honored to share a few:
Kelechi Nwakuche (Kaykuche): "My time at Pattern & Style marked the beginning of an incredible pathway in this huge multimillion dollar industry. The course outline encompasses everything a pattern maker requires to excel in garment making. The one-on-one teaching style is priceless as it enables one to freely learn without any fear or intimidation. Even though it is personalized to meet your personal pace, the class gets interactive because of the relaxing learning environment.
The school is fully equipped with requisite learning tools and basic sewing notions are available for purchase; that I found very convenient. The field trip to the market to expose you to where to get materials was quite interesting to me. I highly recommend Pattern & Style for anyone who is truly interested in learning as it touches on pretty much everything, very practical and totally worth the investment".
Ansa Okoroafor (Asyian by Ansa): "It takes a dedicated person who truly loves what she does and has the passion for it to offload what she has inside and share with total strangers. What you do with this knowledge thereafter is totally left to you. I took it all and today I am living my dream out in pattern making and designing.
Titi made it a beautiful learning period and though my maths freeze mode did me in sometimes, I overcame the moment and truly enjoyed my classes. I am quick to refer friends who ask how I know so much in 5 months to Pattern & Style."
Nkiru Ikwueme (Fabstitches): "I have always admired well -tailored clothes. So, after 12 years in the banking sector, I decided that it was time to follow my passion – tailoring. I enrolled in a sewing school in Port Harcourt but could not complete the course because we had to relocate to Lagos. I did not give up on my dream of becoming a very good tailor, so my cousin who is also a very good tailor introduced me to Pattern & Style training school owned by a young woman, Titi Falodun, where she learnt from.
From that moment, I never looked back. I completed a 20 weeks course on pattern making and designing and I can proudly tell that my business kicked off the day I graduated. Thank you so much Pattern & Style. You made it happen."
Funmi Lakanu (VFL): "When I resigned from the bank to follow my passion, which is fashion, I knew I had to go to school. I did not want to be a designer that only sketches but one that births the design, conceptualizes it, understands every detail from sketch to finished work.
So I went school hunting. Tutu, a friend of mine, told me about Pattern and Style. From my first visit I knew I was in the right place. Sister Titi, my big sister, went beyond being my teacher, she became my mentor. She never held anything back! She is a tutor with so much passion. Her classes are very interactive. Her manuals are like treasures to me because they are very informative.
In fact, I remember her telling me, I was joining quite late so she will have to test me with a few tutorials to know if I can catch up. Voila, the rest is history!I am proud to be alumni of Pattern and Style."
Some of the major challenges of the alumni of Pattern & Style include securing a space/workshop, recruiting competent tailors and sometimes getting paid on time after delivering tailoring service to customers. However, all these challenges are surmountable. Excluding training, Pattern & Style also helps women start their own fashion businesses by providing guidance on business requirements, and helping them recruit tailors if they find it difficult to achieve that on their own.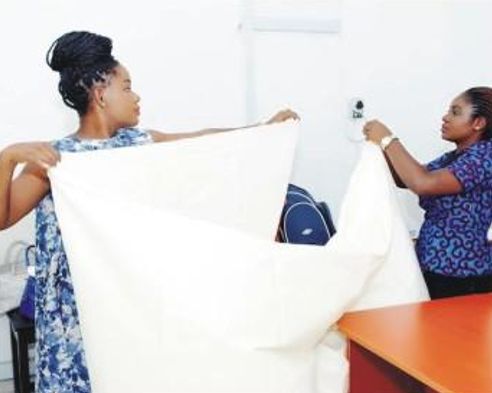 Pattern & Style is always ready to help their students if there's need for further clarification even after the end of the course.
Pattern & Style runs both weekday and weekend courses.
Weekday Course: Mondays – Thursdays (10AM – 1PM)
Weekend Courses: Saturdays (11AM – 5PM)
Pattern & Style is located at Scapular Plaza, 6th round about, Igbo Efon bus stop, Lekki, Lagos.
To enroll, please send an email to [email protected] and
[email protected] or call 07055275170
________________________________________________________________________________________________
Advertorial – Sponsored Content