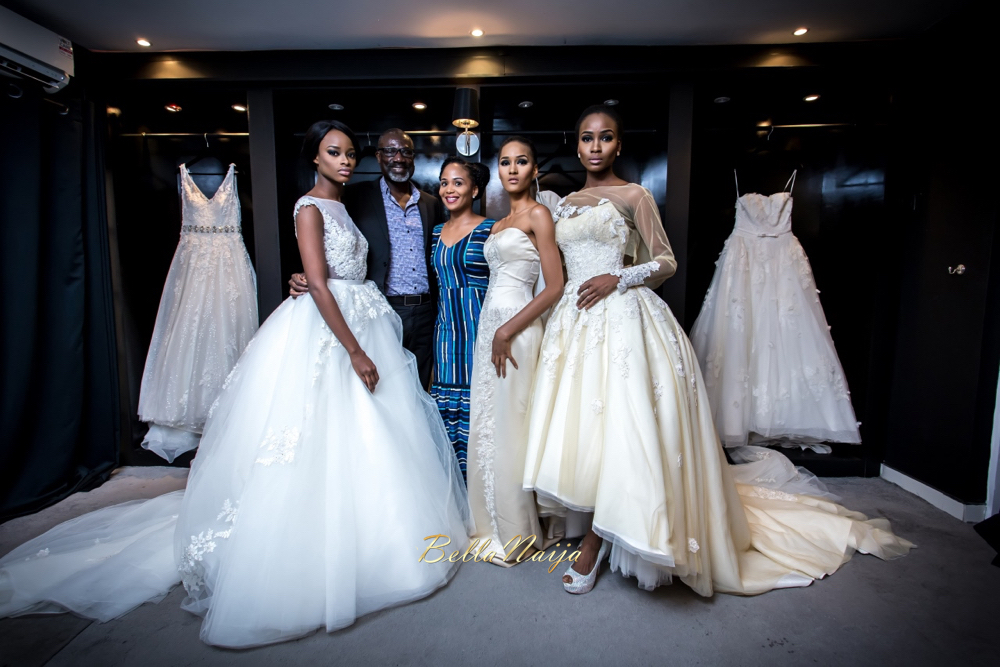 On a breezy Harmattan day in December in Lagos, Ink Eze, co-editor of BellaNaija Weddings met Yemi Osunkoya of Kosibah in the plush Privé Atelier bridal salon in Victoria Island, headed by Elohor Aisien.
Yemi, the designer, was his usual dapper self in a black blazer and blue shirt, while he attended to brides-to-be. While we were there, three brides – one brought her sister, one was accompanied by her dear mother, met with the designer whose business is reaching a landmark 25 years next year.
When holding consultations for his made-to-order couture creations in the back room, Elohor and her staff styled the beautiful models including Mayowa Nicholas, winner of Elite Model Look Nigeria 2014 for our cameras, captured by Kola Oshalusi of Insigna Media.
We had an insightful chat with the couture dressmaker about the evolution of his designs, mentoring young designers, a diffusion line named after him coming out this year – in 2016, and more.
Here's our look behind the curtain of what makes Yemi Osunkoya of Kosibah.
Interview has been edited for brevity and clarity.
Words: Ink Eze. Photos: Kola Oshalusi for Insigna Media
***
The Beginnings of Kosibah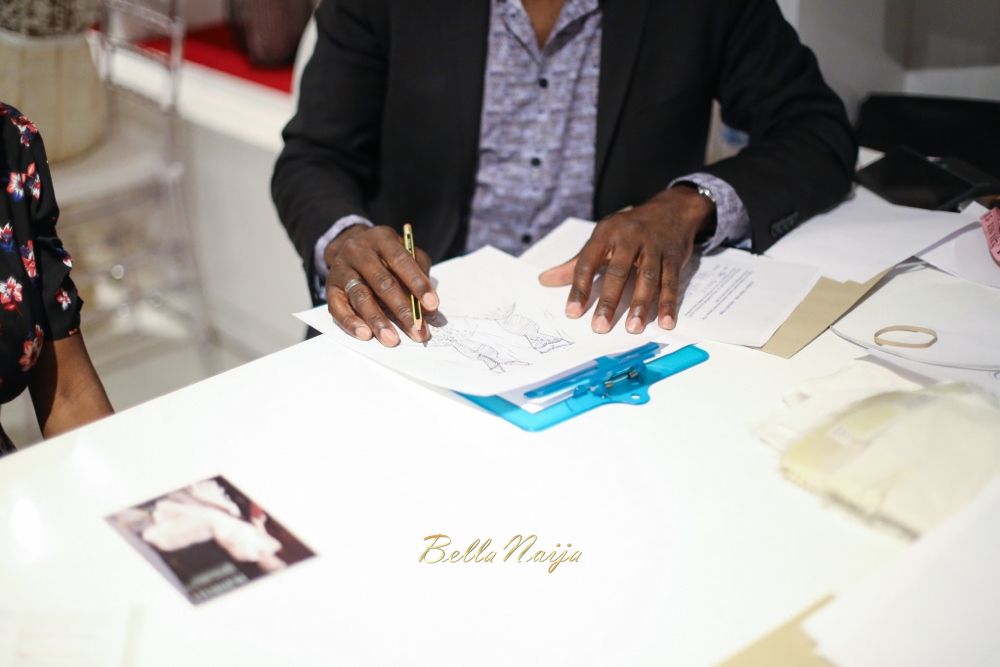 BellaNaija Weddings: You've always been artistic from when you were young, you started off with sketches at 6/7, designed everything for a bit then focused on couture and weddings. What was your big break into the bridal industry?
Yemi Osunkoya: Actually, the first dress I made after I formed my company was a wedding dress. But I did everything. I trained in menswear, so I did menswear and I also did casual wear. Because, when you start a business you are sort of nervous about who's going to be coming in, so I took all orders. But very quickly I realized I hated doing menswear, and then also it wasn't viable doing casual wear because it's still a couture method I'm using, and it was too expensive, so it organically grew into only bridal wear.
BNW: How did you discover bridal wear design comes naturally to you?
YO: I wanted all my designs to lend themselves to beauty and opulence. Menswear, I found boring and time consuming at the same time. I always wanted to make beautiful, wearable, classic dresses, and I wouldn't want to do an outfit for a man that'll look 'costumey' or look ridiculous and I don't like doing plain. I hated doing it so I stopped. And also, I decided on doing what I'm good at, sticking to it and doing it to the best that I can.
The New Kosibah Collection
BNW: Your signature has been lace and figure-hugging silhouettes, usually achieved with corsetry. But this collection looks different. What prompted this Kosibah evolution?
YO: I decided that since I'm going into my 25th year in business next year, I need to up my game, and I needed a radical change from what I've been doing before. Everything was looking a bit 'samey'. I also realized that a lot of the styles I've been doing for the past 6 years, I'm now seeing a lot of them around now. I am going into my 50s and I don't want young brides to think, "he's completely out of our era". So I thought "OK", you have to innovate and do something different. I wanted a softer, younger, fresher look. But I wasn't sure how I was going to achieve that.  And I also believe that no matter how long you've been in business, you always have to raise the bar, improve, innovate and that's what I tried to do.
BNW: Keeping that in mind, what was the inspiration for your new Turner 2016 collection?
YO: I went to an exhibition at the Tate Britain and it was for a British artist called Turner. Each room had a different period artistically. In a room called 'squaring the circle' all the images there were slightly 'unfocused'. Very blurry. And all the golds, ivories, had a sort of mystical feeling to it and it struck a chord. So I thought, "Oh my God", I'm really inspired and I took some photos of the colours. There's a particular dress called Calliope in my collection.
All the colours in that skirt were in the room. The subjects were from Greek mythology. Zeus had nine daughters and they are the nine Muses – Calliope, Thalia, etc. So all my dresses I named after the nine Muses. By some fantastic coincidence, I saw a little bit of quartz which I added to my collection, which is the 2016 Pantone colour of the year. So I was like *ding ding ding* I got that right. But because my gowns are bespoke they could be any colour for a bride.
In this collection, I wanted to retain the figure enhancement without the rigidity. So I've got lots of delicate buttons going down the back, a lot of them don't have boning, but because of my years of experience, I can still sculpt your body, so you don't have to wear a rigid dress to get my silhouette. And then I decided to use tulle, very sheer, and I wanted to use lace. I wanted to experiment with new techniques too, so a lot of the dresses – nobody wears bras under them, they don't use bust cups, it's purely cut. I placed the applique in a way that it actually shapes the bust. It's pure couture techniques. All the lace is by hand and it still retains my signature look, but it's not as rigid as what I've been known for, and I hope the difference is clear.
Nigerian Weddings
BNW: You've been in the industry for over 20 years. How's the Nigerian wedding and bride of today different or similar to the bride and wedding of yesteryear?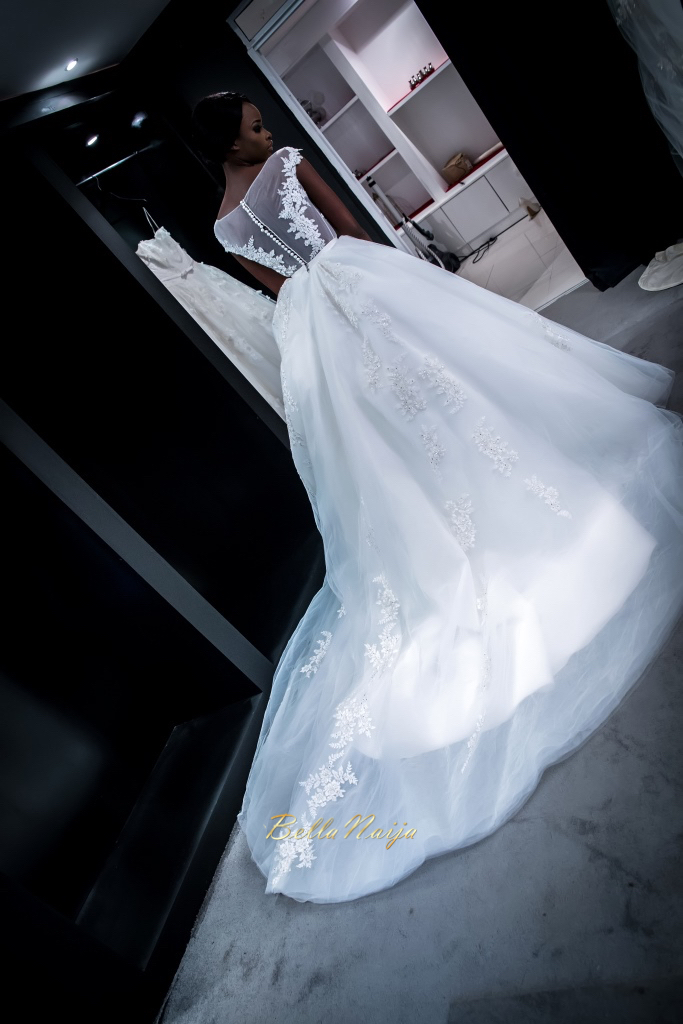 YO: I think the Nigerian bride of today is more sophisticated, and that almost coincides with the advent of the growth of wedding planning. When I first started, mother and 'sister Bisi' did the cake and the food. But now it's all very professionally done. Not that anyone is competing, but the bar is being raised all the time. It's more sophisticated and it's better. The only stumbling block we still have to overcome is the 'numbers' issue. In terms of invitations, because now most people would like place cards with names and people sit exactly where they are supposed to and they RSVP. But when guests bring people that were not invited it's a problem. That's the only stumbling block left.
BNW: You've been in the UK for decades, occasionally coming back to dress and meet with brides, like today. Would you consider moving to or producing in Nigeria?
YO: No I won't consider that because I'm established in the UK. The manufacturing and production is being done in the UK, I have all the facilities I need. I have no problem coming in and out of Nigeria. And because I'm not doing Ready-To-Wear at the moment, I'm doing bespoke so I wouldn't want anything to affect that.
BNW: Talking about your bespoke designs, have you considered doing ready-to-wear clothing in your signature style – figure-hugging, in lace etc. or a diffusion line?
YO: It's dawned onto me that a lot of people love my work but they can't afford it. And I always respect people's budget, I think it's really important for people to keep it back of mind, the wedding is just one day, the marriage is forever. So if you have a budget there's no need of breaking the bank then you're in debt. But I resisted it because it entailed a bit of loss of control, that is, manufacturing is done elsewhere, patterning is done elsewhere, but I realized that it's the next step I had to take.
And also I have built the Kosibah brand to a stage where it's safe to do a diffusion line. If you do it too early, sometimes there's a bit of confusion. So I am planning a Ready-To-Wear line that will come out in 2016! It's going to be called Yemi Osunkoya. It's going to be simplified versions of what I do but still retain figure enhancement.
The price point will be between £1,200 and £3,000 as opposed to couture which will then be £5,000 and above, so there's a clear demarcation.
Tips for Brides-to-be and Advice for Wedding Vendors
BNW: Do you mentor or train upcoming designers?
YO: I do. And the reason I do is when I started I never worked for anybody. It coincided with the recession of the early 90s in the UK. Nobody was hiring so I set up on my own. I did a business course and that helped, but I realized that I've made a lot of mistakes that one shouldn't if you have experience of what you're doing as opposed to doing it on the hoof, so it's a part of giving back. I've learned lots of techniques that people will never learn in school and I don't want to stop and teach, but if I can pass on knowledge while we are working, that's perfect. So I do take on students, but my studio is not very big, and I just find that after more than three or four people it becomes inefficient, therefore I have to have some parameters, because I get a lot of requests from abroad. My parameters are they have to be fashion students and study in the UK.
BNW: Do they pay?
YO: No. They don't pay me, I don't pay them. But they would learn more than they would if they were going to a school. In the future, I'm going to be doing more speaking engagements and maybe more specific workshops dealing with specific items of fashion. I'm in talks with somebody that is actually going to do this online but I will also do it physically.
BNW: You've worked with brides for close to 25 years, and your job is to bring life to the wedding as the dress sets the tone stylistically for the day. So what are your top tips for brides? 
YO: One, it's important to know your body shape. Whether you're a pear or you're an apple. Are your hips bigger than your shoulders? Is your bust bigger than your hip? Know your body type and try things on even if you're going to do bespoke. Because you might have an idea in your mind and it might not translate or something you never though about, you might actually like.
Two, fix a budget, know what your budget is and be realistic about what you can get from it. In bridal, we have ready-to-wear. You can go to a shop and find something and that's it. They might have to order it in your size but what you see is what you get.
Then you have design brands where you have dresses that can be altered slightly by adding a little bit of something. Normally you see that in bridal salons or boutiques.
And then you have couture, which is a dress made specifically for you, from specific measurements from scratch. They all have different price points, so you have to be realistic where you fit in.
Third, when you're dress shopping, be really careful about who you take. Take people you really trust. And maybe not more than two people – preferably, your mother, your sister. From my years of experience that's my best advice.
BNW: Finally, from your own personal successes and failures, what's your advice for upcoming designers and wedding vendors trying to make it in Nigeria, the UK and in general?
YO: You need to strive for excellence, because when you strive for excellence that's when you can then charge a fee that you feel values your work. But in order to do that you probably have to learn. So, if you can get some sort of work experience, do it. If you're a designer try and work with someone that does design, if you're a wedding planner try and shadow a wedding planner. Be prepared to do it for free, because what you're learning, really, is better than if you had paid in a college. So if you keep that in mind you probably won't be resentful. So you're not working for free – the person is training you for nothing. Look at it that way and learn as much as you can.
And also, realize it's a business. No matter how talented you are, if you don't run your business as a business – administrative, taxation, marketing, PR, it won't work. All that is really important. You need to get the balance between that and the artistic side of what you do.
BNW: Thank you, it was a pleasure speaking with you today.
YO: Thank you!
***
Photography: Kola Oshalusi of Insigna Media | @kolaoshalusi
Credits
Dresses: Yemi Osunkoya of Kosibah | @YemiKosibah
Venue: Privé Atelier | @priveatelier
Models: Mayowa Nicholas, Banke Su, Susan
Makeup: Beauty by Ade | @beautybyade