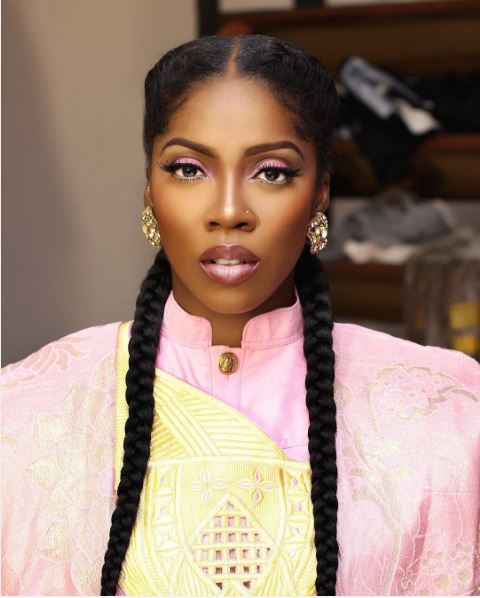 Urban96FM hosts an 'Urban Superstar Top 10' program on their station where your favourite celebrities to share their top 10 favourite songs while answering those questions nobody else can get them to answer.
The show holds every Wednesday and on the last edition they had Tiwa Savage in the studio.
Before she jumped into her favourite ten songs, she got to speak on sundry issues from life after childbirth to adoption plans, making a 'Seyi Shay' comment as well as her favourite meal.
This was actually Tiwa Savage's last interview before the drama started…just before she dropped "If I Start to Talk".
See excerpts below.
On her post-baby body she said: How's my stomach? It's still bulging. It's not completely flat. But we're working on it. I'm taking my time, I'm enjoying the bulge. It's extra cushion for my son when he sleeps. It's like a pillow.
On getting stretch marks from her pregnancy: Oh I always had stretch marks but not on my stomach though…my legs. So it was just like 'Hey welcome to the family' *laughs* and there are still stretch marks on my stomach and my boobs as well.
On if things have changed since having her baby: Physically some things are south, more so than others but mentally I'm really happy. I'm more motivated…more so than ever before. I have this renewed strength and I think I'm more organized now because I have to make sure my son's okay, my husband's okay and I'm okay.
On having more kids: I do want to have another one but its just that the thought of going through all of that again…because I really had a difficult pregnancy. I was throwing up the whole nine months, I was eating a lot. Even if I still have my own – by God's grace I want a little girl – I will still adopt because a lot of children do need homes.
On Seyi Shay being a Pepsi Ambassador with her: You are so…ugh…having an interview with this girl is crazy. See I knew you were going to drop this in anyway, everybody has heard! What? Am I happy for Davido? Of course. I love him. He's absolutely fantastic.
On her Ojuelegba story: I still have that because if I go to Yugoslavia they're not gonna know who I am.
Listen to the fun interview below.
Photo Credit: Instagram – @davesucre