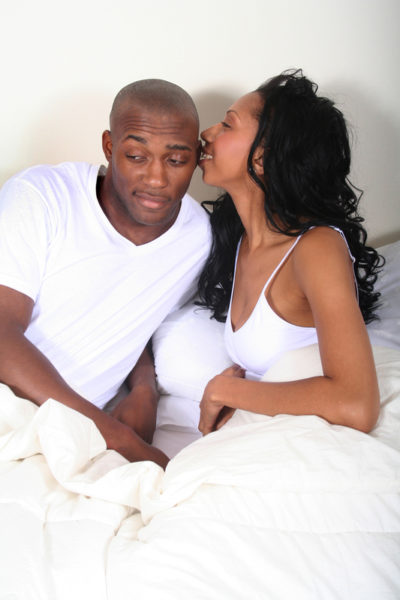 I was speaking with a friend the other day and naturally sex came up, Yes, I enjoy talking about sex. In the course of our conversation, we began reeling off a list of our sexual escapades and wondering at the extent of the outlandish things we had done. It was fun.
As the conversation progressed, I asked if there were other things she would like to do sexually that she hadn't done, she answered in the affirmative and so began the sex bucket list.
We began listing the sexual things we would like to do with our husbands and setting timelines to them. Needless to say, one of the things on the bucket list was actioned that night.
When it comes to sex in marriage, it gets very tempting to stick with the same old thing all the time. I mean, it's super comfortable to lie on your side and spoon, especially when you both get orgasms that way. Why would anyone want to rock the boat?
Well….. Newsflash, sex should not be treated like a comfortable old pair of jeans, that you can slip into anytime without much work. Of course I don't mean, it has to be uncomfortable or painful, but sex should be exciting, it should be something you look forward to. Giving up your body to the pleasure your spouse provides and pleasuring their body as well, should be thrilling adventure rather than a boring chore.
Yes, there will be times when you should relax and enjoy the familiarity of 'not much effort required' sex, however making that your standard operating procedure may be the beginning of the end of an exciting sex life.
Sex should be an act you look forward to. Every time you have sex is an opportunity to discover something new about your spouse, an opportunity to discover more erogenous zones that will drive them wild. And what's more, the bucket list takes it to a whole new level of amazingness.
Now your bucket list doesn't necessarily have to be a wild one. If that's not what you are into, you are under no pressure to do make it wild. The essence of the bucket list is to bring to the fore, other pleasurable possibilities that you and your spouse can explore and enjoy sexually. Going a step further by setting a timeline to it takes accountability to a whole new delightful level.
Your bucket list could be as simple as identifying a new place you would like to have sex; say moving from the bedroom to the kitchen or living room, or changing the position to one you have never tried or incorporating new things like a sex toy.
Whatever you would like to put on your list is entirely up to. However, please remember that the activities on your list should bring pleasure to your spouse, as well as, yourself. There's no point having a bucket list that would make your spouse show up to work bowlegged after sex with you.
Now what are you waiting for? Go ahead, put your bucket list together and have a blast ticking each one off.
Thank me later.
P.S  In honour of Democracy day, I am giving out a free 30 minute Online Sex coaching session to the first 10 married/engaged people to register HERE. The next 10 will get a 50% discount .  What can I say, I am a patriotic Nigerian. Maybe if people have better sex, there will be less irritated people everywhere……Hurry now.
Photo Credit: Dreamstime