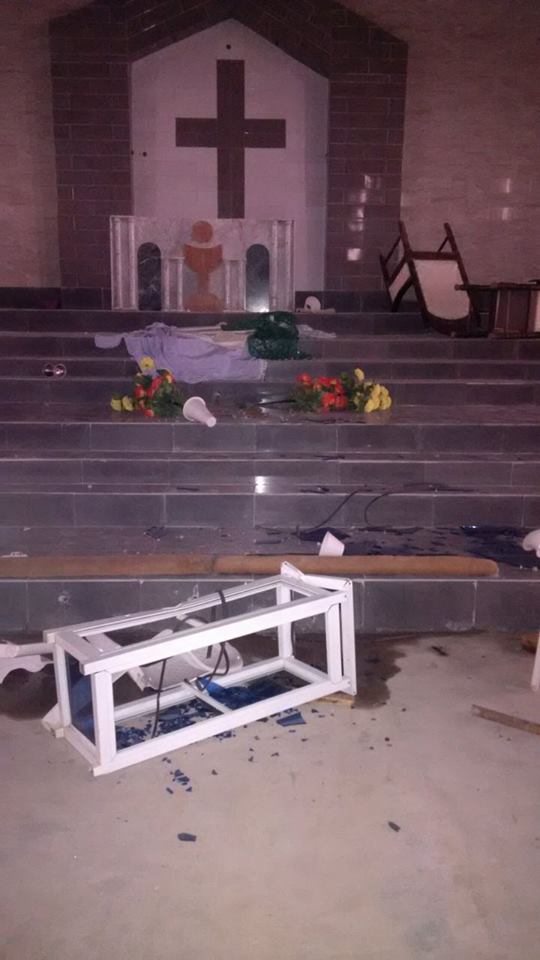 A group of suspected Muslim youths yesterday attacked St. Philip's Catholic Parish, Baki Iku, close to Zuma Rock in Niger State, destroying properties worth thousands of Naira, THISDAY reports.
Reports say the attackers, numbering about 200 stormed the church premises on Friday, destroyed properties, and injured the church's security officer and a seminarian.
The attackers reportedly said that the church had no right to worship on Fridays because it is their day of worship.
Rev. Fr. Luka Sylvester Gopep, the Vicar-General of the Diocese, who confirmed the incident said:
"Sometime around 2pm, some Muslim youths in numbering 200 left their Mosque after their Friday Jumat prayer and rushed to the Church premises, climbed the wall and destroyed everything in the Church: the windows, the alter, musical instruments, the chapel.

The security man in the church premises was beaten to pulp. Some women who were holding a prayer meeting were chased away. The seminarian who is resident in the premises was also beaten up and chased away.

Just last week, Eunice Olawale, a mobile preacher of the Redeemed Christian Church of God was killed by some fanatical Muslims in Kubwa, FCT. How long are we going to continue like this?," he said.
Gopep said they have reported the incident to the police, and the police assured them that they will investigate the matter, adding that some arrests have been made.
See more photos below:
Photo Credit: Facebook – Martins Edoka Amana