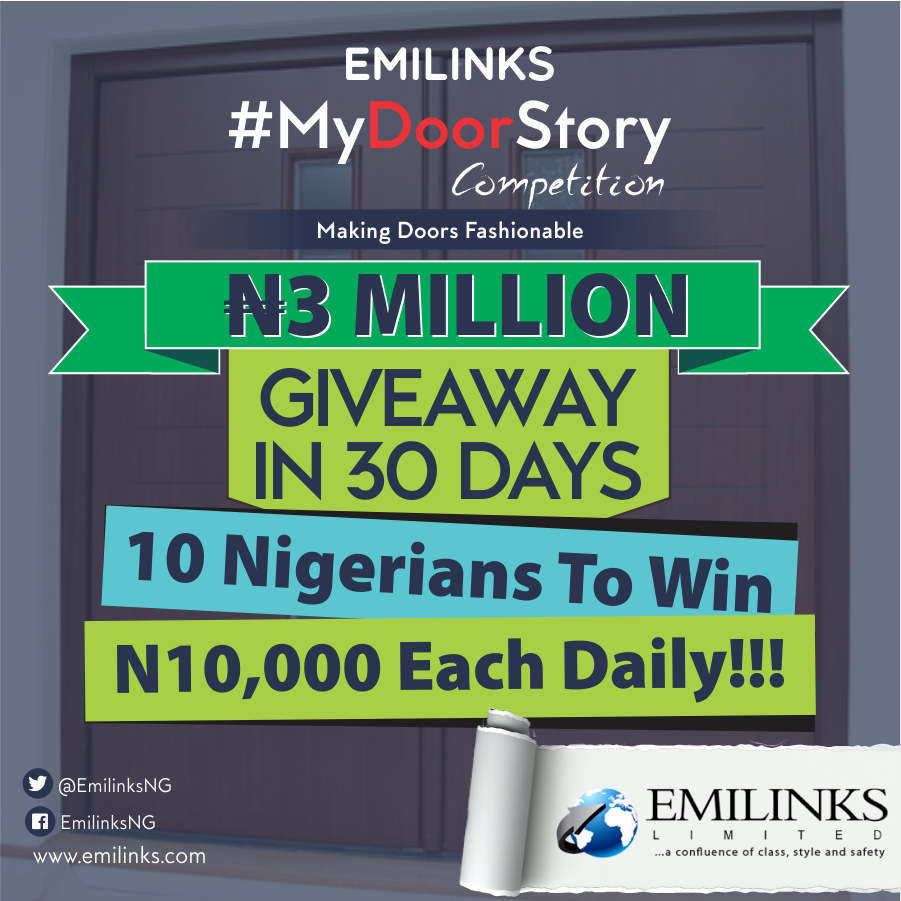 The #Emilinks #MyDoorStory N3,ooo,ooo Giveaway is still on and each day for the past 15 days, 10 lucky people have gotten N10,ooo for sharing photos of doors and the importance of the doors. More winners will be picked before the end of the month!
You can catch up with the previous days of the Giveaway here.
Thank you so much for participating as we love the creative turn your short stories are taking and your creative photos. Please keep sending them in, it might be your turn to win today!
It's a new week and we are switching things up! So instead of sharing a photo of the bad doors in your home, we want to hear about the Good Kitchenss (plus the aromas if you want) and your good wardrobes. So get snapping!
***
About Emilinks
Emilinks is a global manufacturer of world-class finishing and furnishing products such as doors, beds, kitchens, dining sets, wardrobes and shelves for homes, offices, hotels, royal palaces, presidential lodge, honeymoon suites and luxury villas. Emilinks uses a variety of innovative techniques blended with exclusive designs to build premium quality products.
With a record of excellence in all areas, Emilinks wants to empower Nigerians over the next 17 days!
MD/CEO of Emilinks Limited, Solomon E. Nwadiogbu, a very patriotic Nigerian is standing his ground to see that fake and substandard products are totally eliminated in Nigeria. He pioneered a campaign to eliminate fake and substandard products by crashing the prices of doors, wardrobes, kitchens and other furniture products in Nigeria.
We may have realized that doors play a huge part in our everyday lives. Ever wondered why there are so many philosophical sayings which include "Doors", now is your time to reflect on the role doors play in your life and the disadvantage of having bad doors!
***
How to participate in the N3,000,000 Giveaway
Take a clear photo of yourself featuring a good kithchen door or a good wardrobe
Share a story about the importance of having good kitchen doors and wardrobes in your home and/or the society
We are looking out for creative, interesting, inspiring, intellectual and funny stories!
Creatively linking in the Emilinks brand will be a plus. The key word is CREATIVE.
Submit your entry via Twitter, Facebook, Instagram or on www.bellanaija.com/tag/emilinks
For entries on BN, simply leave a comment on the post of the day. e.g Day 8
Remember to add the hashtags #Emilinks and #MyDoorStory to your post on social media or comment on BN
Unfortunately, we cannot view social media entries via private accounts and DMs will not be accepted
10 winners will be selected daily to win N10,000
Enter each day!
Be sure to find out more about Emilinks and explore the brand via the following channels.
Website – www.emilinks.com
Twitter – @emilinksng
Facebook – EmilinksNG
Abbreviated Terms & Conditions
Participants can enter as many times as possible
Entries reset each day at 10AM West African Time, therefore a new entry is required each day
10 Winners will be Chosen per Day
For social media entries, no Direct Messages permitted, only via Open/Public pages
For entries on BellaNaija, ensure you include an active email address in the email box
Winners will be chosen by an in-house judging panel
Assessment will be based on the photo and/or the story
Participants can only win ONCE during the 30 Day period
There is no entry fee for participation
Participants must be over 18 years old at time of entry
Winners can be based worldwide, however, MUST have a valid Nigerian bank account
Money will be paid via local bank transfer
For due diligence, list of participants names confirmed via bank account will be kept on record
List of winners' social media handles and BN usernames will be published
Winners are encouraged to share news of their win via social media
****
Here's the list of our 10 lucky winners! You will be contacted today
Post on BN:
1) Mercy A. – #Emilinks #MyDoorStory #Day15
I used to hate organization. My things were always scattered. During my NYSC days, the Ghana-Must-go bag my mother arranged my things in was torn really badly within two months. I usually dropped my clothes on the bed. If they are on the floor, I quickly threw them in a bag and moved along with my life. I never had time to arrange my things in the room. There was nothing motivating me to arrange my things.
Then, I accompanied my friend to get new furniture for her room, She wanted a makeup stand and a wardrobe, we worked into the #Emilinks store that was when we saw there wardrobes. Different designs, well constructed and above all they were spacious. My friend bought one and I couldn't leave without depositing for one that had caught my attention.
I bought the wardrobe for its beauty but I have also learn that good wardrobes inspire organization.
I make sure my clothes are well folded. I take selfies all around my wardrobe. When friends visit I take them inside my room. It is all about what a good wardrobe can do for us. Thank you #Emilinks for using a well designed wardrobe to teach me organization.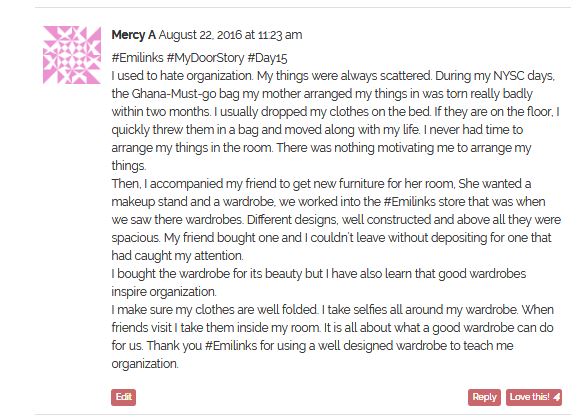 2) Mark Uma – During the weekend I decided to put my Culinary skills to test, I got to the kitchen to prepare my Favourite soup "Afang Soup" as I was about to begin cooking I heard the Door Bell and I went to get the door. My visitors were my office colleagues and I told them to make themselves comfortable that I'm in the kitchen, they all laughed and said I shouldn't burn the food oOo I smiled at them as they sat in the sitting room watching the Rio 2016 Football Bronze Medal Match between Nigeria vs Honduras. As I was cooking they kept taking jibes at me that I can't cook, I should go get a chef or better still go get married, yet I smiled in the kitchen. As I was in the middle of the cooking they told me from the kitchen that the were leaving because the football match was over. I told them to wait that I'm almost through with the cooking and they threw a jibe at me again that I can't cook that's why it's taking me forever. I told them to relax, I'm almost done so I could see them off. When the Edikang Soup was done, I now opened the Kitchen door and the aroma infiltrated the sitting room and the delicious Soup Aroma change the entire ambience of the house which got them all salivating, meanwhile I've prepared Eba. I now got out of the kitchen and told them"okay I'm through with the cooking now it's time for you all to go let me see you all off" They all protested, No na, Ah Ah Mark person no dey play with you again. I laughed out loud and reminded them when they said I couldn't cook and all their jibes. They begged and said it was a joke, I smiled and went it to the Kitchen and brought the prepared Eba and Afang Soup to serve them. They ate it all and complimented my cooking, and they were to filled to stand up and go home Lol. That's the power of my Kitchen Door, let me stop here because more Stories awaits you. #Emilinks #MyDoorStory #Day15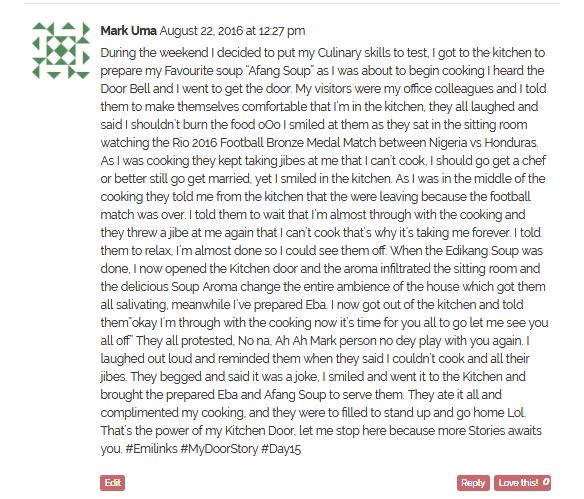 Twitter:
3) @maryamaiy – @EmilinksNG @bellanaija Having a good wardrobe makes me feel safe from woodworm & pests #Emilinks #MyDoorStory
4) @eunic_joju119 – The only way to a man's heart is through his stomach #Emilinks #MyDoorStory Day 15th @EmilinksNG @bellanaija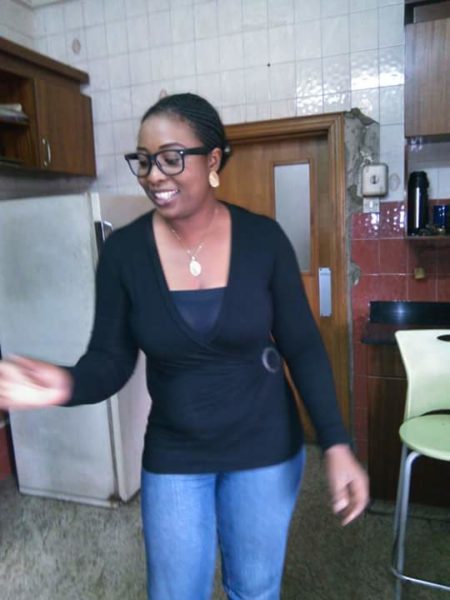 5) @ObiesieJoy – @EmilinksNG @bellanaija A good wardrobe protects my clothes and valuables from rodent attack #Emilinks #MyDoorStory
Facebook:
6) Uyoyou E. – #Emilinks #MyDoorStory
A good wardrobe is one that should provide proper storage space for clothes.While I was in the university, I stayed off campus in school.The wardrobe of my hostel is what marveled me.It was big and spacious. I had where I could keep my shoes,my box and most especially my clothes.The way my wardrobe was partitioned showed me that its producer must be a man of wisdom.My Emilinks wardrobe gave me much pride because it served its useful purpose and beautified my room.There was no record of termites or any other insect to eat its wood.I had a friend back at home,she called me one morning complaining that she was trying to clean her wardrobe and saw that some of her clothes had been eaten by termites and we know how that can be for a lady (we love CLOTHES)..I told her it was the kind of wood her wardrobe was made of that caused it and since she was working and earning money that she should go and get an Emilinks wardrobe and that she wouldn't suffer such anymore and she listened because she knows I always tell her the truth..Emilinks wardrobe all the way.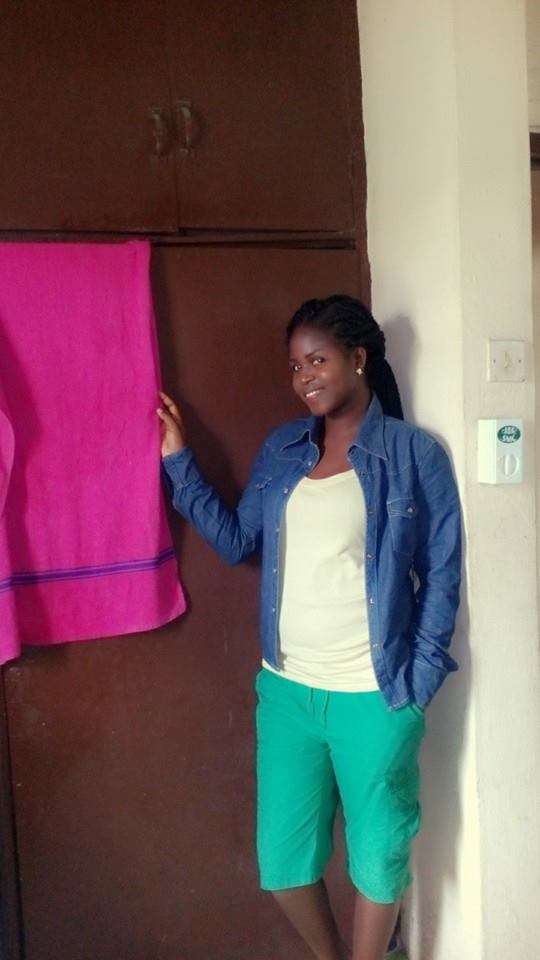 7)  Elizabeth I. – Wardrobes means alot to everyone irrespective of their social class, ethnics and background.
Wardrobes serves as an easy means to store clothe And pick it up when ready for use, it reduce inessant ironning of clothe as it reduce the tendency of clothe squeezing.
My Wardrobe story happened one faithful morning around 6:00am, i was sleeping when I received a call about a job interview , i hurriedly rushed out of my bed and get a cold shower as I could not afford to miss the chance of getting the job. I checked what wear to put open, on getting to my bag all my iron shirts were all squeeze and unfit for job interview , i ran to the new Emilinks Wardrobe I bought some days back, i was fortunate to have hang some few dress to which I pick up and went for the interview. That day I understand apart from the main reason to which I bought the Wardrobe ( for decoration and beautification as it is the best In town. ) they perform alot of useful function. #Emilinks #MyDoorStory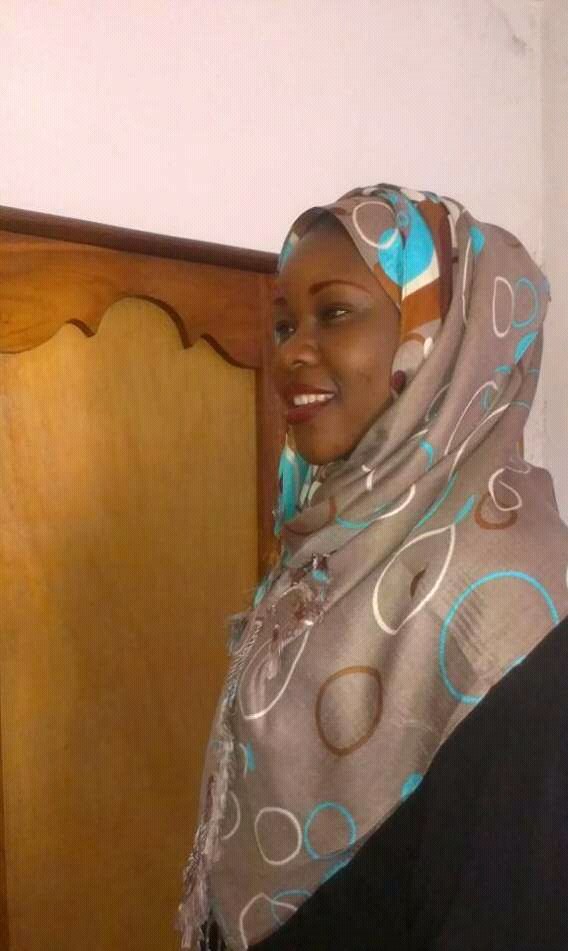 8) Nnamdi A. – #Emilinks #MyDoorStory #Day15 Security is not an option but a necessity. A kitchen door has to be a reliable door used in the home.As a strong door is planned & fixed at the entrance of a home to prevent robbers, a kichen door must be a strong door to prevent burglars from entering through the kichen door.These took me back on the memory lane of how i was in need of an apartment, all the houses i saw was beautiful with good entrance door but the kitchen door where normal doors. With a kick, the door is open for burglars to enter.I wasn't satisfied , i kept on searching until the agent showed me another one, Seeing the quality of the entrance & kitchen door, Smiles light up my faces seeing #Emilinks door. I made payment immediately cos the door assures me of maximum security.Each time i open the door to kitchen, either a sweet aroma welcomes me in or am sure of getting to eat something as my Belle drums for hunger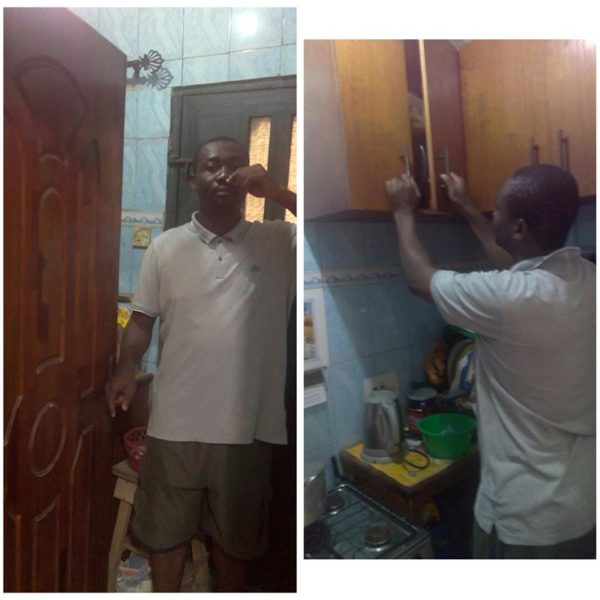 Instagram:
9) @blackswain1 – Day 15- BARRIER BREAKING AROMA Of all the wonderful places in the house, the kitchen is where I consider to find solace most. I do not joke with my kitchen utensils as a doctor wouldn't with his stethoscope. The kitchen door apparently is a necessity and an obstacle I have to pass before reaching wonderland , the kitchen door is very symbolic as it could represent the gateway to nourishment and an obstacle also to nutritional satisfaction. My mum has a way of handling her kitchen to match and despite her awesome class admist peers who come visiting . She protects the kitchen from our prying eyes lest the goodies in the refrigerator all become casualties. Lol. My mum has a key to the kitchen which she locks every night. She is lucky she has got reliable doors , else my kid sister wouldn't let off those chocolates in there.Mum's pleasant rice on Sundays always get us wishing church closes by 10 am, the aroma of her rice knows no barriers as it escalates through the door and fills our nostrils. Our mouths soon began to water as we always stood behind the doors asking, mummy is the food not ready yet.?? Of what good is a pleasant meal when it is being cooked in a dirty environment, without emilinks doors, be sure to share your food stuffs with mighty rats.
Hurry what are you waiting for?, I can see you are comfortable with the infest of rats.
Go get #emilinks fast. #mydoorstory @bellanaijaonline #emilinks #day15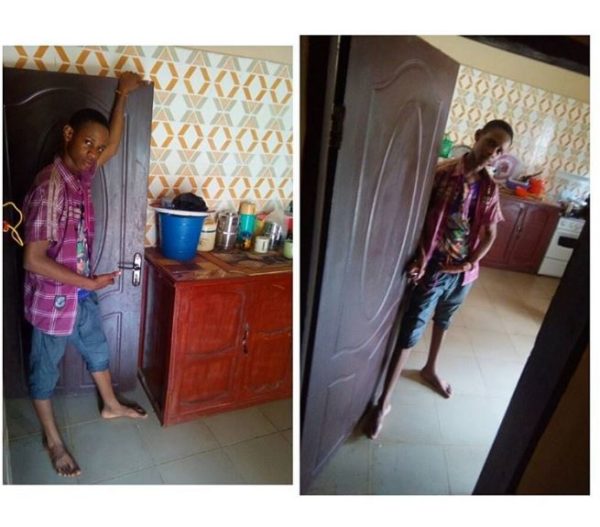 10) @luvablesam#Day15 I used to live in a small but thoughtfully designed room apartment on the ground floor of a two story building. It had a big wardrobe space with a creatively designed door that looked like a big standing photo frame. It so happened that after a tiring day at work I got home and slept off. I was woken up by the noise generated by an ongoing robbery in the compound. They knocked from door to door, stole n moved until they nearly got to mine. With adrenaline rushing,I dashed straight into the wardrobe and locked myself in. When they got to my door, they briefly knocked and sent my door crashing down after a few kicks. They entered and looked around,I could hear one say, ' the babe or guy fit dun go party sef, make we fallout'.That was how I was saved from the agony of facing those daredevil robbers that day. My creative wardrobe door saved me. #MyDoorStory #Emilinks @bellanaijaonline