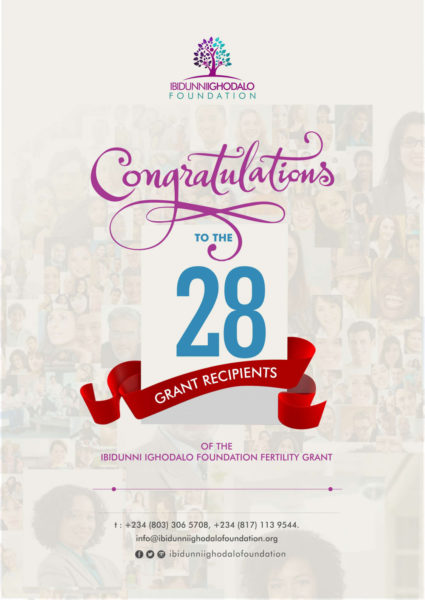 In May this year, The Ibidunni Ighodalo Foundation (IIF) launched a grant that awards funds toward fertility treatments for couples. Now, the foundation is pleased to announce that twenty-eight (28) couples have been selected to receive this financial aid to actualize their dreams of starting a family.
Application for the first phase of the grant ended 31 May with the selected couples emerging from different states across the country. These couples will meet with a team of medical experts to ascertain their medical viability through a series of assessments and pre-tests, following which payments would be organized to a certified fertility clinic in the country for their fertility treatments.
The Ibidunni Ighodalo Foundation Grant awards funds towards fertility treatments such as In Vitro Fertilization (IVF), Frozen Embryo Transfer and Intrauterine Insemination through donations and strategic partnerships with fertility clinics.
For more information, please visit www.ibidunniighodalofoundation.org
_________________________________________________________________
Sponsored Content