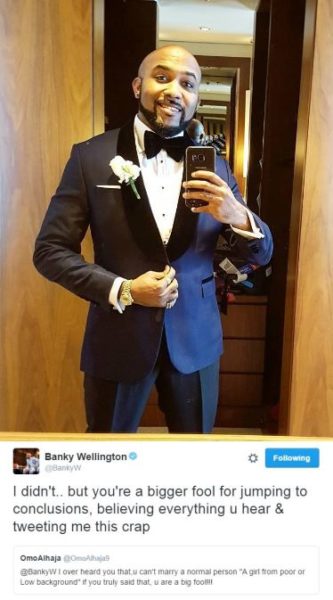 Banky W has had it to his neck. The EME boss has always been known for his cool, calm demeanour till an uncouth, disrespectful fan tried that patience perhaps for attention and a few retweets and LOLs here and there. Drama started when a nosy fan tweeted: "I overheard you that u can't marry a normal person, a girl from poor or low background; if you truly said that, u are a big fool (sic)!!!"
Of recent, Banky W has become a laughing stock, an object of scorn, for people to mock, and have a good day; all because the accomplished singer and label executive has decided to remain unmarried and relish bachelorhood.
Hardly a day goes by without an impolite fan making snide remarks, passing mean comments and offering unsolicited advice on Banky W's Twitter or Instagram. Like prying neighbours who start a conversation with you after seeing off your female visitors, Nigerians have adopted that bad behaviour turning the R&B star's accounts to a camp for gossip and market for trading nasty jabs thereby making his life hell.
Why are Nigerians hell-bent on becoming agents of torture to Banky W's online and offline existence? Can't a 35-year-old successful man be left to choose when/if to marry or not? Why must we police his relationship, sex life, or marital status?
Banky W is known to ignore such rudeness, but, on this occasion, he had had it—to the point of lashing out at the uncultured, and wasn't ready to give legroom to such of his kind: I didn't…but you're a bigger fool for jumping to conclusions, believing everything u hear & tweeting me this crap (sic)!
If a Nigerian cinematographer were to reshoot the infamous Famous video for local audience, Bankole Wellington aka Banky W would have his butt naked figure on frame for viewing pleasure. We have become obsessed with Banky W's love and sex life that soon enough a stalker alert will be a pastime. Nigerians swear voyeurism isn't a sexual fetish- as it isn't in our culture- we engage in, but seeing how Banky W has been stripped naked and tied to the bedpost while we watch and ask questions "When will you marry", "Why are you single", "Who is you ideal woman", "Are you dating [name random celebrity]"; we definitely love to get between Banky W's sheets, giggling and making funny comments about his body. Why else do you think fans and media keep troubling the singer who famously sang "I'm Banky W, don't mean to trouble you" about his sex life and marital status? Why have we turned this celebrity's life into a reality show where we stalk his every moment- including those entirely for artistic satisfaction?
Type Banky W on your search bar, and Google search suggestions pop up with: "Banky W dating Tiwa Savage", "Banky W dating Wizkid's sister", "Banky W dating Kate Henshaw", "Banky W dating Toolz", etc. It doesn't get any more disturbing than the presence of a chronological list of (possible) women dated. He has been romantically linked to so many women in and outside the Nigerian entertainment industry from the above names to actress Adesua Otomi to former beauty queen Omowunmi Akinnifesi to singer Chidinma to actress Damilola Adegbite to dancehall godmother Cynthia Morgan to label mate Niyola to married vocalist Nikki Laoye to Ghanaian-Italian model Andrea Giaccaglia, even an innocent-looking Dubai dolphin (was it not said that he was caught kissing a dolphin).
Looking at all the celebrity names, every woman Banky W makes music or photographed with, unfortunately, ends up his lover—even when it's obvious it's a promo photo for a music collaboration, or random pictures of celebrities at an event, or when the female celebrity is married or engaged. Not only are these assumptions and theories ridiculous, but annoying—to say the least! Some theorists even go as far as questioning the EME boss' sexuality, insinuating his gay self is yet to come out of the closet—all these because one man decides to remain single. So, a photo taken of Banky W and Cynthia Morgan from an awkward camera angle ends with stories of Banky W caught kissing. Another photo with Omowunmi Akinnifesi of a peck goes viral about a new girlfriend. Promo pictures and videos of Niyola and Nikki Laoye for Last Bus Stop (and Love to Love You) and Onyeuwaoma respectively turn to him dating the two women, even ignoring the obvious fact that the latter is married. Kissing Adesua Otomi on set for Made for You and Kemi Adetiba-directed flick, The Wedding Party, were signs he was walking down the aisle soon.
Back in 2013, Banky W had to clarify his relationship with model Andrea Giaccaglia after the world had made her his 'new' girl: "That's news to me. Nothing happened. She's a fantastic person who happens to be a friend. I think people shouldn't be so obsessed about my relationship status; I'll get married when the time is right and the lady is right. When these two things are in order I'll marry. At the moment, I am 100% single."
Weeks before lashing out at the bad-mannered fan, Banky W, who had earlier posted a picture cuddling his puppy and had received mean instagram comments, tweeted out of frustration about fans badgering with questions on his marital status: "These days, even if I post "Good morning", someone will say "Ok, but it will be a better morning WHEN YOU MARRY."
Banky W has been crowned the 'Most Eligible Bachelor in Nigeria', and this uncanvassed position has made even celebrating his friends on their weddings as groomsman a daunting task, with millions wearing the cloak of concerned citizens aka Association of Twitter and Instagram Family Friends not minding their business and refusing to let him live his life.
"Why is this guy eternally single or is it a strategy to keep ladies interested?"
"I don taya for Banky W sef!"
Banky W can't be groomsman for Tunji 'Tee Billz' Balogun, Tunde Demuren, Ebuka Obi-Uchendu, Olamide Adedeji, Noble Igwe in peace without some fellow Nigerian turning his account to a platform to address the unmarried and "eternally single". On Ebuka Obi-Uchendu's wedding, he posted: "Yes, I'm on groomsman duty again. Yes, I'm the last man standing cuz (sic) all my friends are marrying. No, I don't know when I'm getting married. God will do my own in time."
Can we all get out of Banky W's bed and let the talented vocalist live? Is it too much to ask Nigerians to take their busybodies off a grown man's sheets, and out of his love and private life? Would we be sick if we don't keep our noses out of a grown man's business, and eyes from peeping through his key hole? Marriage isn't by force! And the man, Bankole Wellington, if/when he does get a bride won't change the fact that he has achieved so much in his career and a wedding ring won't define him.