I love making my own breadcrumbs from the scratch because it's easy to make and it's free from all the artificial additives in commercial brands. It also saves you money and it's the perfect way to use up leftover bread or bread crusts. You also get the choice of adding any seasoning of your choice to it for a personalised flavour mix that commercial brands may not have available. I use breadcrumbs to make some of the recipes for the kids, so homemade it is, to reduce all those salts and sulphates… You get what I mean.
I got emails from some mothers asking if there is an alternative way of making their breadcrumbs without using an oven, which is what I used in my initial DIY tips. "Of course there is," I answered and that's my reason for writing this. I decided to go all manual for the benefit of the mums that may not have a blender too or most especially if NEPA decides to strike when you are about to make your breadcrumbs.
One thing I always strive to do here is keep it simple, so that you will not be deterred from trying out recipes for your kids because you don't know how to do it or you can't find the ingredients, or because you don't have the kitchen gadgets used. I'm sure there are other mums (apart from the ones that emailed me) that will appreciate this alternative method of making their homemade breadcrumbs.
Let's start with what you need:
Lots of Sunshine
Ziplock back or thick waterproof (you can double or triple lighter ones)
Rolling Pin or empty Beer Bottle
Sieve and Bowl
…and of course your bread slices or the crusts (that's the sides that are trimmed off)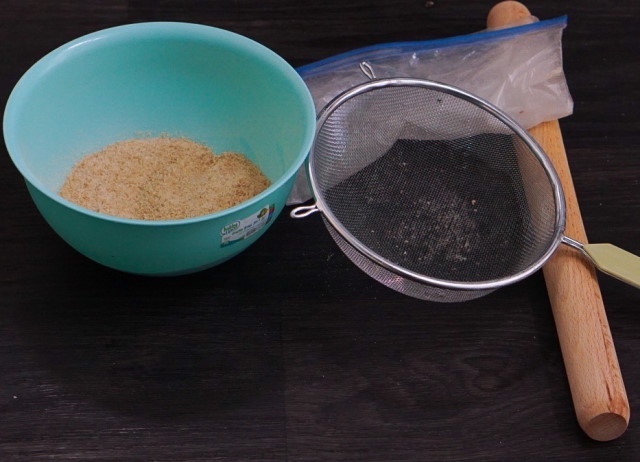 Method:
Break the bread slices or crusts into tiny pieces, place on a tray and put out in the sunlight to dry. Depending on the degree of sunshine, it should be dry in hours. The harmattan period is a good season to dry up things outside too.

Once dried up well, pour the breadcrumbs into the ziplock bag or doubled waterproof and place on a clean flat surface. Using the rolling pin or beer bottle, start rolling to grind the bread into crumbs. Keep rolling till they are all crumbly.

Pour the crumbs into the sieve and sift into the bowl to get the fine crumbs.

Put the crumbs that are left in the sieve back into the ziplock or waterproof and roll all over again to get crumbly.
Repeat steps 3 and 4 till you have no more or a negligible crumbs left in your sieve.
Season your breadcrumbs with your choice of herbs & spices like thyme, curry, cinnamon, basil, rosemary, cloves etc.
Store in a dry clean jar.

Easy peasy, right? Don't forget there are other alternatives to breadcrumbs you can try for a difference… Remember that variety does it for the kids. Try kid-friendly meals with breadcrumbs like the Nigerian Yam Croquette, Potato Balls or Chicken Nuggets.
For more visit Chioma Ikejiofor's blog at mummysyum.com