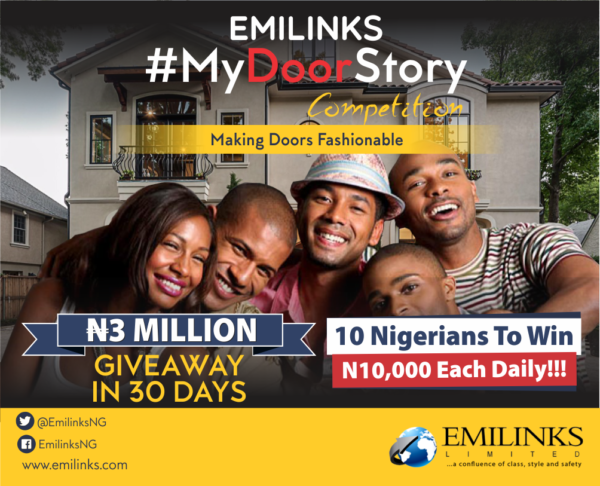 The #Emilinks #MyDoorStory N3,000,000 Giveaway is still on and each day for the past 27 days, 10 lucky people have gotten N10,000 for sharing photos of doors and the importance of the doors. More winners will be picked before the end of the month!
You can catch up with the previous days of the Giveaway here.
Thank you so much for participating as we love the creative turn your short stories are taking and your creative photos. Please keep sending them in, it might be your turn to win today!
It's a new week and we are switching things up! So instead of sharing a photo of the doors in your home, we want to hear about importance of building houses with quality materials and not substandard materials. So get snapping!
***
About Emilinks
Emilinks is a global manufacturer of world-class finishing and furnishing products such as doors, beds, kitchens, dining sets, wardrobes and shelves for homes, offices, hotels, royal palaces, presidential lodge, honeymoon suites and luxury villas. Emilinks uses a variety of innovative techniques blended with exclusive designs to build premium quality products.
With a record of excellence in all areas, Emilinks wants to empower Nigerians over the next 4 days!
MD/CEO of Emilinks Limited, Solomon E. Nwadiogbu, a very patriotic Nigerian is standing his ground to see that fake and substandard products are totally eliminated in Nigeria. He pioneered a campaign to eliminate fake and substandard products by crashing the prices of doors, wardrobes, kitchens and other furniture products in Nigeria.
We may have realized that doors play a huge part in our everyday lives. Ever wondered why there are so many philosophical sayings which include "Doors", now is your time to reflect on the role doors play in your life and the disadvantage of having bad doors!
***
How to participate in the N3,000,000 Giveaway
Take a clear photo of yourself in the front of a building, NOT in front of a door only, but in front of the entire building showing in the background.
Share a story about the importance of building houses with quality materials and not substandard materials in your home and/or the society.
We are looking out for creative, interesting, inspiring, intellectual and funny stories!
Creatively linking in the Emilinks brand will be a plus. The key word is CREATIVE.
Submit your entry via Twitter, Facebook, Instagram or on www.bellanaija.com/tag/emilinks
For entries on BN, simply leave a comment on the post of the day. e.g Day 8
Remember to add the hashtags #Emilinks and #MyDoorStory to your post on social media or comment on BN
Unfortunately, we cannot view social media entries via private accounts and DMs will not be accepted
10 winners will be selected daily to win N10,000
Enter each day!
Be sure to find out more about Emilinks and explore the brand via the following channels.
Website – www.emilinks.com
Twitter – @emilinksng
Facebook – EmilinksNG
Abbreviated Terms & Conditions
Participants can enter as many times as possible
Entries reset each day at 10AM West African Time, therefore a new entry is required each day
10 Winners will be Chosen per Day
For social media entries, no Direct Messages permitted, only via Open/Public pages
For entries on BellaNaija, ensure you include an active email address in the email box
Winners will be chosen by an in-house judging panel
Assessment will be based on the photo and/or the story
Participants can only win ONCE during the 30 Day period
There is no entry fee for participation
Participants must be over 18 years old at time of entry
Winners can be based worldwide, however, MUST have a valid Nigerian bank account
Money will be paid via local bank transfer
For due diligence, list of participants names confirmed via bank account will be kept on record
List of winners' social media handles and BN usernames will be published
Winners are encouraged to share news of their win via social media
****
Here's the list of our 10 lucky winners! You will be contacted today
Post on BN:
1) Monday I – I can never forget how she ran inside my house shouting, "Please help me! please help me! my house is collapsing". Mama Abigail had just moved into the her new building not quite long. "Is collapsing?" I asked her. I needed no answer to my question because I could tell by the look on her face that she was not joking. I ran out of my house heading towards the building that was literally falling apart. She ran along side with me. But as soon as we got close to the building, we halted all at once because it dawn on us that if we move any closer, we would be history. I never knew that it was not a blockbuster movie but that the falling blocks will literally burst my head open.
Thank God Mama Abigail was home alone and was outside washing her children's wears when the building started collapsing. Her husband was off for work and the kids were in school. God is really merciful. Papa Abigail invested so much in that building and even took a loan to complete the building. How can he cope with paying for a house rent and also servicing his unfortunate indebtedness.
Some persons were saying that Papa Abigail was bewitched from his village but nothing could be further from the truth. The house was constructed with substandard materials. We need to stop blaming witches and the devil for what they are innocent of. Africans love blaming witches. See, even a witch can testify that Emilinks produces good quality material and cannot even conspire to collapse a building that has a touch of Emilinks's materials. Please let's help ourselves by hooking up with Emilinks and stop blaming witches.
#Emilinks
#MyDoorStory
#DAY27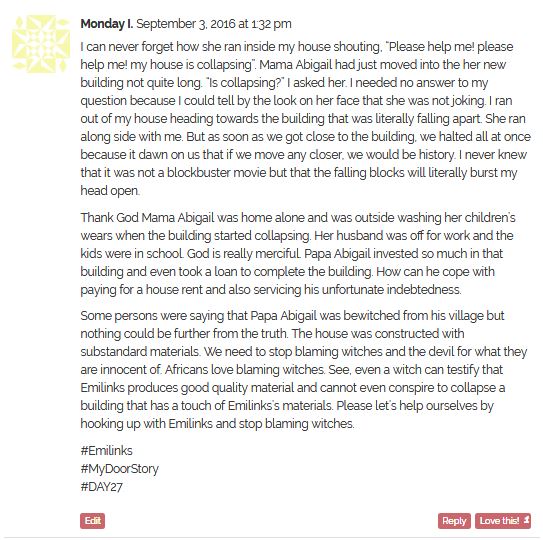 2) David – There was a day, I was passing by a building still in construction. The building was tall and people use to say when it's completed, it's going to be the most beautiful building in that area. I couldn't agree more as I stood and admired it. Workers were working hard and everything was going well. I turned to continue my journey and 2 mins later the unexpected happened. I heard the building collapsing, I immediately turned back…it was tragic. I was moved to tears as I could see people running out and others trapped.
Lives were lost because not all the workers could get out before it crashed to the ground. The once beautiful building was reduced to rubbish all because of substandard materials being used. The state government waded into the matter and ordered both the owner and the contractors arrested to investigate the cause. It was however verified that substandard materials was the cause.
There are some things we are ignorant of that causes incidents like this, everybody should know this :
1. Managing materials: When building any high rising structure, dont manage. Use the right amount of materials and use quality.
2. Failure to follow the books: Sometimes people fail to adhere to recommended and approved plans and specifications. When building, follow the books. Dont seek quick fix or shortcuts. It always backfire.
3. Understanding Weights: Buildings, like all structures, are designed to support certain loads without deforming excessively. The loads are the weights
of people, wind, furnitures, rain etc.
4. Excessive alternation: dont change the plan too much during construction process. 'I want the bedroom bigger'. 'No the kitchen should be here, not
there. 'Can this foundation take another floor?'.
5. Thorough Geotechnical Investigation also known as soil test should be done: Knowledge of the soil profile and its characteristics should be known. #Day27 #Emilinks #MyDoorStory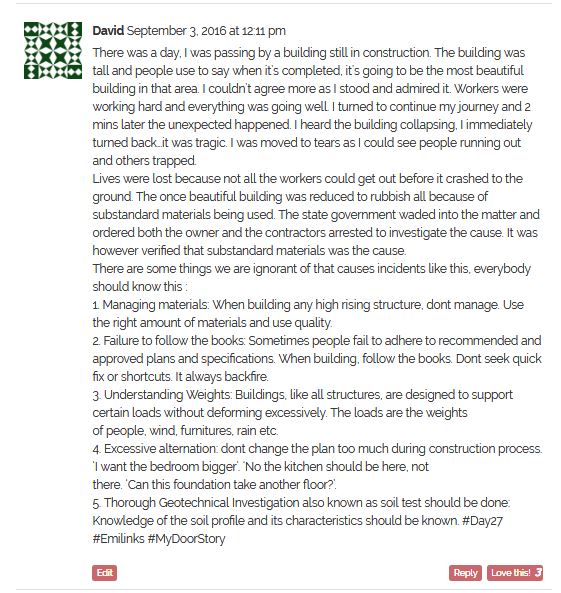 Twitter:
3) @AmadiMichaela – @EmilinksNG @bellanaija day27 The disadvantages of Substandard materials are too numerous,GET EMILINKS #MyDoorStory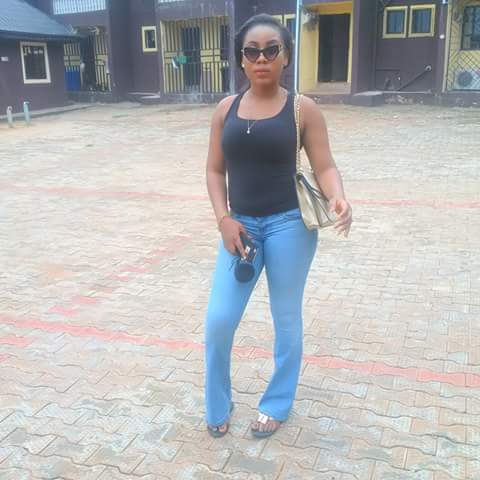 4) @nnabuuikem – #Emilinks #MyDoorStory #day27 if u n i stop buyin inferor mterials, doz dat sel inferor mterials wil stop selin dem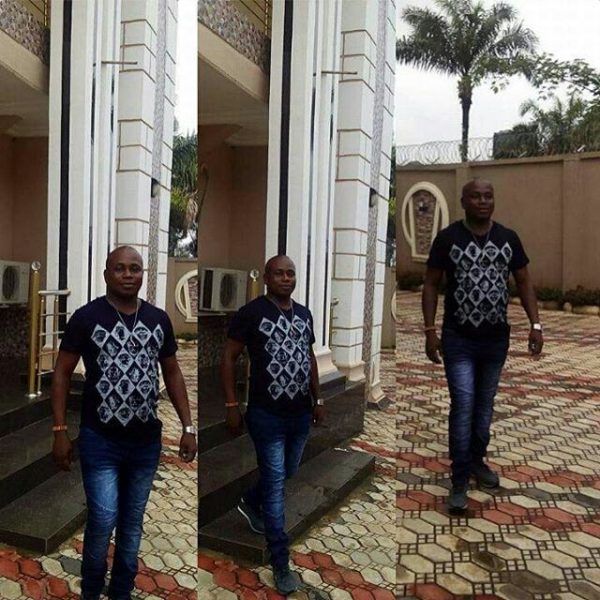 Facebook:
5) Samuel O. – I narrowly escaped crashing with my old apartment two-story building. I woke up early in the morning on 25th of August 2005, I prayed to God for making witness another day, immediately my boss in my place of work called me and I couldn't brush, eat and even bath with soap, I quickly rush every of my doings to make it, but i never knew God is about saving me from crashing with the house built with low quality. Not quite long I received a call in the bus that my old apartment just collapsed, that wasn't even the sadden part, I was told people also died in the accident and properties where lost, I almost got mad at myself and got destabilized immediately. I have to think deep of what have might cause the fall of the building, so I recall the building got some crash around it and might have been built with low material, then I was so wise enough to ask for details of the lay down of every building before park into, to be sure they are built of quality materials, till I build my house. #Emilinks #bellanaija #mydoorstory #Day 27
6) Gloria A. – A scenario occur when I was very tender, I wasn't told but I was a living witness, I was privilege to go to a government school which we pay less amount compare to private school,my little school In my hometown doesn't have a good learning environment, the structures, buildings, classrooms, roofing material, chairs and tables are battered, but I have no choice because I came from a poor home, because of this reason I decided to take teaching as my profession in the future as a young little kid to help the less privileged, but a tragic moment almost discouraged me from learning and fulfilling my career, it happen in a good afternoon when we were in the class studying, suddenly we heard sudden crash from roof toward the wall, the next surprising thing I witnessed was that I and my colleague landed in the hospital but this little plain kids all died by this tragic moment, I was the only surviving student in my class. Since then I decided not to go to school again and also scared of studying in a public school built with substandard material. Not quite long my uncle came to pick me to Lagos to study, in a few weeks after i got admission to a private school with good environment and everlasting structures and my dreams lives again. That made me promise to build with best quality material for proper learning and assimilation when I become a teacher in future and even my house. Day27 #mydoorstory #bellanaija #Emilinks
7) Akinkunmi A. – True Live Story #Emilinks
I have always heard of natural disaster happening at different places around the world..I remember watching the "Hurricane Catrina" on CNN ;how lives and properties were lost.
But in 2012 I witnessed one myself; I slept that night in our rented apartment after i finished eating the meal my mum prepared…(we live in 2bed room flat) and it's just my sister and I that lives with our mother (single parent)
It began as rain and I was happy because there is a way I sleep better whenever it rains like that…suddenly I opened my eye and before me was a swimming pool and couple of friends swimming inside the pool :bidding me to join them; I hesitated at first since I have never swam before but somehow I joined them and I was swimming like a pro…..it was so interesting..and before I knew it I started hearing noise from different corners all my friends were gone….oh what could be happening(I thought within me)
Suddenly I opened my eye and discovered that my room was the swimming pool and the voices I was hearing was the voice of my mum and my sister calling me to wake up (oh! I've been dreaming!)…. I struggled out of the room..half of the room was already filled with water our roof has gone on tour courtesy of the raging storm…I have never seen anything like it before
The following morning was full of so much for us :we were there trying to salvage some of our soaked belongings…. All our electronics were already soaked with water…it was such a traumatising experience
We left the apartment the following week for another one nearby…and I vowed to myself that I will rather not build a house than build with substandard material..it is always a huge risk that can be detrimental and can as well throw lives and property in jeopardy….I appreciate the efforts of #Emilinks toward promotion of quality materials (you have no idea how many lives and property u re saving on daily basis)….Thank you #MyDoorStory #bellanaija #Day27
Instagram:
8) @sandradeborah96 – Sometimes, I feel like being an innocent kid forever but my purpose must be accomplished in this earth. Lol.
I grew up in the village. So I attended one government owned primary school near my village. Small children are so so naive. They have not much things to worry about.
School was in session and I happened to be in primary one. One day, we were learning in the classroom as usual when the weather started to change gradual. As an innocent children in my class, as became happy for a reason i can't just say. Before we know what was happing, it started to rain heavily. Our aunties went and closed the doors so that we will feel warm. So, some of our aunties started to sleep after commanding us to bend down and sleep. Did we sleep? No, we didn't instead, we were busy playing under our chairs. Squeaking like a-day-old chicks. It continued raining and later, the rain was accompanied with thunder and lightening and finally horrifying wind. This kept on until all of a sudden, the roof of our building went flying in the air like balloon. Our teachers who had been sleeping jumped up and were shouting what i can't remember. We the small pupils in that building started jubilating without knowing that we were in great danger. Our aunties helped us to join other buildings. We were running, laughing and shouting with joy unknown to us that God just delivered us great danger.
It was later when i became adult that i now know the cause of what happened to my school building. Government will bring huge amount of money for standard school building but some greedy elements will divert the money to their personal pockets bringing out small amount of money to build school buildings with inferior materials. What if this building collapsed on us? It would have made a hot selling news headline.. God forbid evivil #emilinks #mydoorstory #day27
9) @olufemiomope – #emilinks #MyDoorStory
There is this office opposite my house.there is always something to repair almost every week.if doors were not being replaced fences would be rebuilt to the extent that office was tagged 'change' cos nothing is permanent in terms of their materials.i keep wondering why this is so until a fateful day when an incident happened which saw the collapse of the whole building itself.it happened at midnight and so no one got injured.it was early in the morning that all the workers met the shock of their lives so i thought.a friend who works there later made me realise its not a surprise to most of them as they have been forecasting such to happen because the head of the company uses substandard materials and even when repairs were being made he still went for the same substandard materials and he kept on damaging the building himself till it got weaker and the rain that even saw its collapse wasn't an heavy one the building was just too weak to withstand it.the workers were glad it didnt happen when they were all at work.now the boss is ready to take any advice to buy quality materials.that was how i went to meet him out of sympathy and introduced him to the world of Emilinks because emilinks is the order of the day in my house and God so good he took my advice.that was how he rebuilt the building using all of emilinks materials u would even think he is the owner of emilinks because he used emilinks for everything to the extent that the large table and chairs were also made from emilinks material. #Bellanaijaonline
10) @aminatyusuf1 – Building houses with a great quality materials is of a very great important to our lives and society!
Building houses with quality materials give excellent secured finishing and guaranteed great stability and durability! Lets stand in uniform and Say No to Substandard products/materials today in other to enjoy a healthy and Excellent secured life! Go with EMILINKS for Super Quality and secured products for your houses or offices! #Mydoorstory #Emilinks @bellanaijaonline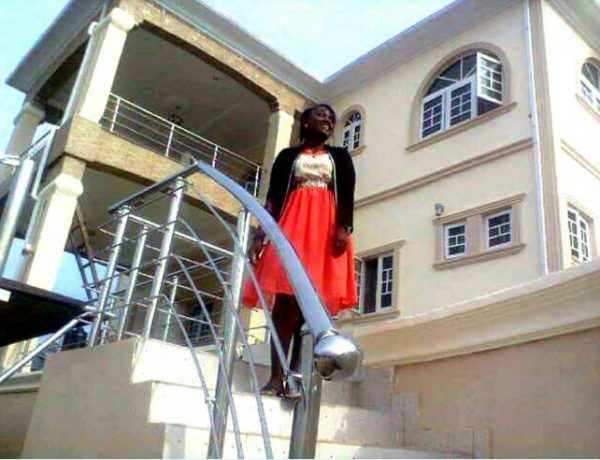 ____________________________________________________________
If you were announced as a winner on previous days of the giveaway, please check your Inbox/Message requests/Spam for all the details we need to process your reward.