Today's #BNFroFriday interview features Oluwalonimi Grace Aworinde, also known as Natural Nimi, she is a natural hair blogger at naturalnimi.wordpress.com and a year 3 medical student. She describes herself as a "cake lover, healthy hair enthusiast, and proud owner of a full head of 4c hair." Nimi also has a channel on YouTube, Natural Nimi, and today she's sharing her 3 year natural hair story with BellaNaija Beauty.
BN: Tell us about your hair
Nimi: My hair texture is mainly 4c, although I think I have some 4a hair at the back of my head. My hair was first relaxed when I was three years old, and my last relaxer was in April 2013. I haven't used any texture altering treatment at all since then.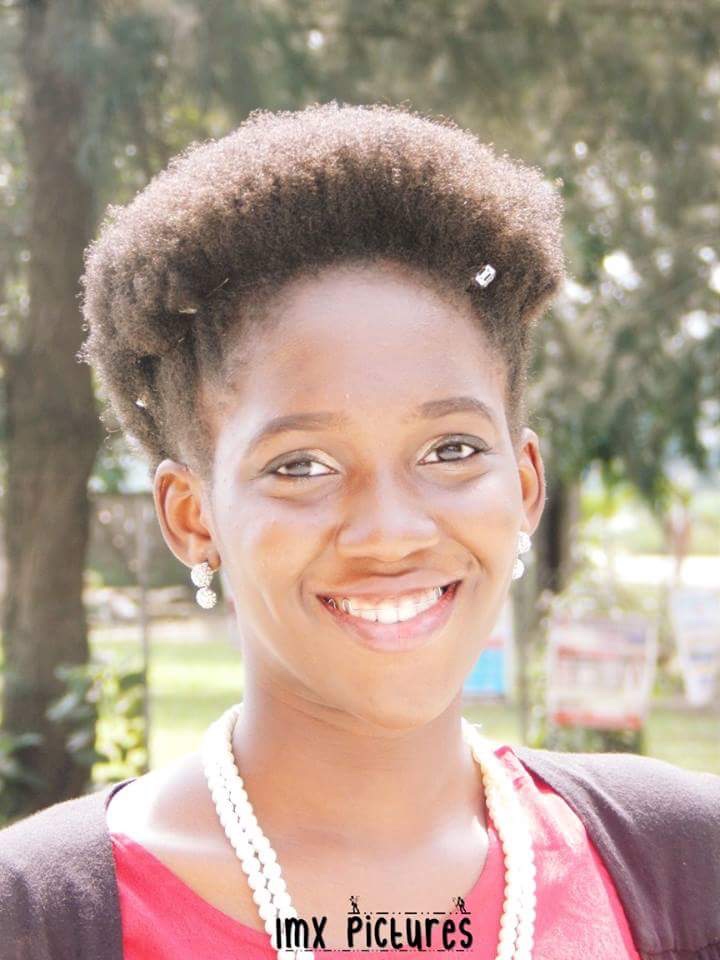 BN: Why did you decide to go natural?
Nimi: I was just tired of long hair, so I decided to cut it and when I decided to grow my hair out, I just decided to remain natural because I had just discovered the natural hair movement. It was all the beautiful hairstyles that could be achieved with natural hair that got me hooked. I still appreciate the styles, but I really enjoy taking care of my hair in all it's beauty.
BN: How did you make the change, How was that experience for you? 
Nimi: I big chopped straight up and I cut it really low. A lot of people were surprised because I had really long relaxed hair. My mum was really upset with me for days because I had cut my hair.
BN: Haha! But are you tempted to go back to relaxers?
Nimi: When I was trying to grow my hair again after my first big chop, the temptation was really strong because my hair was retaining so little length. I thought having relaxed hair would stop all the breakage and all, but right now I'm happy I didn't give in.
BN: People hide their hair for a number of reason, work, people's reactions, insecurity or protective styling. Have you ever hidden your natural hair?
Nimi: I do protective styles that cover my hair completely a lot, but that's because I'm trying to grow longer hair, and studies can be quite stressful. But I am not ashamed to wear my hair out natural at all.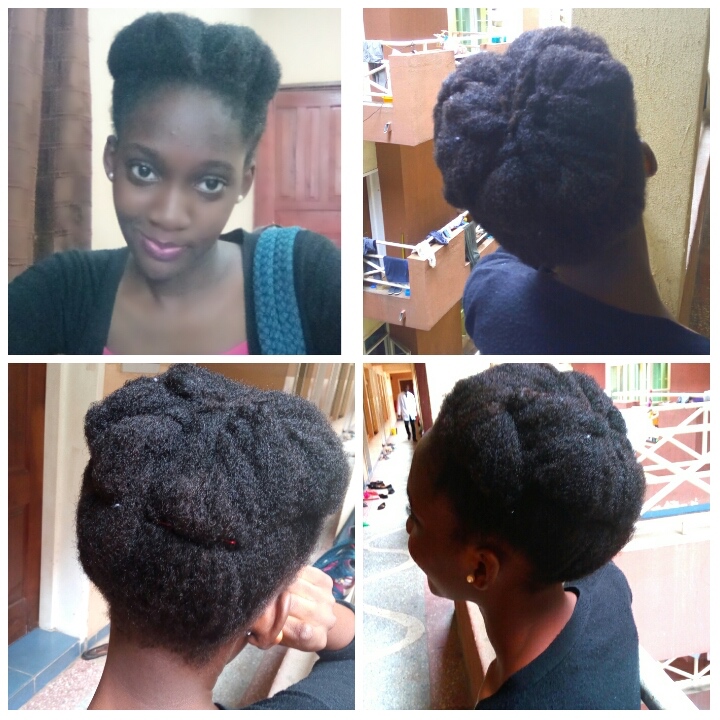 BN: How long have you kept your natural hair and did you ever cut your hair within this period? Also how often do you trim?
Nimi: I've been natural since 2013, although I had a second big chop in March 2015. I must confess that I've never trimmed my hair *covers face* . I rarely have split ends, that's why I don't trim. I can remember only trimming my hair once since I went natural.
BN: How does climate where you live affect your hair?
Nimi: Other than making my hair shrink (which I HATE), the climate in Lagos has very little effect on my hair, except I haven't noticed any other effect.
BN: Do you have any other hair problems, aside from the ones caused by climate?
Nimi: My edges ooo!!! They have refused to be laid, and I've tried everything. I'm tired, I need help biko. Other than that, my hair is growing fine, edges are on point, and breakage and shedding are minimal. I'm looking good *wink*
*I (Eki) have also given up on "laid edges," if anyone has a solution, please leave it in the comments section. But in the meantime, I'm embracing my "curly" edges!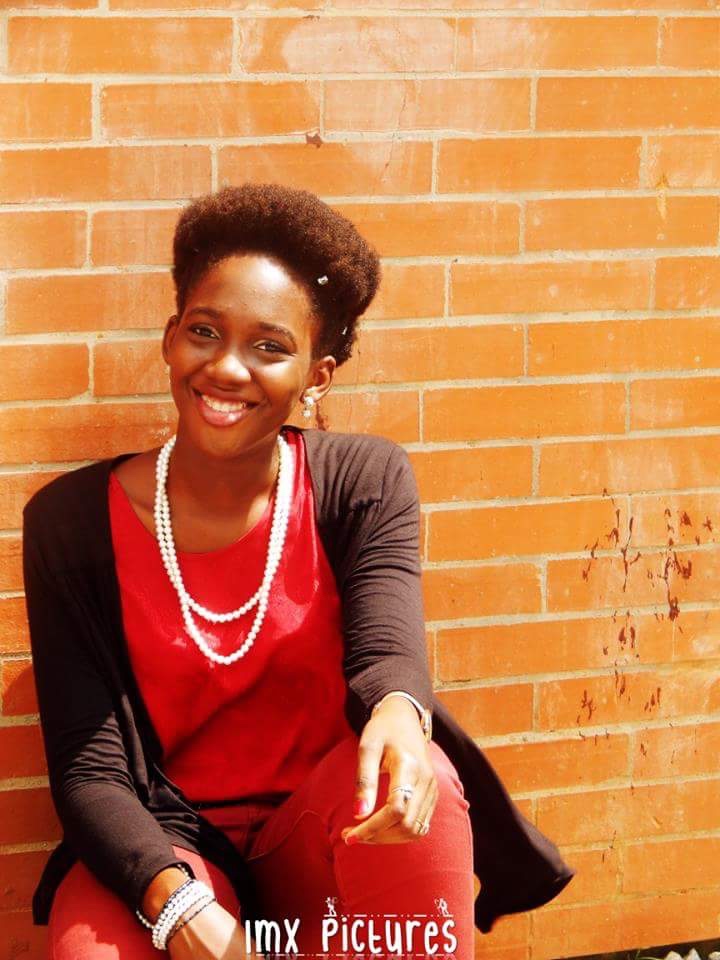 BN: How do you deal with the negative effect of climate and any other issues?
Nimi: What can I do? I just live with the shrinkage be be. I hardly get bad comments, most people admire my hair, so I rarely have to deal with bad comments.
BN: When it comes to natural vs chemical products, what's your take?
Nimi: I can use anything that works on my hair, natural or not. I'm not a DIY fan, so a lot of my products are chemical products. I just try to avoid products with ingredients I think are not great for my hair, like petroleum jelly (petrolatum)
BN: What's your daily, weekly and/or monthly hair routine? What are the products you cannot live without?
Nimi:
Daily: I moisturize daily or every other day when my hair is out, depending on what my hair wants. I use the LOC method, but most times I leave the oil out because I don't want my hair to be too oily. So it's really the LC method for me. *shrugs*. I moisturize my hair at night and put my hair in bantu knots so it remains well moisturized in the morning.
Weekly: When my hair is out, I deep condition weekly. I shampoo my hair or clarify with Apple Cider Vinegar every two weeks.
I cannot live without my Cantu Leave In Conditioner (it's a hairsaver!), organic Shea Butter and my Mayonnaise Deep Conditioner.
BN: What advice would you give to people thinking of going natural?
Nimi: Returning natural may not be the easiest ride, however if you care for your hair, you will enjoy the journey. Fall in love with your hair. If you're patient with it and embrace it at every stage, it will flourish.
BN: What do you like best about your hair and being natural?
Nimi: I love the beauty of my hair, I love the feel of it. Yes, I have "hand-in-hair syndrome" (always touching her hair). Being natural has made me more concerned about the ingredients in my beauty products.
BN: What are your favourite styles to rock and why?
Nimi: My favourite natural hair styles are two strand twists and twist outs, and recently bantu knots. I love two strand twists because they are really easy to make (I make my hair myself) and maintain. Twist outs and bantu knot outs are great because they give really great curl definition to those of us who have no curl pattern.
See more Photos & Videos of Nimi's Natural Hair
Thanks for sharing your story with us Nimi!
I think Nimi's use of the LC method as she mentioned, is great to take not of. You should tailor your hair care routine to what your hair needs.