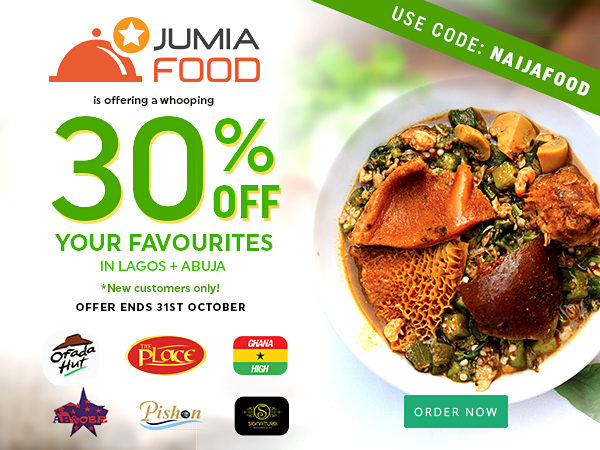 On Independence Day, Jumia Food rewarded customers by giving a 30% discount on all food orders. Throughout October, we want to pay for your first meal — or at least 1/3rd of it — if you let us.
Use the NAIJAFOOD coupon code to get 30% off your next meal. 
If you have never had breakfast, lunch or dinner through the Jumia Food website before, this is the perfect opportunity to give it a try. Jumia Food is offering first-time customers a 30% voucher for their first meal on some of our best restaurants in Lagos and Abuja. Additionally, Jumia Food invites you to test the quality of its service by offering to pay your next meal in full if your delivery does not get to you within the time promised. 

When you order online (using the 
website
, the 
Android
 or
 iOS app
), a countdown timer begins, counting the minutes between when you order your meal and when your food is estimated to be delivered. If your food does not arrive before the timer hits zero, we will pay for your next meal. Go ahead — try it!
How to use the NAIJAFOOD Voucher Code:
Select your location and choose your favorite restaurant from our list of NAIJAFOOD restaurants. Select the food (and combinations) you want, use the "NAIJAFOOD" code on the checkout page…
…and your order is on its way!
If you want to chat or need help, shoot us a message on Twitter, Facebook, email or call us on 0700 777 0000.
________________________________________________________________
Sponsored Content