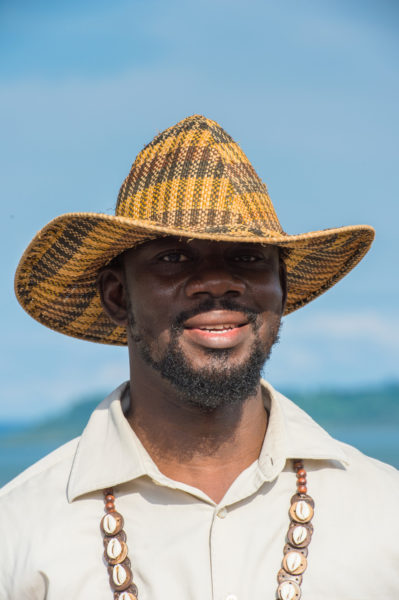 Recently, while chatting up a friend, she shared a tweet she'd come across captioned Nigerian men to avoid in 2017 along with the hashtag Yorubademon. It had a list of names, which were unsurprisingly Yoruba.
For those who are unfamiliar with the phrase, Yoruba demon is a popular slang for describing young attractive men who are highly trendy and also very promiscuous. They are known for moving in groups donning anco (uniform clothes for social occasions like weddings) often agbada and can be seen at various owambe parties flashing expensive smartphones while hunting for single ladies. It probably originates from a popular stereotype about Yoruba men who are perceived as adulterous but has since become a term for describing such men irrespective of ethnicity.
We went through the list together laughing at familiar names which included Taiwo, Segun, Femi, Bode, Jide and Wale to mention a few of the Yoruba demon A-listers. I noticed a deeper laughter when it came to Wale prompting my curiosity. "So, what was it about Wale that struck a different chord?" I asked.
She smiled and responded that she may have actually passed through a Yoruba demon by the same name in her final year of secondary school just over 10 years ago. In hindsight, Wale had the attributes associated with Yoruba demons. By now, her smile had grown wider.
"Hmm, who was this Wale, a Yoruba demon that lived ahead of his time before it became a household social media fad among Nigerians?" I grilled further, tempted by her excitement. The following is a recap of what followed.
Wale was a youth corper ; obviously fresh out of university. He'd been posted to her secondary school where he served as a teaching assistant to the Yoruba teacher, a drab no-nonsense middle-aged man that enforced his teaching with regular strokes of cane.
Wale was tall, young and clean with an imposing charisma. He was also very trendy in his trademark agbada, matching native cap and dark shades. Unlike other teachers, in place of a cane, he'd have his Samsung flip phone in one hand while the other hand switched between adjusting his dark shades or packing the sleeves of his agbada. Recall that these were the early days of GSM phones when they cost an arm and a leg.
The way she described him, I could imagine that for the blooming SS3 adolescents, Wale cut the image of prince charming. As teaching assistant, he only taught them Yoruba literature on Fridays. But those Fridays were special ones that they looked forward to.
In contrast to her full-time Yoruba teacher who taught the subject as if it were a job forced upon him by dire circumstance, Wale taught Yoruba literature like he was teaching English literature. The manner in which he used storytelling captivated the students. Added to that was his swag. If he wasn't gesturing with his hands, he was patting his beards, folding his agbada or cleaning his shades all while making sense in his teachings. He was a wonder to behold and easy to understand given his wittiness.
When he walked across the aisle, his cologne sent the students into a frenzy of lust. The girls loved him, while some boys loathed him out of envy. He was intimidating, friendly and charming at the same time. He didn't have to punish you by flogging. He simply asked you leave his class never to return – to which erring students pleaded their way back.
Girls would converge after school talking about Wale and teasing themselves. It wasn't uncommon to hear rumours that some of the female teachers had their eyes on him. She recalled a funny episode where one of her peers was directed by her boyfriend to stop attending Wale's classes as Yoruba literature now seemed to be her favourite subject and she couldn't make one statement without quoting Wale. Yet, not a single case of irregularity was ever reported against him as far as she knew.
Wale brought life to the subject of Yoruba in the one session he spent with them. Yoruba classes became the one to be. Under him, the classes were filled not because he threatened them into attending. Rather, it was because they truly enjoyed being there. Students prayed silently for his classes to go on past the 35 minutes allocated for Yoruba literature. Some wondered why it had a shorter time allocation compared to other subjects like Mathematics.
According to her, more than half of those students went on to score at least a C grade in Yoruba following the release of their WAEC result. She attributes it to the way Wale taught them. It seemed the students all wanted to pass for him.
Wale demonstrated how much influence an individual carries when it comes to championing a cause that is given lesser relevance. His approach had a sophisticated touch to it. In hindsight, it may have been a classic case of a smart guy who went out of his way to demonstrate a different side to the subject of Yoruba. Understanding that he was up against mindsets that saw the language as another one to fill up their minimum required subjects for academic purposes, he sought a creative approach that combined his outlook, style and brilliance. That's what teaching requires in this age whether one is teaching Yoruba, Igbo, Urhobo, Hausa or even Physics. Charisma plays a role.
We argued back and forth over if Wale truly was a Yoruba demon, but couldn't agree on it. I told her I'd put it before my readers after I'd examined the positive influence of his style on making them embrace the subject. So, you be the judge. What do you think?
Photo Credit: Siempreverde22 | Dreamstime.com