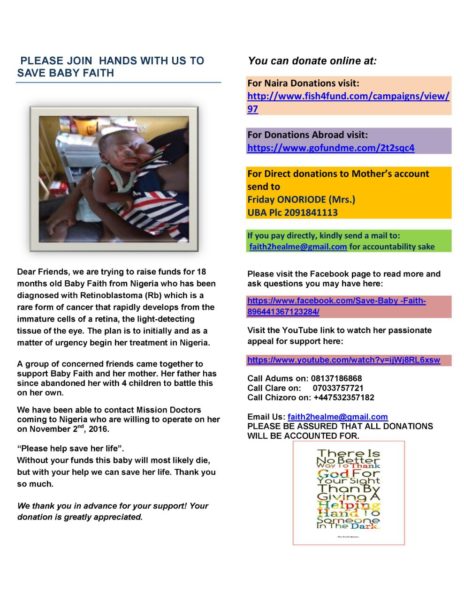 If you've ever had a health-related issue in Nigeria, then you will probably understand that it is extremely difficult to fund your treatment and navigate the healthcare system.
In view of this, BellaNaija launched the BN Community Centre. This online platform will feature "calls for help" as submitted to us. This includes information, photos and account numbers.
***
Dear BellaNaija Readers.
Please we are trying to raise funds for 18months old Faith, who has been diagnosed with retinoblastoma which is a rare form of cancer that rapidly develops in the retina. The tumour is advanced and life threatening. She has no doubt lost her sight, but we can save her life, rehabilitate her and improve her quality of life with donated funds.
A group of concerned people came together to support Baby Faith and her Mother, Mrs Onoriode Friday. Faith's father has abandoned Mrs Friday and her 4 children.
We have been able to contact mission doctors coming to Nigeria, who are willing to operate on her in November, 2016.
Faith needs to undergo so many tests, MRI/CT Scans, surgery and chemotherapy.
We are trying to raise £20,000. Please help save Faith's life.
The plan, as a matter of urgency, is to begin her treatment in Nigeria and perhaps, at a later date, explore the possibility of taking her abroad for further treatment, if necessary.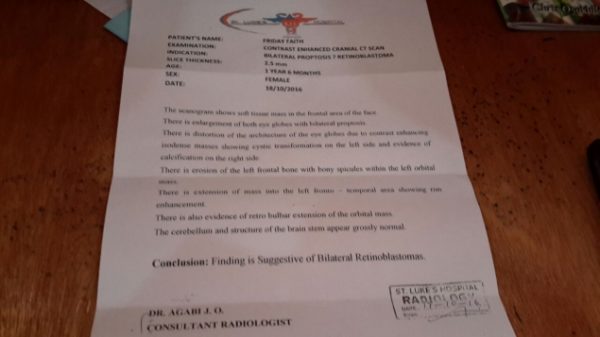 Without your funds, this baby may die, but if we join hands together, we can save her life.
We thank you in advance for your support. Your donation is appreciated.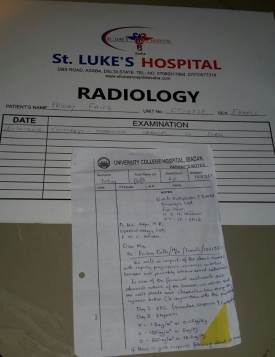 You can donate via the following platforms
www.fish4fund.com/campaigns/view/97
UBA Bank Account. Mrs Onoriode Friday. 2091841113
You can also call the following people, who are assisting Faith and her Mother:
Adums: 08137186868
Clare: 07033757721
Chizoro: +447532357182
***
We, at BellaNaija, encourage you to give if you can. However, please ensure you perform independent verification prior to donating any funds.