For the #BNFroFriday interview today we have one of our submissions, Chisom Anyiam. Chisom is a graduate of International Relations from the European University of Lefke, North Cyprus. She's from Imo state, "Igbo kwenu!" and has been natural for just over 2 years.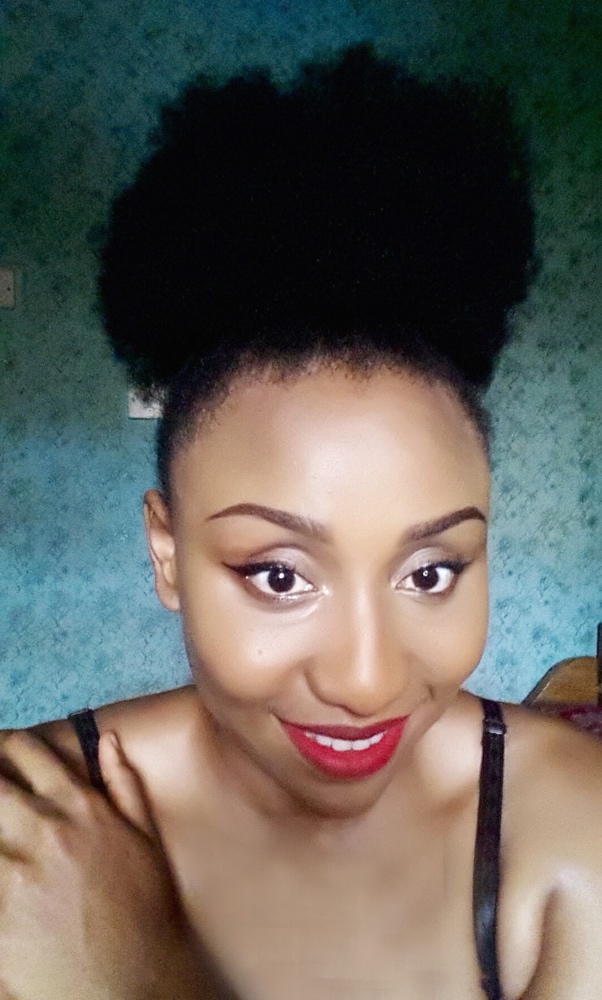 BellaNaija: Tell us about your hair
Chisom Anyiam: I am an African, my mom is from Abia state while my dad is from Imo state both are Nigerians. My hair type to the best of my knowledge is 4c I think. My hair is black and no I haven't dyed it yet, still thinking about it.
BN: Why did you decide to go natural?
CA: I have been relaxed since I was in primary school up until my university year 100level to be precise. Why I decided to go natural was after watching a YouTube video of a lady who grew her natural hair to an unbelievable length and that was it for me. Oh sure, my relaxed hair grew but it never got past a certain length year after year it just stayed the same. I later got to know the name of the lady on the YouTube channel that inspired me, her name is Chime Edwards.
BN: How did you make the change? What reactions did you get from people around you? Have these reactions changed now?
CA: I big chopped in February 2014 and my experience immediately after was uncertainty because I hadn't a clue on what to do with my hair. The reactions I got weren't bad at all, in fact a lot of people didn't really get to see my TWA stage because I put my hair in braids a lots after my big chop. These days I get alot of positive reactions for example my mom and two sisters are all natural thanks to yours truly. Friends now ask me questions on how to maintain their own natural hair.
BN: Are you tempted to go back to relaxed hair, how do you deal with this temptation?
CA: Yes I was relaxed and the thought of getting a relaxer since I became natural has crossed my mind, don't get me wrong taking care of my hair is fun but it can get a bit difficult and stressful at times but then I remember the pain I feel each time I get a relaxer and the dangers it causes then I come back to my senses.
BN: Ever hide your natural hair?
CA: In the initial stage I did not hide my hair cause of what people would say, I actually don't care about what people say. I did it because my dad doesn't like it when you cut your hair. But once my hair grew out of the TWA stage I rocked it 'Lady Gaga' style without a care in the world
BN: How long have you kept your natural hair?
CA: I have been natural for exactly 2 years 8 months and 7 days but who's counting. I haven't had any major cuts I just trim it when necessary
BN: How does climate where you live affect your hair?
CA: The weather in Nigeria is very hot that it doesn't let me rock a twist out or bantu knot, cause once I start to sweat my hair just shrinks up and frizzes out real bad. The weather also causes my hair to dry out.
BN: Do you have any other hair problems?
CA: My biggest hair problem is shrinkage, that's right! I always have to wear my hair stretched out to avoid tangles and knots as a result of the texture of my hair
BN: How do you deal with these issues?
CA: I deal with the dryness caused by the weather by sealing in moisture with Shea Butter. Shrinkage on the other hand by stretching my hair out with a blow dryer on medium heat and I always apply a heat protectant before I blow out my hair to avoid heat damage
BN: What's your stance on natural vs chemical products?
CA: To each his own. I don't discriminate, if you are natural that's good and vice versa as long as you are happy with your decision that's all that matters
BN: What's your daily, weekly and/or monthly hair routine?
CA: My routine is basically going with the flow. If my hair needs a wash I give it a wash with the Olive Oil Creamy Aloe Shampoo and if it needs to be conditioned I do that with the Olive Oil Replenishing Conditioner and when ever it feels dry I moisturize it with with a little conditioner and a lot of water and the I seal it with my Shea Butter.
BN: What advice would you give to people thinking of going natural?
CA: If you are thinking of going natural 'just do it'. The time you are wasting thinking about it's the time meant for your hair's growth. There are lots of products out there that makes taking care of natural hair so much easier and you'll love it
BN: What do you like best about your hair and being natural?
CA: What I love about my hair is the versatility and the fullness in general. I get to try out so many new styles. Africans are blessed with good hair
BN: What are your favourite styles to rock and why?
CA: I rock the fro hawk, double bun, low bun and my all time favourite hairdo is the high puff
BN: Do you have any hair crushes?
CA: Chime Edwards all day everyday her hair is the bomb y'all!
BN: Are you particular about sleek edges? If so what do you use to get the look?
CA: Not really particular about it but it adds to the beauty and neatness of most natural hair styles
BN: What hair accessories can you NOT live without?
CA: My favourite hair accessories are rubber bands, bobby pins and scarfs
BN: What's your remedy for a bad hair day?
CA: The remedy is to always have a rubber band in hand to pack said bad hair into a bun, one can never go wrong with a bun.
See more Photos of Chisom's hair
åThanks for sharing your journey with us Chisom!
***
If you'd like to be featured, please send an email to [email protected].