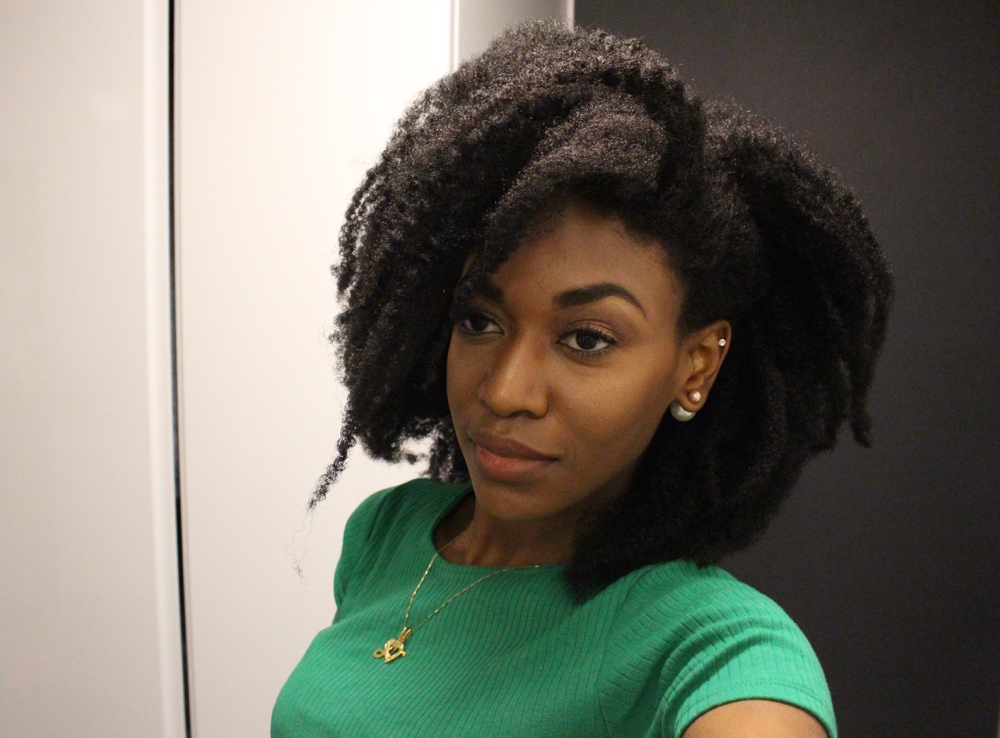 Someone even offered to buy me a relaxer once and another asked if I attended the "deeper life" church. Don't feel pressured to follow the trend…
Today's #BNFroFriday interview features Ngozi Ossai. She is a Natural Hair Enthusiast and Vlogger. Ngozi has been natural for 6 years and she has up to waist length hair! Here's what she said about herself and her journey;
During the course of my natural hair journey, I started my YouTube channel because I got a lot of questions about my hair and how I manage it. I wanted to be of help to more people. I know the struggles of a new naturalista especially with my 4c texture e.g looking for hair-care information, trial and error while choosing products, mixing-up products out of need in my kitchen e.t.c.

These experiences have inspired my interest to start-up a natural hair-care range. I have decided to give back and make it easier for people because I was once in that position. I am presently working on this project and my blog so look out for me (wink wink). I'm Ozzichiq on all my social media platforms: Youtube, Instagram e.t.c
BellaNaija: Tell us about your hair
Ngozi Ossai: I am full Nigerian. My hair texture is predominantly 4c with very little 4b texture on the crown of my head (middle of my hair). I am 6 years natural (September 2010 – September 2016). My natural hair color is black. I was natural probably until the age of 10 in primary school.
I relaxed my hair because it was difficult to manage and then I took the decision to go natural again in 2010. The only texture altering treatment I used in the past were relaxers. I have never tried any artificial color but I have thought about using henna a couple of times for a change of color if I ever get tired of black… But let's see.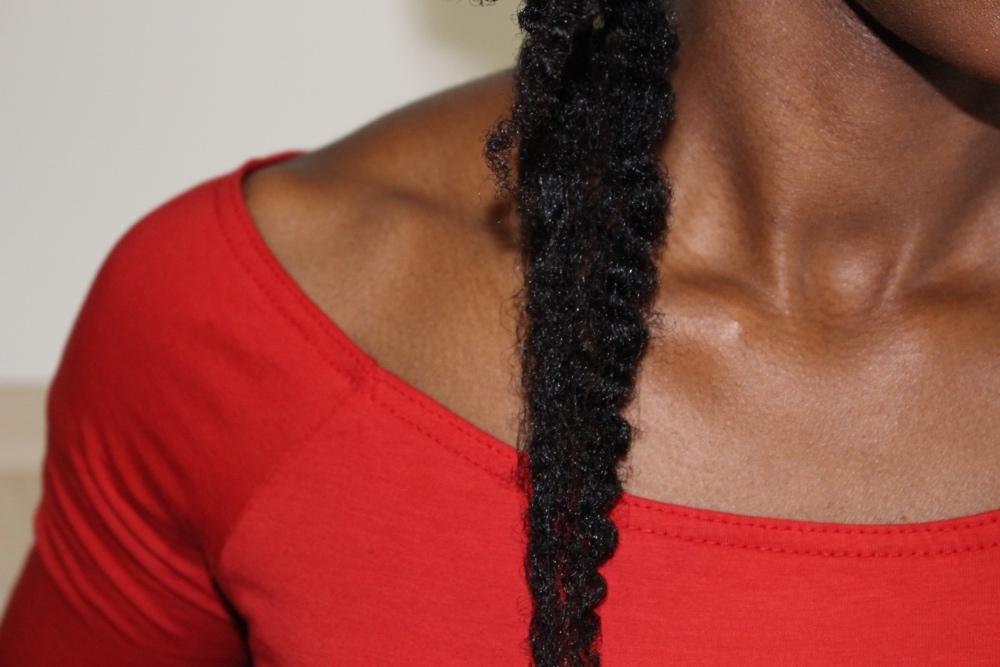 BN: Why did you decide to go natural?
NO: My natural hair journey started when I went for my A levels. Growing up, my mum and sister took care of my hair most of the time or took me to hair salons. I honestly couldn't be bothered. I grew older and left for boarding school (secondary) and that was when I had to learn how to do things myself.
Taking care of my hair was always a struggle as I wasn't exactly sure what I was doing. I basically did as I was told by hairdressers. My hair was quite long and I wasn't a big fan of weaves or braids all the time because it was too much hassle and ironically, I am very lazy with my hair. Relaxing my hair was too painful because my scalp was sensitive and I always wondered if there was a way out of the constant torture.
Some people look at my hair now and say "oh wow that looks like a lot of work" and in my head I'm like "if only you knew how lazy I am with my hair". Watching TV shows and seeing African American girls have curls and perfect everyday hair made me wonder why most Nigerian girls/women did not have curly hair except in the North where they had looser hair textures/curls.
Relaxing very frequently in order to manage my hair damaged it. Although it was long and full, it looked very lifeless and changed its color from black to light brown. I started going online to try and source out information on better hair care. I eventually stumbled upon some blogs and YouTube videos and got introduced to the "natural hair" concept. Unfortunately, very few catered particularly to my 4c hair texture and had more information on looser hair textures/curls.
This led to a lot of trials (good and bad), me learning from experience, experimenting and making most of my hair products. I went natural because I disliked anticipating hair appointments that felt like torture to me. I was looking for a way out which meant I needed to learn how to care for my hair better and so I educated myself on how to.
BN: How did you make the change?
NO: When I decided to make the change I wasn't sure what my hair texture would be. This was because my hair was really thick and coarse (hard to manage) whereas my mum's hair texture was different. I initially intended to grow my hair out to almost the same length as my relaxed hair before chopping off because my hair was quite long then (varied from neck to top back length).
I transitioned for about a year wearing braids but my natural hair texture and relaxed hair texture were too different and difficult to manage together and so I big chopped in 2012. With the clashing textures, I couldn't deal with the pain I experienced from managing them both and so I decided maybe the short afro look wasn't so bad after all. The reactions I got with my natural hair were mostly of surprise and curiosity.
When I went natural, during college term time I had braids as a protective style and so it wasn't obvious to people. When I had my hair out, people stared sometimes and just looked away but I was aware of being noticed most times. When it grew and I was home for holiday, I was stopped sometimes to be asked questions like "what did you do to make your hair look like this, "why do you prefer this style", "what happened?" …lol someone even offered to buy me a relaxer once and another asked if I attended the "deeper life" church.
My mum was always there to defend me in trying to inform them of the option of natural hair but they always left with an end comment of "oh wow well it suits you though" lol. I wasn't totally surprised by the reactions at the time and in a way I expected it as little was known about natural hair. A couple of times people have asked to touch my hair.
One time I was in a store and a woman started talking to me and before I knew what was happening she just stuck her hand in there without even asking lol. I was very upset at the time and hinted at it a little but these type of experiences made me more prepared on what to expect. I was ready to answer questions and educate people when asked about my hair.
I remember when I was about to big chop at home and my mum was by my side asking me if I knew what I was doing. She was curious as to why I wanted to cut my hair especially because it was quite long and thick but I felt it was damaged and I was ready to try being natural. When I cut it, she loved it. She said I looked cute, and that I could rock anything. Confidence definitely helped me learn how to wear my hair out. Leaving it out meant it had to look good (Slay!) and that I had to properly care for it.
I am really happy that most Nigerians are enlightened about natural hair now. Being natural had an impact on my friends and family too. I have been told that I inspired some of them to go natural or wear their natural hair out more. While at University some people told me that my hair made a statement but these were things I wasn't aware of. I just wore my hair natural because I wanted to, regardless of my environment. Being educated about natural hair and its history has helped me educate people I've met.
BN: Are you tempted to go back to it, how do you deal with this temptation?
NO: I am never tempted to go back to relax my hair because when I think about it I remember how I dreaded relaxing my hair. My hair color changed, my hair was damaged and the whole experience never felt good to me. My hair looked limp and lifeless. I prefer this process of understanding my hair. Besides, I love the fact that I have a distinctive look with my natural hair.
BN: Ever hidden your natural hair?
NO: I never hid my natural hair. When I decided to go natural, I also decided to have the courage to wear it out on both good and bad hair days lol. Side note, bad hair days made me learn how to style my hair better… You know no one wants to look unkempt or untidy.
BN: How long have you kept your natural hair?
NO: I have kept my hair natural for 6 years now (September 2010 –September 2016) counting from the last time that I used a relaxer. I often trim when I need to, like when my ends look unhealthy, or at least every 3 to 4 months (0.5 to 1inch). My goal is to have healthy long hair and not just long straggly hair.
BN: How does climate where you live affect your hair?
NO: My protective styles involve me using scarves stylishly, mini twists, basically coming up with styles that have my hair tucked in to prevent breakage during the cold weather. In Nigeria, I like my hair out but my hair styles shrink up because of the moisture in the air. For example, instead of twist-outs, I settle for braid-outs because the curls stay in longer. My hair tends to dry easily in cold weather.
BN: Do you have any other issues with your hair?
NO: I don't really have any hair problems. One thing I would say though is that I have a lot of shrinkage because of my texture. I have learnt how to adapt to this with my routine and the styles I wear frequently.
BN: How do you deal with the negative effect of climate and the hair problems you face as a natural?
NO: I change things up based on the climate I'm dealing with. In Nigeria because of the humidity I prefer to use less water based products. This is because my hair would absorb moisture from the air and shrink, this messes up my twist/braid-out curls cause my hair starts to revert to its tightly curled state (natural state). When it is cold and dry I use products that help retain moisture (humectants).
Also when I big chopped, I remember an experience when I went to braid my hair. My hair braiders had no idea how to handle natural hair, especially my kinky texture. It was a very long day for me, trying to explain to them how to comb my hair and even giving them my leave-in conditioner mix to spray before making each braid. After then, I decided that this was too stressful and didn't feel comfortable with anyone else touching my hair again. Since then, I decided to stick to taking care of my own hair and haven't been to a hair salon in ages.
BN: What's your stance on natural vs chemical products?
NO: Different people have what works for them but I have always been a lover of natural / organic products. The more natural they are the stronger the attraction. I try to avoid using chemical products on my hair but then in terms of shampoos, conditioners e.t.c. that require chemicals like preservatives, I pay attention to the ingredients in them (do my research and all). I also love using natural oil mixes, sometimes with food like Avocado, and Yoghurt depending on what I think my hair needs and my beloved "Ori" (Shea Butter).
BN: What's your daily, weekly and/or monthly hair routine?
NO: My routine depends on the style I am wearing for the week. For example, if I am just leaving my fro out (which I hardly do now cause of the length and to avoid it getting tangled up with knots), in the morning I would spray with my "leave-in conditioner + water + oil" mix and then style. For night-time, I sleep with a satin scarf/night cap to allow my hair retain its oils.
Recently, I have been loving braid-outs a lot more than twist-outs because my curls last longer. So when I wash my hair (at least once in 2 weeks to prevent stripping off the oils in my hair), I moisturise and seal using the LOC method (Leave in conditioner, oil and my shea butter blend cream, can't live without this) and then I do a braid-out. For braid-outs, I oil it about twice a week and then re-braid the following week. My old braid-outs tend to be fuller than freshly washed braid-outs.
I try to do moisture treatments (deep condition) or protein treatments when needed. I used to do both treatments once a month before but now I listen to what my hair needs lol. I do not comb my hair and I haven't in about 5 years. I "finger-detangle" after my washes. Sometimes I incorporate oils in my washes or do hot oil treatments but it all depends on what my hair needs. I try to be as simple as possible, aiming for little manipulation hair styles. I also prefer having very few products in my hair to avoid build up, so less is better.
BN: What advice would you give to people thinking of going natural?
NO: My advice would be that you should go natural only if it works for you. Don't feel pressured to follow the trend. Be informed about the state and health of your hair with whichever hair decision you choose. When people go natural initially they often tell me things like "my hair isn't growing", or "it's too stressful" or "I don't like the look". When you choose to go natural stick it out long enough to find out what works for your hair and do not give up so easily.
Everyone's hair growth differs based on different factors, so just enjoy the look, process, be patient and do not be obsessed or fixated on the length alone. Lastly, appreciate which ever curl/kink pattern you have and learn how to work with it. When I big chopped I wanted a looser curl pattern like my mum's hair but eventually accepting mine made me love my hair more.
BN: What do you like best about your hair and being natural?
NO: I like the fact that my hair is thick, healthy and versatile. I don't have to worry about the effects of relaxers. I can achieve straight hair style looks by blow drying or hair straightening if I ever wish to. My natural hair gives me more options and a unique look.
BN: What are your favourite styles to rock and why?
NO: My favorite styles are braid-outs, twist outs, puffed-out fros, frohawks and the pineapple. My protective styles just involve me tucking in my ends with low hair manipulation. Braids-out gives me more volume and length as my hair shrinkage is real!
BN: Do you have any hair crushes?
NO: My hair crushes are the Urban Bush Babes. They were an inspiration in terms of length when I big chopped, Cipriana especially because we have similar hair textures. They are also very beautiful twins and I love their edgy look.
BN: Are you particular about sleek edges? If so what do you use to get the look?
NO: Having sleek edges isn't exactly my thing because I like the whole natural hair look which is why I considered locking my hair once. I think natural hair itself is a bit wild and doesn't necessarily want to be tamed and so I work with the attitude of my hair. I have used the Eco Styler Olive Oil Gel to achieve a sleek look in the past but not of recent.
BN: What hair accessories can you NOT live without?
NO: Snag-free hair bands and long bobby pins.
BN: If you were stuck on an island, what 3 hair products would you take with you?
NO: That's easy! My Shea butter blend mix, leave-in conditioner (Giovanni at the moment) and Organic Coconut oil.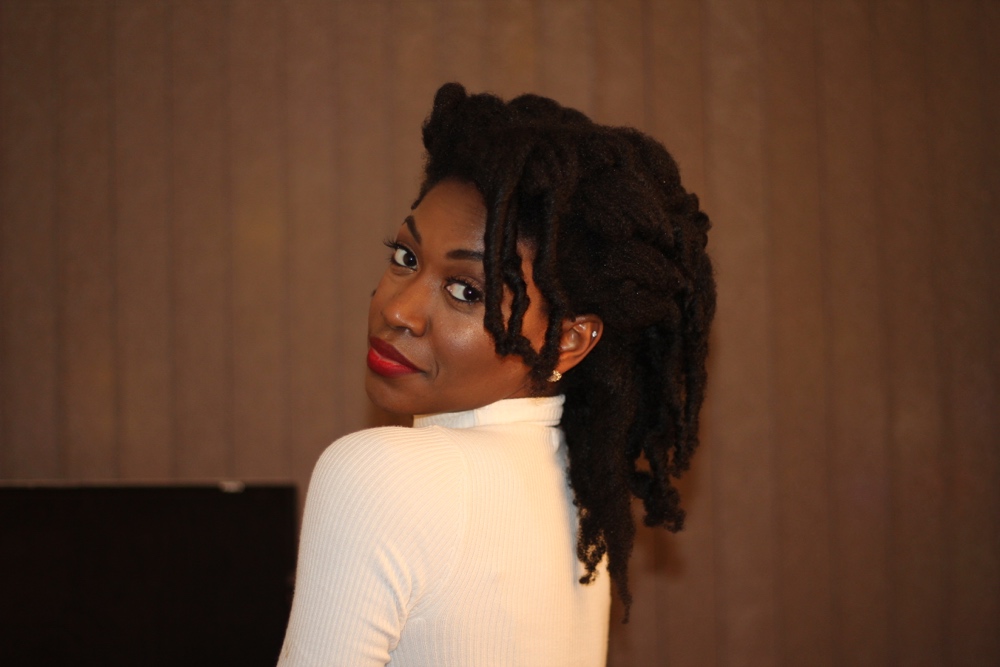 BN: What's your remedy for a bad hair day?
NO: Make it work! Lol. With natural hair, I think the presentation as a whole matters. With bad hair days depending on the style I am rocking I would make it look as presentable as I can and then work on my look in general. The good thing is that even with bad hair days my hair still smells great. Make up (If I choose to wear some), big earrings help to distract from the hair or an edgy outfit maybe.
The idea is to take most of the attention away from my hair and create an intentional look. Most importantly confidence. Lol I always say you can wear a bin bag and still rock it… Funny analogy but yeah it all depends on how you carry yourself. If you carry yourself with confidence most times people would not notice the bad hair day you may be having or anything else going on. It draws the focus to you, the whole package. Confidence is key in whatever you do!
Here are two of Ngozi's recent videos:
1) 6 Years Length Check | Waist Length Natural Hair Growth.

2) Natural Hair Wash Day Routine for Curly Kids : Stress free

See more Photos of Ngozi
Thanks for sharing your story with us Ngozi!
If you'd like to be featured, send an email to [email protected].