If you are a relaxed lady reading, this you may be wondering why learning about natural hair care may be beneficial for you. The key reason is that being able to care for your natural new growth will help you avoid relaxing your hair too often therefore prevent over processing.
Hair that is over processed by chemicals such as relaxers or hair colours tend to look thin, feel life less and have high susceptibility to breakage.
If you are getting your relaxer touch up and don't have enough new growth there is a high chance that the relaxer will come in contact with your previously relaxed hair and this is what causes over processing. On the other hand, ensuring you have an adequate amount of new growth before your relaxer touch reduces the risk of over processing and often results in thicker and stronger relaxed hair that is more resistant to breakage.
Ideally, it is best to wait at least 10 to 12 weeks between relaxer touch ups. On average, approximately one and half inches of natural hair will have grown in that period. Although one and half inches of natural hair may not seem like a lot, it can have a significant impact on the way relaxed hair feels, behaves and looks overall. Some ladies struggle to manage their hair when they have natural new growth and resort to relaxing it earlier than they should.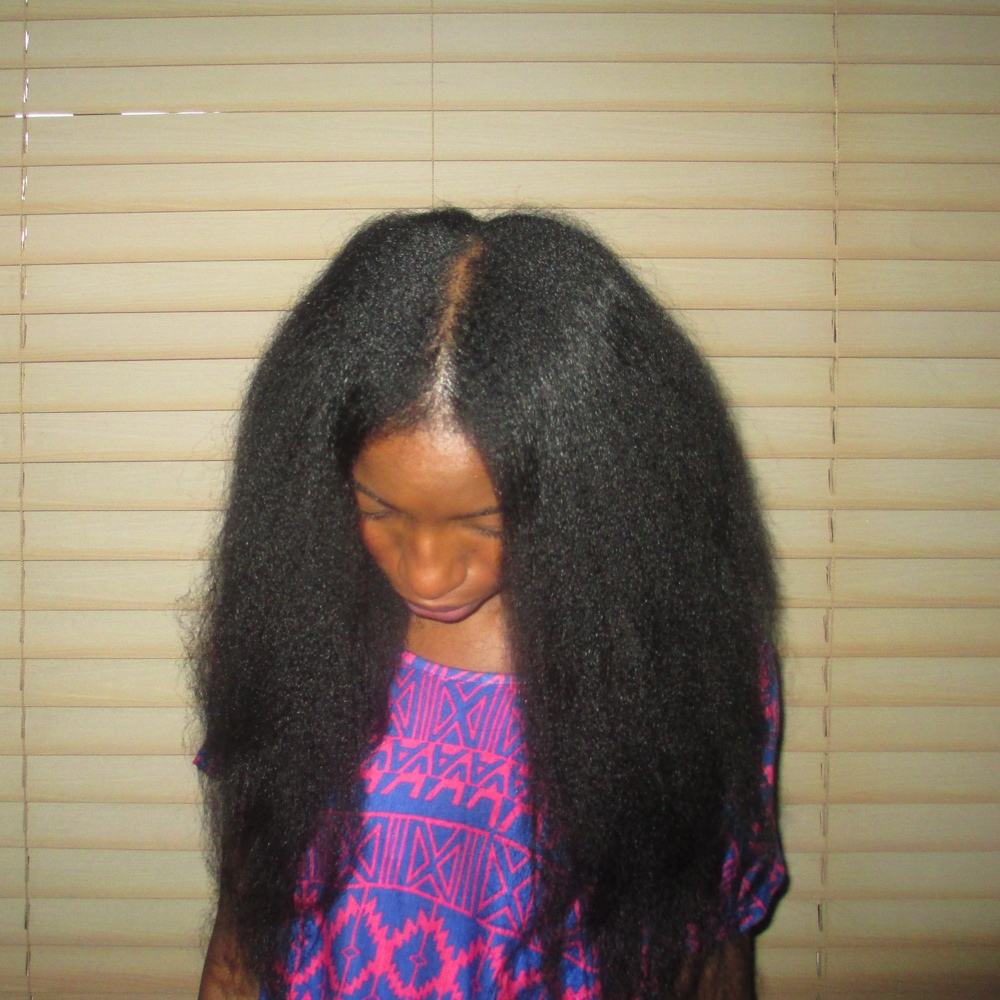 In this post, I would like to share some tips to help ladies with relaxed hair care for their natural new growth so that they are able to avoid relaxing their hair too often.
1) Dryness is Your Natural New Growth's Worst Enemy
Natural hair must to be moisturised regularly and should never be combed or styled in a dry state. This is because natural hair can feel stiff when it is dry but becomes flexible and softer immediately after some water or hair moisturiser has been applied to it.
If your hair is relaxed and you have natural new growth, ensure that you apply some hair moisturiser to all of your hair, especially the natural hair near your scalp before you detangle, comb and style your hair. This will help make boost your hairs elasticity and to prevent breakage.
2) Work in Sections
Following on from the first tip, it is beneficial to work on your hair in sections when you have a lot of new growth. Ladies with natural hair tend to complete most of their hair care tasks such as washing, conditioning, moisturising and sealing in sections.
Relaxed ladies who have new growth will find that working in sections helps ensure that the moisturiser applied to their hair reaches and is evenly distributed within their new growth. Relaxed hair that has a lot of new growth can break easily at the line of demarcation (where the natural new growth and the previously relaxed hair meet) and so must be handled with care.
Working in sections will allow you detangle and comb your hair more thoroughly and gently. This will help to minimise breakage at the line of demarcation.
3) Natural hair Should be Stretched Regularly
Natural hair strands tend to curl or latch on to itself or on neighbouring hair strands. It also tends to shrink and become compacted especially when wet. Natural ladies tend to stretch out their hair from its shrunken and compacted state often. Stretching natural hair helps to reduce matting, tangling, breakage and helps make styling the hair easier.
These benefits of stretching also apply to ladies with relaxed hair who have a lot of natural new growth. Ensure that in addition to moisturising, you gently stretch out your natural new growth regularly.
4) Embrace Hairstyles Worn by Natural Ladies
If your hair has a lot of new growth, try to wear hairstyles that work with or compliment the state of your hair. Be realistic about how your hair is going to look, don't expect your hair look and feel the way it did when it was freshly relaxed.
Many relaxed ladies tend to increase their use of heat when their hair has a lot of new growth to help them straighten their roots and blend the two textures. However, regular use of heat for styling is very damaging for both natural and relaxed hair and should be avoided.
Rather than using hot irons to press and straighten the natural new growth into submission, try to embrace the volume and texture the natural new growth gives your relaxed hair and wear try out some of the beautiful up-do hairstyles worn by natural haired ladies. This option is much safer and realistic for your hair.
5) Adjust Your Comb Size
Natural hair should never be combed with a fine tooth combs because their teeth are too close together and will cause breakage. Natural haired ladies tend to use either medium sized or wide tooth combs as these are more compatible with their hair texture.
If your hair is freshly relaxed, you may be able to use a small sized comb however your natural new growth begins to increase you should switch to using medium and wide tooth combs to prevent breakage.
I hope these tips will help relaxed ladies feel more able to manage their new growth and hold off from relaxing too soon.