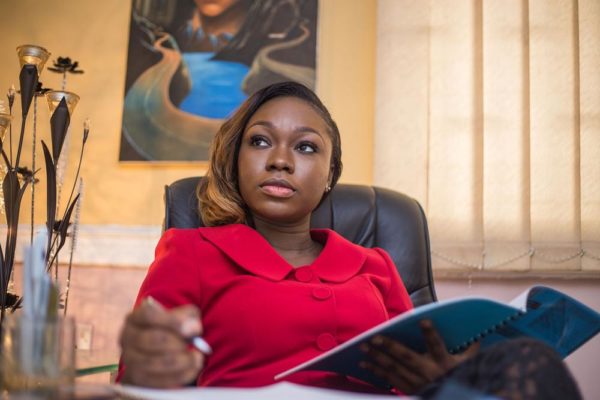 You are probably rolling your eyes because you know that you are about to read about hard work and accountability. You are probably in your festive mood and the last thing you want is anyone telling you what to do with a year that has not even come.
I get that, but I must still act as a best friend, and the thing about best friends is that they tell you the truth even when you're not quite ready to deal with it. And so before you kick off your shoes for the year, you should have one question in mind, what do I want to achieve next year?
And no! you don't get to enter the new year without plans just because of the state of the economy or because your uncle's friend's brother's pastor saw a negative event occur in your 2017.
The best way to approach a new year with positivity is to hold on to a word or sentence about the year. So 2017 to me is my year of significant advancement, what's yours? You can also write your positive affirmations down now for the New Year.
A lot of us know what we want from life; no matter how difficult your situation may be now you have an idea of what you want tomorrow to look like. If you are sick now you know that you want to be well soon and if you're broke today you know that tomorrow you want to have an account balance that keeps your heart at rest.
I believe the problem is when people ask "what are your goals" or "where do you see yourself in 10 years" it puts a lot of people under pressure to say the grandest things or imagine themselves in Aso rock sharing a cup of tea with the VP.
Of course it is good to dream big, but do you know that goal setting is really about taking baby steps to your final destination? You don't just wakeup one day and become the president, grand achievements are a result of baby steps.
So I ask again what is that great thing you want to achieve in 2017? It could be as little as being happy everyday. This means in order to achieve this, you should start working towards it now. for example; erasing toxic people from your life, taking time to be with the ones you love, avoiding some events and much more.
Do not enter 2017 without knowing what you want to get from it. I like to believe that the most successful people are those who are deliberate about what they want from life.
Never let anyone limit the size of your goals. The thing about setting big goals is that sometimes you don't even believe in the possibility of achieving that goal. If this is a major challenge to you, you can resolve it by telling your trusted family and friends about that goal so that they become accountability partners, better still you can invest in a goal setting workbook.
Going into 2016, I saw a lot of people on social media discredit the importance of New Year resolutions. And I'll like to state clearly that New Year resolutions are very important.
New year resolutions make you self aware, they make you reprioritise and increase your potential to achieve set goals.
With everything going on around us there has been no better time to set goals than now. Draw the house you want to see, write down the clients you want on your portfolio, set your mind to the possibility of achieving greatness in 2017. If you can see it, you can have it!
Good things come to those who wait, but greater things come to those who are strategic and work according to their written plans. Like my father will say, take life by the neck and break it. This means go after all your dreams unapologetically.
As cliché as this may sound, it is never too late to start. The New Year isn't here yet and so you have time to plan for your best year yet.
Wishing my BellaNaija family a Merry Christmas and Happy New Year in advance. Thank you for making my 2016 a memorable one!
****
Debbie has recently released a book – The 2017 Goal Setting Work Book. You can purchase the book for its promo price at N2500 before the New Year after which prices go up to N3000 by January. Contact the author on her Instagram page @dee_larry or via email [email protected] directly for more information, bulk purchase or delivery options.
Pick up copies from the following places, more sale outlets to be announced.
Books can be purchased from:
BRILA FM -2, Oluwatunmike Disu Street, Opposite Jakande 1st Gate, Lekki-Ajah Expressway, Lagos, Nigeria
BRILA PRESS- 150, Ikorodu Road, Adebowale House, Onipanu, Shomolu, Lagos, Nigeria
PRINCE EBEANO SUPERMARKET LEKKI- Plot 9 Northern Business district,
along Admiralty way, Lekki Phase 1, Lagos.