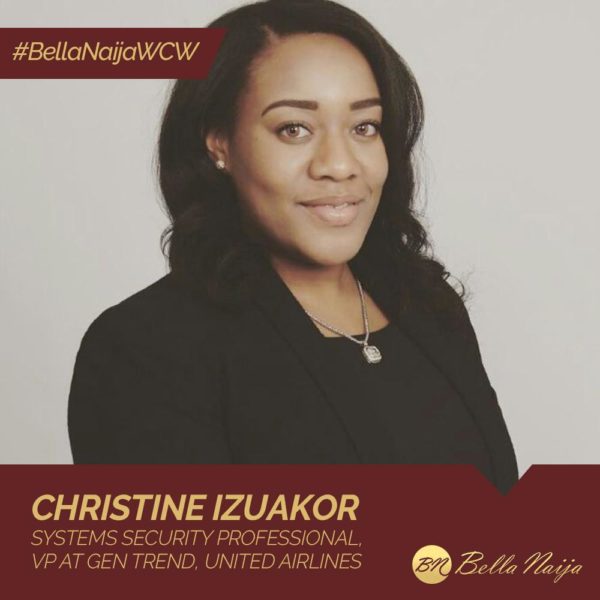 Nigerian-American, Christine Izuakor started her PhD programme (Security Engineering) at age 23 (almost immediately after completing her Masters Degree programme on Information Systems Security from University of Houston), and many people said she couldn't make it to the end.
In her words; "I started my PhD program at age 23 and at the time was told I was too young, too naive and too inexperienced to contribute anything to my industry. But, I stood by my dream and turned doubt into motivation. To anyone who has been taught that it's unrealistic to dream, I assure you that it's indeed okay to dream big. With hard work and dedication, we can defy all odds and shatter ceilings. Dare to dream, and be brave enough to execute."
On December 17 2016, Christine completed her PhD at University of Colorado, Colorado Springs, becoming the youngest person and the first African-American woman to do so at the university (27 years old).
As a reward for her hardwork, Christine became the Vice President of Gen Trend, United Airlines. She was also published in several international journals, and spoke at several other conferences in Rome, Italy; and Washington, DC.
She achieved all these in the past year, while working a full time job, and travelling to 19 cities in 10 countries for speaking engagements and holidays.
Christine, speaking to BellaNaija earlier this year, left a piece of advice for other young men and women out there: "Dare to dream, and be brave enough to execute," she says.
"Too often we, especially women, fear failure, what people will think, or not having all of the right answers. I think that inhibits our ability to dream beyond what those before us have done. Many instead get stuck in doing what's 'expected' of us from parents, society, our cultures, etc. Those elements are important to acknowledge and honor, but can sometimes be limiting in today's world. So, I encourage everyone to dare to dream bigger than ever before. And equally important, have the courage to execute and pursue those dreams relentlessly," Christine added.
Ryan Tyson, MS, a Senior Engineer at United Airlines had this to say about her:
Christine and I have collaborated on several projects ranging from Lean/Six Sigma case studies, Risk assessments, Quality management, and a variety of technical research. She is a strong resource and contributor with a deep knowledge of information security and project management. In her professional career she has participated and led initiatives for PCI compliance, IT security audits and research. She graduated at the top of our graduate program and received the honor of Banner Bearer for her high academic achievements.
Christine is also a mentor with Year Up, a platform aimed at closing the Opportunity Divide by providing urban young adults with the skills, experience, and support that will empower them to reach their potential through professional careers and higher education.
She's also a volunteer at WomenOnCall, and Head Editor at Illinois Diversity Council.
We love how Christine is able to balance her academics, work, and leisure, and can't wait to hear more of her success stories!