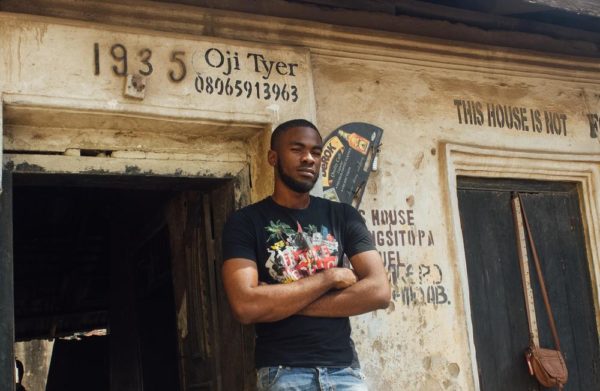 "Dumeje, put my bones back together the same way you shattered them so when my children return from school, they'll see the same woman that they kissed on her cheek when they left". My mother screamed at my father.
I overheard this conversation as I returned from school and I stood at the foot of my father's giant door. It wasn't long until the door flung open. I woke up and found myself in my father's arms, only to realize that I had been groped at and man-handled by my father. After crying up a storm, I slept peacefully in his arms. You couldn't blame me, I was just eight years old then and my father had his ways. He was a loving man and he really cared for us.
I was the first and only son, my parents named me after my Grandfather- Gerald Jnr. I had two other siblings; Jecinta and Janet. They were twins and just three years of age as at the year 2002.
Growing up, I always thought that my mother had a lot in common with  the golden stool  my grandmother gifted my parents when they got married- they both never left the house. My mother was an educated, typical Warri woman. She was short, stocky and light in complexion, not to mention, a drama queen.
My father was a wealthy and influential business tycoon.  He was huge and had a deep voice that made us quiver each time he spoke. I had imagined my father was a tourist- He made trips to various destinations every other week.
In the year 2008, I had just turned 16, and I had developed into a lanky, dark skinned, assertive young lad. I remember walking in on my mother crying and wiping off her tears and runny nose with the ends of her colourful ankara wrapper. She held me close and asked:" Gerald you don put food for mouth"? My mother was our cook and maid all in one. She mostly spoke to us when it was time to eat, or if she was asking for our dirty clothes ,or asking when we were going to bed. I drew closer to her and said "Mama I don't even know you". She got up and landed a hot slap on the left side of my cheek. I was distraught. That was the first time my mother ever laid hands on me and was also the first time I walked out on her.
Honestly, I didn't know my mother. I just knew I never saw her leave the house except when we went to church together on Sundays. The next day, when my father returned from one of his travels, I heard my parents screaming at each other in the middle of the night. I inched closer to their bedroom door, until I overheard my mom saying "The worst has happened! You have succeeded! My son doesn't even know me. I mean how would he know me when you have never given me the chance to figure myself out?"
My father shouted back "I have provided everything you need, have you ever lacked? You are under me as an African woman and you will do as I say!"
"That is Rubbish! Dumeje my husband, I have a degree O! Na Only me waka come this world sef? This matter don tire me! I did not enter this marriage to be a maid to my husband and children! I am a graduate of Economics from the University of Benin. Dumeje, I had plans for my life and career before you married me. Please untie these chains you've bound me with". My mother replied my father as she spoke with her Warri dialect. She always switched to it whenever they argued.
The next thing I heard were heavy sounds that sounded like a mortar in a pestle, followed by my mother's voice screaming out: "Dumeje you're hurting me, please leave me!"
I felt a rush of blood in my stomach as hot tears ran down my pale cheeks. Immediately, I kicked my father's door down, and the door fell flat and hit my father on the back of his head as he fell flat on his forehead.
"Your husband is unconscious madam! He suffered some damage to his brain cells… we are trying…" The words became faint and the doctor spoke in a hasty manner and scribbled on his note pad.
"Madam what exactly happened to Mr Dumeje?" The doctor asked inquisitively, adjusting his Google-like spectacles.
"Doctor na me you ask question? Well, My son.. Erm.. Well, Doctor… It was a little home incident. He slipped. Sorry, our room door collapsed and fell on the back of his head". My mother sounded unconvincing as the doctor took his file and walked past her into his office.
I breathed a huge sigh of relief as the guilt clogged on to my throat. My mother glanced over to where I stood and muttered "Na God save you today this pikin".
Moments later, the doctor returned and as he tried to speak, my mother had already mouthed "Yes, my husband nko? Has he opened his eyes? Is he breathing?"
"Rest easy Madam, he is conscious now, he just needs a few days to recover". The doctor said assuredly.
"Ah! My beautiful husband! God did not allow evil enter through my backdoor! I serve a living God! What will I have said? They for don table my case for gossip centre!  Shame on the devil'' My mother said as she danced and paced about the hospital reception dramatically before settling on her chair throwing her hands in the air before dramatically dropping  them on her laps and making a ''clap'' sound.
I burst into laughter and looked over to where she was and as I tried to look away, she pulled my head closer and said "Gerald, Thank You my love".
Surprised, I quickly replied saying:  "Mummy, what did I do? Why are you thanking me?"
She laughed and laughed, wiping the sweat off her cheeks she replied: ''See as you open mouth! Better close your mouth before fly pass enter am! ''
'' Mummy, I'm not joking. Tell me why you are thanking me.'' I spoke sternly.
She continued: '' Gerald, I needed to teach that your father a small lesson and you helped me do that! I mean look at all these scars". She pointed at a huge scar on her arm from one of the incidents with my father.
We both let out a clamorous laugh as I fell into my beloved mother's arms. I looked up into her teary, brown eyes and said "Erm… Mummy, I think I'm now getting to know you small small".
She let out a hysterical laughter and nudged me on the back as I fell back into her arms again, as she lowered me onto her laps and rubbed my head lightly until I fell asleep.