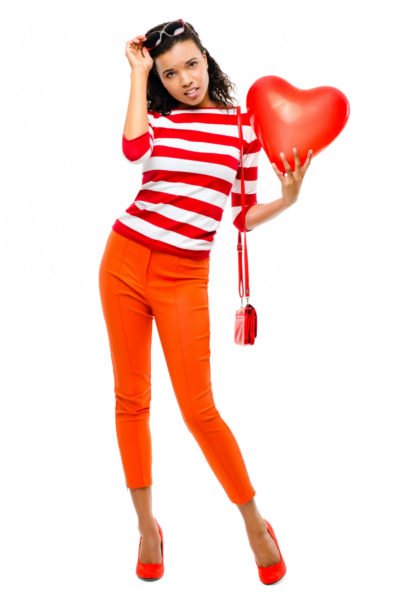 Valentine's Day, the day designated for lovers is finally here. The weeks leading up to it had been a constant reminder of the special day.  From the discounted prices offered by hotels, to the display by shops of its special promos. As a single lady with no prospective suitor or admirer in sight I can't help but feel a bit anxious about the day's event, been surrounded by people celebrated by their spouses or significant others. However, I made the decision to participate in today's celebration by showcasing my new red pencil dress bought just for the occasion. My upbeat stance and smile has some people giving me curious looks, probably wondering if I was expecting a gift today.
My attitude this year is in stark contrast with the last time Valentine's Day was on a weekday. It was three years ago, the 14th of February, 2014 which was on a Friday. On the day in question I had gotten ready and headed to work as part of my normal routine. There was nothing out of the ordinary on the way. I got to work relatively happy to have made it twenty minutes early. It was turning out to be a wonderful my day and I could not wait for the day to come to an end and for the weekend to begin. With my work deliverables in the forefront of my mind, I head straight for the lift. Unlike my normal practice, I had not stopped for the usual brief chit chat with the receptionist (who had on red lipstick and seemed happier than usual).
Upon settling down, I noticed something out of the ordinary from the corner of my eyes. A large bouquet of red roses and a gift wrapped in an elaborate wrapper was carried past me by a courier man. I mentally ran through each and every one of my colleagues' birth dates and there was no one celebrating their birthdays on that particular day. Unable to come up with a better suggestion, I assumed it was just a gift and thought nothing of it.
Then was the delivery of another gift. Tucked under the right arm pit of the delivery man was a huge teddy bear with a red heart about four feet tall. The delivery man also held a tray of assorted chocolates concealed in a transparent pack and equally tied with a red bow. Ronke, a colleague of mine, immediately stood once the delivery man approached her table with the widest smile of her face. Upon receipt of the gifts, Ronke immediately placed the teddy bear on the floor but strategic corner were people walking by had no choice but to see it, whilst the chocolate was left on her table still with its bow in place.
As I stared at the big brown teddy bear, I noticed there was writing on the red heart which lay in the middle of the teddy bear's chest. Written in slanted words was, 'Happy Valentine'. That was when it dawned on me that it was Valentine's Day. It all started making sense, the delivery of gifts, coupled with the unusual amount of red present on people's clothing. Most seemed to have at least one piece of the colour red on them, for instance some women had on red lipstick or red shoes or red scarves or red brooches, whilst some men had red ties or red pocket handkerchiefs.
Feeling out of place, I turned to Tola a close friend of mine and exclaimed, 'I cannot believe I forgot today is Valentine's Day and now I am the only one not wearing anything in red'
Tola who was married had smiled and simply said, 'don't worry, don't let it bother you'. It was easy for her to say, when she had a spouse who was going to send her gifts. Suddenly Tola's phone rang and she excused herself, as she walked towards the lift, with her red heels on. After about twenty minutes, she reappeared with a large bouquet of beautiful white roses and a well wrapped gift. I could tell by the way she walked almost like she was prancing that she was overjoyed by the gifts which were definitely from her husband.
With excitements in the air, I made the most of my day by enjoying the chocolates, cakes and other edible items shared round the office in the spirit of Valentine. This did not stop me however from reflecting on my situation. The fact that people had gifts on their tables and all I had on mine was my diary, my laptop and my phone. While everyone discussed about their various dinner plans later on, I had a date with my TV at home. I silently vowed that the next time Valentine's Day fell on a weekday I too would be receiving gifts. So deep was I in my thoughts that I didn't at first notice Bisi who stood by my table. It was only by the tapping on my shoulder that I realised Bisi was standing beside me in a red fitted suit. I managed to plaster a smile on my face as I turned my full attention to her.
Bisi starred at my table as if inspecting and searching for something. It seemed she was dissatisfied with her search as she proceeded to scan the floor beside my sitting area also. I knew what she was looking for and I dread what she was about to say. Bisi returned her gaze to mine and asked, 'what did you get for Valentine? Those six words were all it took to get me into a sudden state of depression as I prayed for the day to come to an end. I mustered some courage and replied, 'nothing. The day finally came to an end and I spent the rest of the evening with my phone and other electronic appliances switched off.
Just like three years ago, I know the same questions would be directed at me. I am equally aware of the fact that the same feeling of sadness would engulf me, as gifts are being delivered and placed on tables and mine is once again bare. I know my heart would sink a bit when I see the eulogizing of lovers on social media.
However, I have realised that nothing stops me from celebrating the day. That is why today I choose not to be a prisoner of such feelings, I have decided to enjoy the special occasion even as a single lady with no suitors or admirers. I bought myself a gift which I had delivered to my house yesterday. At the end of the work day, I would be treating myself to a wonderful dinner made lovingly by myself for the special day. I choose not to let the day be wasted in self pity but to love and cherish myself instead.
I would also like to encourage all my sexy and single ladies to cherish and love themselves this Valentines season. Go out, treat yourself and be happy. Trust me, being happy and contented is one of the best feelings in the world.
Photo Credit: Bevan Goldswain | Dreamstime.com