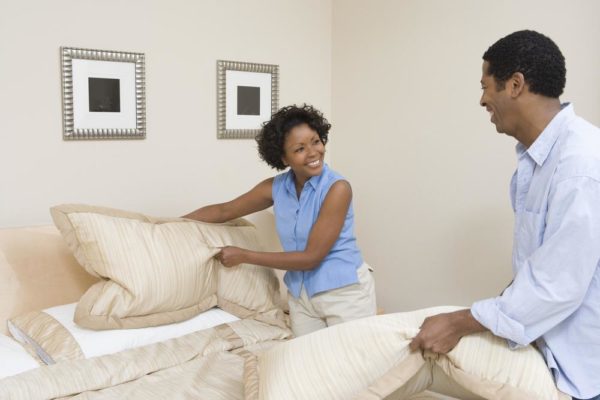 So, a fortnight ago, I was watching a movie on Africa Magic Igbo (it's my favourite pastime), and as usual the wife and her mother in-law were fighting over the couple's childlessness. As the poor husband was trying to settle issues, the wife turned to him and said (in Igbo), "My anger is not that you brought her (mother in-law) from the village without telling me. I'm angry because you not only gave her my food, but you allowed her to sleep on our matrimonial bed?! How could you? We have so many rooms in this house, but you chose our matrimonial bed for her to sleep on."
Maybe it's just me but I found it totally ridiculous!
Funny enough, this lady in the movie is not alone. I've seen and heard so many stories about this "matrimonial bed" issue that you begin to wonder if we are not elevating it to a god of some sort. I even had to ask some of my friends what their views were on this subject and suffice it to say that I was amused by their response.
A lot of them said that nobody, apart from them, their spouse and their kids, would be allowed to sleep or even sit on the bed. When I asked why, all I got was "Onyinye, what are you saying? Which kind of question is that? It is my MATRIMONIAL BED! Just for me and my husband". Wawu!
In writing this post, I suddenly realized that so many of us, subconsciously, have this "respect" for the matrimonial bed. I remember when we were little, my siblings and I would dare not enter our parents' room without permission talk less of lying on their bed. If you sit or lie on the bed, you must make sure that the sheets are as straight as you met it. No smudges or wrinkle! And a lot of people have said same.
To show how silly this issue is, a friend of mine said that if she goes to someone's house and the only space available for sitting or sleeping is the matrimonial bed, she'll choose to sleep on the floor. Even if it's a face-me-I-face-you apartment. Lol! When I asked her why, she narrated how her mum and her elder sister finished her with abuse all because she slept on her sister's matrimonial bed.
She said they were having a huge family party at her sister's place. Her sister and her husband were kind enough to host the annual party. However, due to the large turn-out (all her cousins, family friends, uncles, aunts, you name it, came for the party), they had problems finding where to sleep.
Her sister and her husband were in the living room with her parents, aunts and uncles having the normal long boring family discussion, so she decided to sleep in her sister's room cos that was the only room available.
Maybe because she didn't ask first before sleeping there, she said that not only did her mum wake her up with a slap, her sister had only harsh words for her and it took the intervention of her dad and her sister's husband before the matter was settled. Her sister didn't talk to her for days. She said she received the insult of her life, with some nosy aunts pouring fuel inside fire.
I know this sounds really extreme. I had a hard time believing her. I mean, is it possible for you get dragged by family members all because you went to sleep in your sister's bed?
Yes, the Bible talks about keeping the marriage bed pure, for God will judge the adulterer and all the sexually immoral. But my question is, why can't someone outside of the couple and kids sleep on the matrimonial bed? Why is it such a huge deal for us? Is there more to it than a piece of wood supporting a mattress? Or is it just a Nigerian thing?
I personally don't think that when the Bible says keep the marriage bed pure, it means that the only people that can use the bed are the husband and wife. Or does it?
I would really love to understand where we got this concept of "it's my matrimonial bed, so don't you dare sleep on it!"
Photo Credit: Photographerlondon | Dreamstime.com