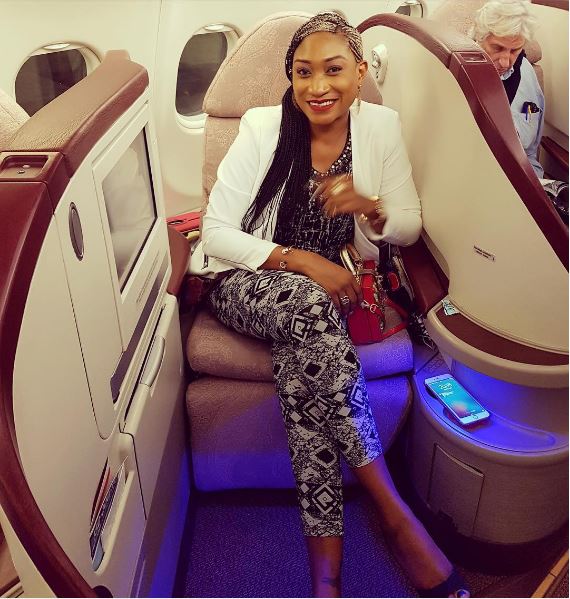 We all know about the whole Oge Okoye debacle. I do not need to do a recap. Uche Maduagwu already defended her by writing an epistle on the gram chiding us to support our own. I do know what supporting our own has to do with all this. Are Nigerians quick to savagely mock others online?  Yes. That's not the issue. Look, Aunty Oge carry your L, and learn from it. Nothing softens people more than accepting wrongs and moving on from them.
The honest truth is that as a country, as a collective culture, we have a very lax attitude to intellectual property. We steal from each other and steal from others.
How do we do steal from each other? Forget 2Baba/Blackface allegations, the fact the P-square's "Bizzy Body" stole an entire verse from The Fugees' "Ready or Not" (which used its famous "Ready or Not" line from the Delfonics). Gbagbe gbo gbo yen (Forget all that!) Everybody knows that if I hear P-Square's Bizzy Body, I will still bend down and dance. That song was an essential part of my childhood. All that underground singing I did as a(m) MFM shaid cannor come and waste. Let's talk about something more recent.
"Lashed by Annie Idibia" is not eerily similar to "Lashed Cosmetics" by Blac Chyna. Could the similarities be coincidental? E fit be ordinary mistake.  Apart from the fact that both brands share a name, it is as if whomever put together the brand concept for Annie Idibia was either brazen or lazy. The logo is exactly the same, except for differences in font color. Annie's brand while less prominent,  has been used by prominent Nigerian media personalities. Her brand promises "real luxurious 3D Lashes (extensions), cruelty-free, silk..Best Lashes in Africa" while Blac Chyna's "Lashed Cosmetics" offers lash extensions, makeup, micro-blading" among many other cosmetic services. While the "best lashes in Africa" is highly questionable, and those lashes could be that amazing,  Annie Idibia's team should've done better research to prevent this from happening.
Proof:
Here is a link to Blac Chyna's "Lashed Cosmetics" instagram account: Lashed by Blac Chyna
Here is a link to Annie Idibia's "Lashed By Annie Idibia instagram account: Lashed by Annie Idibia
Legally, ignorance does not equal innocence. This is why Marvin Gay's estate could sue Robin Thicke and Pharrell for sampling the song "Got to Give it Up" in their song "Blurred Lines". This is why both Robin Thicke and Pharrell were both required to pay $7.5 million.
Far be it from me to knock another woman's hustle. Get your coins/notes/ bills, sister. However, it is possible to succeed as an entrepreneur, musician, actress without ripping off another person's creativity. Every time, things like this are mentioned, it is easy for society to defend the guilty party. It's hard to criticize those we've gotten used to idolizing. Sadly, it is easier to blindly follow popular opinion.
Lastly, we allow others steal from us, and allow them to profit from it. It's truely saddening that our markets are filled with imposter "traditional" fabrics made in China, the Netherlands, etc. Instead of reviving our textile, we flock to wear these knockoffs. Of course, I understand that it is easy to criticize, I am guilty of doing this. In the same vein, I agree with Oyemykke, that the Weeknd should not be able to use "Starboy" for branding purposes without permission from Wizkid. In this same vein, I believe that Michelle Williams should not have been able to sing "When Jesus says Yes" without at least acknowledging its African origins. It enrages me when a German company will claim to create "leaf plates" and Nigerians/Africans will be saying "our forefathers knew better… We did it first." Ki lo de ti a trademark kini yen? (Why didn't we trademark it?)
The problem is we do not trademark or legally protect intellectual property. We underestimate possible sources of income and watch others do so. But we do the same to each other. I cannot act as if Nigeria's judicial system doesn't fail us daily. We should at least try to fight when things like these happen.