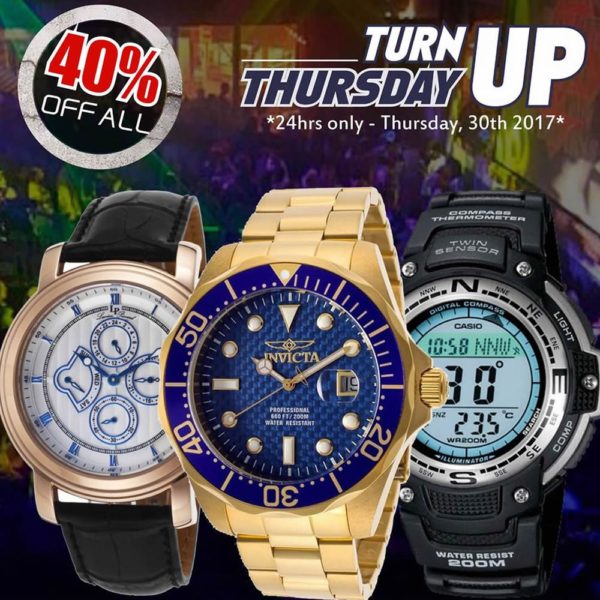 The biggest Month End promo on top brands of quality timepieces is set to hit the country on Thursday, March 30th, 2017, courtesy WatchLocker, Nigeria's No 1 wrist watch website, retailers and distributors of brand names such as Invicta, Lucien Piccard, US Polo, Timex, Casio and others.
From midnight 30th March, Get a 40% Jaw-Dropping Discount off all Watches in our #TurnUpThursday offer! Every item is a must have.
Keep an eye out on www.WatchLocker.ng.
Take the opportunity to show yourself and your loved ones some "Quality Time" with this amazing offer.
Connect with Us:
Facebook: fb.com/WatchLocker;
Instagram: @watchlocker;
Twitter: @WatchLocker.
Website: http://www.WatchLocker.ng
About WatchLocker
Watch Locker is the foremost online retailer and distributor of original brand watches and timepieces in Nigeria. Watch Locker was established in 2011 with the aim of making original watches more accessible to Nigerians at competitive prices and we have since expanded our focus of service to serve a pan-African customer base. It is our goal to standardise the Timepiece Industry across the African continent, ensuring that all have access to high quality, authentic and affordable products.
WatchLocker.ng has a rich collection of genuine designer wrist watches for men and women. If you are in need of leather watches for that board room effect or metal chain watches for that special occasion or even digital wrist watches for the fitness focused, WatchLocker has it all. If you are looking to buy wrist watches in Lagos or anywhere in Nigeria WatchLocker.ng is the place to shop.
_________________________________________________________________________
Sponsored Content