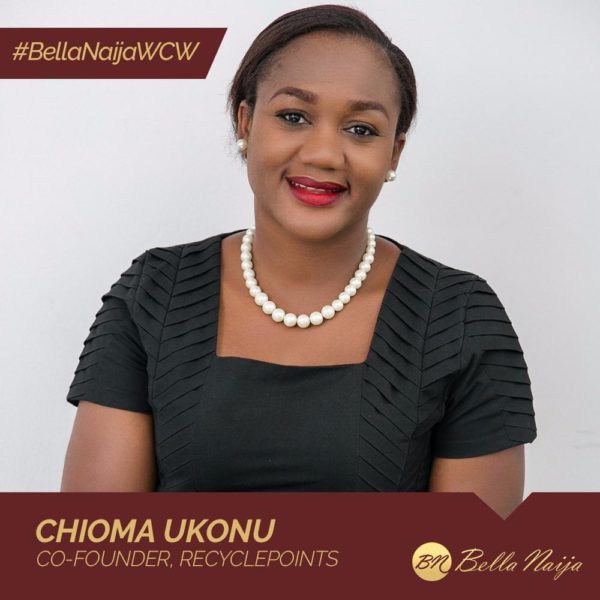 Waste Management is big challenge in Nigeria and Chioma Ukonu's RecyclePoints is out to solve that.
What started as a personal social responsibility project has now grown to be one of the thriving startups in Nigeria.
Chioma and her family started segregating waste products right from their home after seeing it being done during a family vacation. They started preaching the message to their neighbours, and soon after many people in the community began to segregate their waste products.
Neighbours started submitting recyclable wastes to Chioma's family. The result was a large number of recyclable wastes with little space to keep them.
Chioma got in touch with manufacturing/recycling plants that could buy the waste products as raw materials and that was how the business started.
More and more people joined in the programme as it rewards you with household items, for handing over recyclable wastes.
These days, RecyclePoints collects recyclable materials from post consumers and in turn rewards them with "Points" which they can accumulate and use to redeem/shop for household items.
Recycle Points has an "iRecycle Store" where consumers can use their points to redeem household items.
The company operates a door to door system using a solar-powered tricycle, to collect wastes materials including PET plastic bottles, Used Beverage cans, Glass bottles, Old Newspapers, Brown Corrugated Cartons and LDPE films and sachets (pure-water sachets).
Chioma's business is also focused on empowering women who have no capital to start their business. These women are engaged to work in RecyclePoints' Collection and Sorting Hubs (CoSoHubs) and get paid for their jobs.
60 percent of RecyclePoints' work is about education, advocacy and culture change, and this is done, partly through its "Green Rally" in communities.
Chioma holds a Bachelor's Degree in Industrial Physics (Electronics Option).
Recycle Points won the Best Waste and Recycling Innovation in the 2015 Waste and Recycling Awards.
Recycle Points also emerged as the Nigerian winner of Chivas Regal's The Venture global competition.
She is an alumnus of the Tony Elumelu Entrepreneurship Program.
She earned a certificate in Social Sector Management from the Enterprise Development Centre of the Pan Atlantic University. She is also fellow of LEAP Africa's Social Innovators Programme (SIP).
She's also one of Cherie Blair Foundation's 500 Women CEOs.